This post may include Amazon links. As an Amazon Associate I earn from qualifying purchases.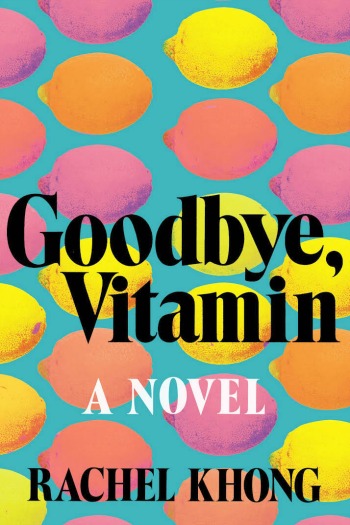 Goodbye, Vitamin by Rachel Khong (debut)
Publisher: Henry Holt & Co.
Release Date: July 11, 2017
Length: 208 pages
Buy on Amazon
A Little Background
Single Sentence Summary
As Professor Howard Young begins losing himself to Alzheimer's, his family must cope with their conflicted feelings of anger, fear, and love.
From the Publisher
Freshly disengaged from her fiancé and feeling that life has not turned out quite the way she planned, thirty-year-old Ruth quits her job, leaves town and arrives at her parents' home to find that situation more complicated than she'd realized. Her father, a prominent history professor, is losing his memory and is only erratically lucid. Ruth's mother, meanwhile, is lucidly erratic.
The Draw
I'm always interested in debuts and this one has had a lot of positive press. Named on best of summer lists by Elle, BuzzFeed, PopSugar, Bustle and more.
The novel's central topic, dementia, is one on the mind of many.
Always like a shorter book!
My Thoughts
What Worked
Real life inspiration – Rachel Khong used her grandmother as inspiration to tackle a topic many of us are dealing with, Alzheimer's disease and its affects on families. Khong knew her subject matter well; she started Goodbye, Vitamin with Professor Howard Young's disease at the delicate tipping point where much of the time he's completely lucid, but others he's lost and confused, needing help, but being insulted by it. Many of us have seen friends and family members at exactly this point.
A dysfunctional family – Howard's past alcoholism and his ongoing history of infidelities, have understandably caused a great deal of anger in his wife and son. Add to that, Ruth, his 30-year old daughter who's come home to help care for him. Ruth shares a special bond with her father and has spent most of her adult life looking the other way.
"Okay, but listen: this is why I so seldom visited. I didn't want Linus's claims confirmed. I wanted to preserve my memory of my perfect father. I didn't want to know the many ways he'd hurt my mother. I didn't want to have to pick sides. Unlike my brother, I wouldn't have been able to do it as easily."
Evolution of emotion – As time passes, the Alzheimer's becomes more evident, forcing Howard's family to struggle with forgiveness of a man not asking to be forgiven. This juxtaposition makes for some subtle, yet powerful family dynamics. With a gentle nod to the humor in Howard's disease, Khong was able to evolve the Young family in ways that felt real to their situation and which led to some lovely, restrained emotion.
What Didn't
Diary format – I believe I'll be in the minority here, but I didn't care for the format of Ruth's narration, which was through a series of diary entries. These started with a lot of detail, helping to develop the backstory and set the stage for the rest, but devolved into a series of entries which were simply Ruth's recordings of her dad's days. By contrast, I loved a similar journal Howard had kept of Ruth's childhood. His added to the emotion of Goodbye, Vitamin and showed the reader Howard at his best.
The pace – For me, the story unfolded unevenly. Khong provided a lot of detail in the first half of her book, with much less in the second, where I really wanted to know more about the family's individual feelings. The second half felt choppy.
The Final Assessment
In the end, I think the hype surrounding this book led me to expect a little more from it than it delivered. I should know better than that! Goodbye, Vitamin did succeed in covering the deep sadness surrounding Alzheimer's with a great deal of humor and healing. Many people will see themselves or someone they love in Khong's book. Though I wasn't a fan of the diary format, her light touch makes a difficult topic a little easier. Grade: B-
If you liked this book you might also enjoy:
This How It Always Is by Laurie Frankel – A family rallies around the youngest child, a young boy who desperately needs to be a girl. (my review)
Rabbit Cake by Annie Hartnett – This is a lighter take on a family struggling with grief after losing the heart of their family, the mom. (my review)
Still Alice by Lisa Genova – A beautiful story of a linguistics professor and the devastating impact of early onset Alzheimer's on both her and her family.
Note: I received a copy of this book from the publisher (via NetGalley) in exchange for my honest review.
Disclosure: There are Amazon Associate links included within this post.