This post may include Amazon links. As an Amazon Associate I earn from qualifying purchases.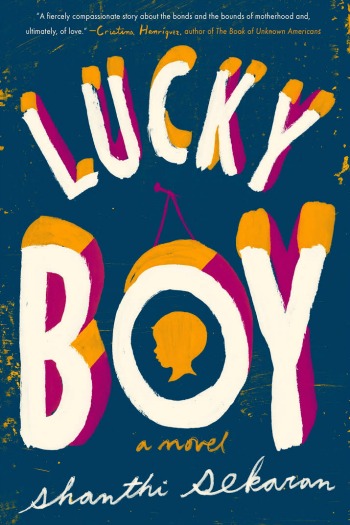 Lucky Boy by Shanthi Sekaran
Publisher: G.P. Putnam's Sons
Release Date: January 10, 2017
Length: 480 pages
Buy on Amazon
Single Sentence Summary: Ignacio is a lucky little boy, loved deeply by two mothers, but his destiny can only lie with one.
Primary Characters: Soli Castro Valdez – Nacho's birth mother (18) who made a dangerous journey from Mexico to the US looking for a better life. Kavya Reddy – Iggy's foster mom, a 37-year old woman who has struggled with infertility. Rishi Reddy – Kavya's husband, a small cog in the dot.com world, but a really nice man.
Synopsis: Two women love a beautiful little boy, Igancio. To Soli, his birth mother, he's Nacho, the child conceived on her risky journey from Mexico to Berkeley, California. To Kavya, his Indian-American foster mother, he's Iggy, the baby she's dreamt of for so long. Neither woman's story is simple and both deserve to raise this child. Neither can fathom a life without Ignacio, but this lucky little boy can't grow up with them both.
Review: So far, Lucky Boy is my favorite book of 2017! I love it when you read a book and truly like all the main characters. This was one of those books. Shanthi Sekaran is wonderfully talented at creating fully fleshed out characters that are incredibly real. Soli we meet as she's preparing to leave her small Mexican village.
"For too long she's pushed away the thought of leaving. Papi! She was his only one. And Mama. Mama would crawl into bed and never crawl out. But decay has spread like the valley fog, until it found its way to Soli. She'd breathed so much of it in that she couldn't breathe it out again. She was filling up with silence and heavy bones. She was eighteen."  
We see Soli's grit and determination as she undertakes an amazing journey, full of risks, in order to gain a better life. As a reader, you want her to have that life.
Kavya and Rishi Reddy were also vividly real characters both individually and as a couple. So much of their story was just normal. I thought the transformations each underwent as they fell in love with Igancio were beautiful and authentic.
"Now that she could relax with her son, she began to love him. She's thought she loved him before, but this new sensation was something else. It was love that verged on physical desire, jagged and dense and alive inside her."
As you can see, the writing in Lucky Boy is excellent. This is a story that could be riddled with judgement. Does a person who entered the country illegally have the same rights as its citizens? Can a mother ever consider taking the child of another acceptable? What is it that a child really needs? Sekaran never chose to weigh in. She left those questions to the reader, instead treating all of her characters with equal respect. No storyline ever felt like it got more attention than it deserved. With great finesse she built cases for Ignacio living out his life with both Soli and the Reddys. Ignacio transformed life for the Reddys and was very happy with them, but he was Soli's child. You wanted them all to be happy, to have Igancio in their lives. This was a book where you knew characters you cared about would be hurt, but Sekaran handled the ending beautifully. Ignacio truly was a lucky boy. Grade: A-
If you liked this book you might also enjoy:
Note: I received a copy of this book from the publisher (via NetGalley) in exchange for my honest review.
Disclosure: There are Amazon Associate links included within this post.