This post may include Amazon links. As an Amazon Associate I earn from qualifying purchases.
.Can you believe it's nearly the middle of October? I hope the fall has been going well (or at least better) for all of you. School has finally begun to settle down for me. I still don't enjoy teaching through a computer, but am finding it all a little more manageable. I missed this Monday check in last week because I'd had my 3 and 4 year old grandkids for the weekend. They are lots of fun and have SO much energy, but leave absolutely no time for anything! So, today I'll be sharing my books for the last couple weeks, and then I'm afraid I'll be MIA for couple of weeks. My sister, brother and I will be meeting up in Nevada to move our elderly mom from independent living to assisted living. It was a tough call, but one that had to be made, and in the end will be much safer for her. So, I'll be gone from work for eight days and am sure I won't get any blogging done for the next couple of weeks, either. I will post on Instagram @novelvisits, so please follow me there, if you're not already.
Last week I shared reviews of two books I loved, A Knock at Midnight by Brittany K. Barnett and Leave the World Behind by Rumaan Alam. Both are books I highly recommend and that will definitely be in the running for my Best Books of 2020 list.
Hosted by Kathryn at Book Date
Last 2 Week's Reads
It feels like I finished Homegoing a long time ago, because so much has happened since, but it really hasn't been all that long. Let's keep it simple, I loved it. Why it took me so long to read Yaa Gyasi's debut I'm not sure, but am so glad I finally got to it. I shared thoughts on Instagram already and will cover it here at the end of the month in my October Audiobook Reviews.
Memorial by Bryan Washington has been getting a lot of early buzz, so I picked it up a little early. For me, it was just okay. It's a book focused on several different dysfunctional relationships and honestly, that just wasn't what I needed right then. Review at the end of the month.
For much of The Girl in the Mirror, Rose Carlyle's debut, I thought it was another thriller, with the usual thriller flaws. I was enjoying it, but skeptical about some of the plot points. Then, I got to the end and wow! I ended up enjoying this book very much. Review at the end of the month.
On the other hand, When No One is Watching by Alyssa Cole, was one of those mystery/thrillers that just went too far with the unlikely twists and turns required to pull the story off. I listened to the whole book, but it's not one I'd really recommend.
Currently Reading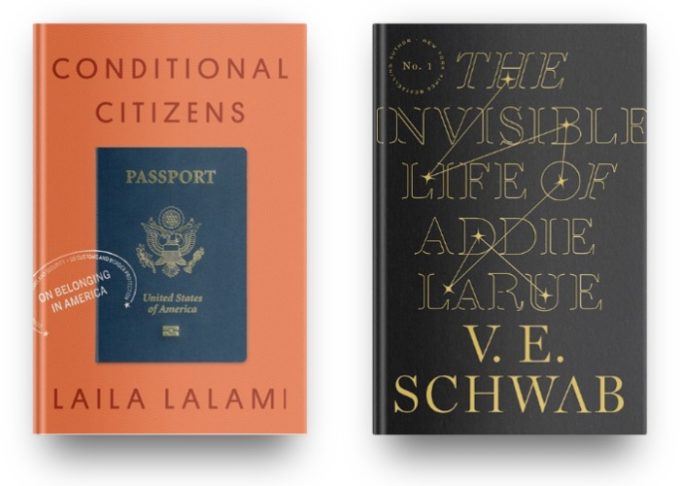 I'm right in the middle of listening to Conditional Citizens, Laila Lalami's memoir and exploration of what it's like to be a naturalized citizen of the United States. She examines the many ways countries, especially the U.S., marginalize certain groups of people and often fight to keep them out. It's well written and very easy listening.
A few days ago I could find NOTHING I wanted to read. I sampled the first 10-15 pages of three books and rejected them all. I knew I needed something light, something different, so began to wonder about The Invisible Life of Addie LaRue by V.E. Schwab, a book I hadn't previously considered because I don't normally go for fantasy. Still, reviews have been good and I thought maybe something really different is exactly what I needed. Seventy-five pages in, I'm liking it. I'm not stunned by it yet, but am intrigued and definitely will keep going.
Likely to Read Next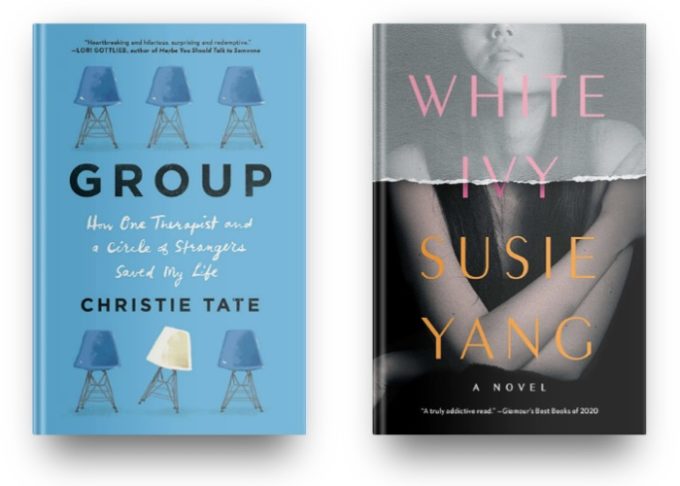 More than one reader I trust has bailed on Group by Christie Tate, so it's going to be on as very short trial for me. I have an audiobook copy, so will give that a try on some of the long driving I have coming up this week. I'll let you know!
I've been looking forward to White Ivy by Susie Yang for a long time now. Part coming-of-age story, part immigrant experience, part exploration of class, part thriller, White Ivy just might have it all. It will definitely be my next read.
I hope you have a great week (or 2) in books!