This post may include Amazon links. As an Amazon Associate I earn from qualifying purchases.
Well 2020 certainly didn't go as planned! What a crazy, scary, l-o-n-g year. It's been a decades since the world was so united in being truly happy to turn the calendar to a brand new year. Despite COVID, teaching from home, and quarantining it turns out I had a pretty good year in books, hitting my all time high of 120 books finished. My reading was slow at the beginning of the lockdown, but after the initial shock wore off, my pace really picked up and as always books were a comfort to me. So, let's look at how I did with books in 2020!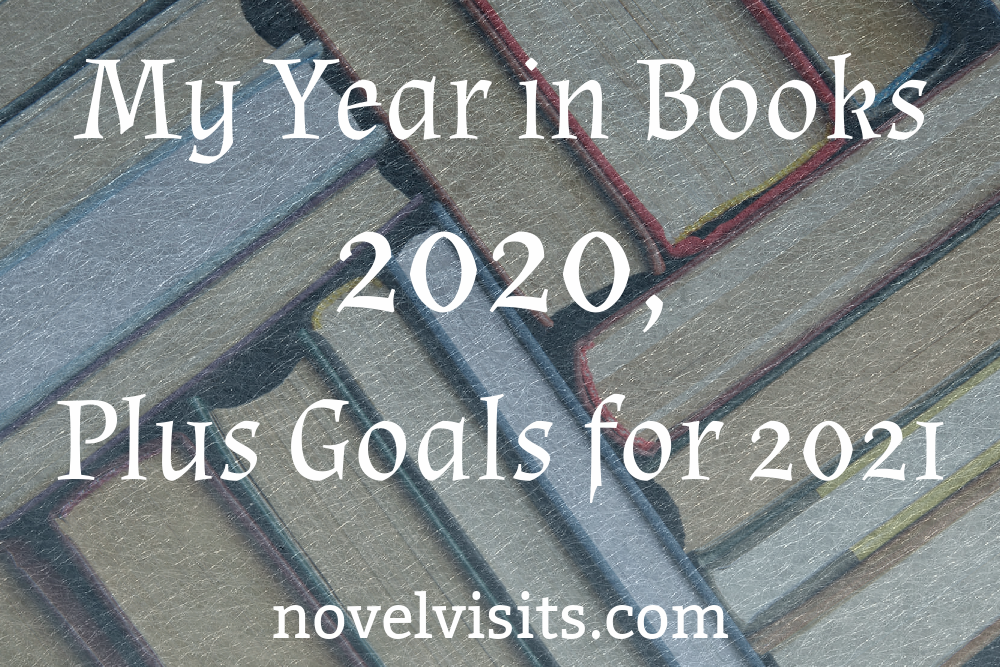 Looking Back at 2020 Goals
Goodreads Goal – For the fourth year in a row my goal was 100 books. I've surpassed that the last two year, this year by 20 books. It might be time to raise it?
Instagram/Bookstagram – My goal here was to increase my presence and I've definitely done that. Bookstagram is actually my preferred platform now. It's definitely the place where I find the most book recommendations and have the best exchanges about books. If you're not already following me, I'm @novelvisits.
Improve my Photography Skills – I'd say I've done okay on this. I've worked at taking better pictures, and learning more editing skills. I love some of my pictures, others? Not so much!
Blog Redesign – Nope! I didn't even consider it.
Looking Further Forward – I did okay at looking forward, but not at doing things ahead of time. The older I get the more I procrastinate.
Better Variety of Posts – I did a few posts that weren't reviews, but not as many as I'd like. This is an area I can continue to work on.
2020 Reading Year Statistics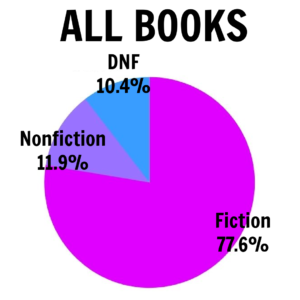 It was an interesting year for me with books. Most of the time I had no desire to read nonfiction and when I did, I needed it to be something easier and lighter. So, my reading world was primarily filled with fiction. Lots and lots of fiction. I DNF'd fewer books than normal and I'm not sure why, except I was more willing to stick with a book that I wasn't loving. Sometimes that worked out for me and sometimes it didn't!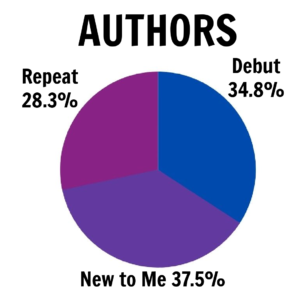 I was fairly evenly split between the three different categories of authors this year. I was a little surprised that repeat authors was the lowest, and judging by what I'm seeing coming in 2021, I'd expect that to be a little higher next year. Of all the authors I read this year 21% were BIPOC and 35% of the books I read were diverse. Those number are something I'm working on growing.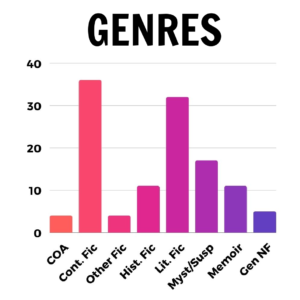 No huge surprises here. I normally love coming-of-age stories, but there were just very few out there in 2020. I was also pretty picky about historical fiction, only reading 11 which seems a little low for me. My sweet spot was contemporary and literary fiction…of course! And, I had a love-hate relationship with mystery/thrillers. A few I loved, but most left me wanting to skip them all together this year!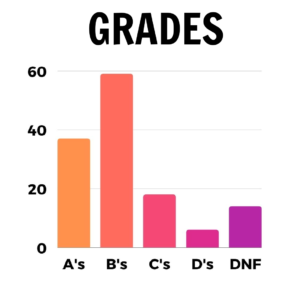 I thought of myself as the queen of 4 star books this year and those are the ones that usually work out to be in the B range. Between A's and B's, that was 96 books or 80% of the books I finished this year. I don't know why I stuck with the 6 books I gave D's to. Sometimes I just get stubborn and dig into a book even if I'm not liking it.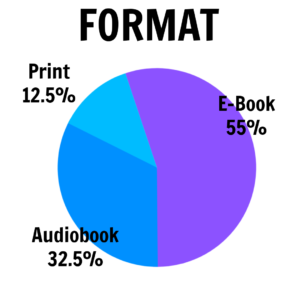 No huge changes here from last year. My e-book reading was down slightly and my books in print up a bit. I still prefer to read electronically and often do so even when I've been sent a print copy. Audiobooks continue to make up nearly a third of my reading because I always have to have one going. I listened for a total of 398 hours last year. That's 16.6 DAYS!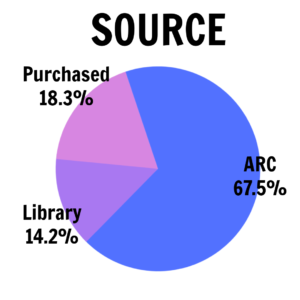 The big shock here was that my ARC numbers were so high. In part that's because this year I've also been getting audiobook ARC's through a couple of different programs, where before all my audiobooks were purchased or from the library. I feel like my library stat should be higher because I'm constantly getting books from Libby, but the numbers don't lie.
A special thank you to Sarah from Sarah's Book Shelves. Her Rock Your Reading Tracker helps me keep track of all these stats and MANY more.
Goals for 2021
Goodreads Goal  – I set my goal this year at 110 books and I'm already nervous about making it. I've surpassed that number the last two years, but if life gets back to normal I see myself wanting to do other things. I'm also having some remodeling at my house done this year and I know that's going to eat into my reading time.
Read More Diversely – Here I mean both the obvious and the not quite as obvious. I want to up my numbers of books written by BIPOC authors and those with diverse characters. I had great success with so many diverse books in 2020, that I know I can find even more in 2021. Publishers seem to be starting to give more attention to diverse books, hopefully making it easier to get them in our hands and minds. I also want to be more willing to read different genres/types of books than I normally do. I stepped out of my comfort zone to read The Invisible Life of Addie LaRue and it was my favorite book of the year.
Bookstagram – I continue to feel like that platform is just as important to me as this one, and so I need to find a better balance between the two.
Being Okay with Less – If you've followed my blog for a long time, you already know that I don't post as often as I used to. Life is busy and often I just want to do other things. At times this year the blog has felt like a job and I don't want it to be like that. Posting less often helps, and I need to learn to be okay with that.
THAT'S IT! – With the insanity that blindsided us in 2020, I don't want to make any big commitments for 2021, another year that we can't really be sure about. I just want to be free to go with whatever happens this year. I'm keeping it simple in 2021!
 As we travel through the wonderful world of books, thank you for following Novel Visits. Here's to a simpler 2021!