This post may include Amazon links. As an Amazon Associate I earn from qualifying purchases.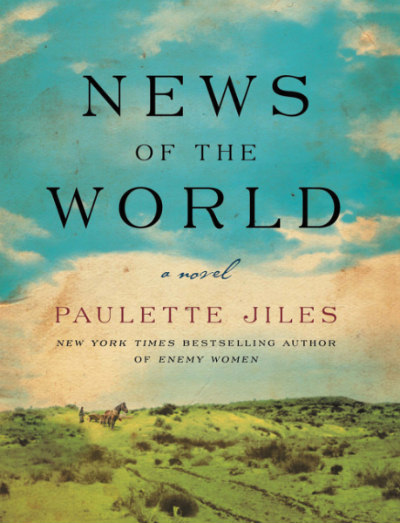 News of the World by Paulette Jiles
Publisher: William Morrow
Release Date: October 4, 2016
Length: 224 pages
Buy on Amazon
Single Sentence Summary: Captain Jefferson Kidd and 10-year old Johanna travel 400 miles of often dangerous, unsettled, lawless Texas to reunite Johanna with her family.
Primary Characters: Captain Jefferson Kyle Kidd – a 71-year old who travels throughout Texas earning his living as a news reader. Johanna – a 10-year old girl who thinks of herself as a member of the Kiowa tribe after living with them for four years.
Synopsis: Captain Jefferson Kidd lived through three wars, serving in two. He ran a successful printing business and turned to reading the news in small towns throughout Texas after his wife passed away. His calm, level voice and even temperament earned him the respect of many. Captain Kidd was satisfied with his life, if a bit lonely. Kidd was offered a fifty dollar gold piece to return a girl held captive for four years by the Kiowa to her family in San Antonio. After he reluctantly agreed, the Captain got much more than he could possibly have anticipated.
Ten-year old Johanna watched while her parents and younger sister were brutally murdered in a raid by the Kiowa. For some reason only she was spared and then taken to live among the Kiowa. They became her family. Her mother. Her father. Her friends. Their culture became her culture. Their language. Their songs. Their beliefs. The Kiowa were all she knew. Johanna was not happy to be taken from them, and she did not want to be traveling with the Captain. The first chance Johanna had, she tried to flee, but the Captain was vigilant in his duties and soon Johanna was back and the two were again on the road. As the Captain and Johanna traveled the 400-mile journey to San Antonio, they gradually learned to communicate, to trust, and most of all to care for each other.
Review: Somehow News of the World, a National Book Award finalist, is the first Paulette Jiles novel I have ever read. That's probably a mistake on my part because I liked this one very much. It's a most unique story, rooted in a part of American history that many of us know little about. Did you know that most children who lived with Native Americans for as little as a year had a great deal of difficulty when returned to their families? Many longed to go back to their tribal homes. Some starved themselves when returned to their white relatives. I never knew that people with a little bit of education made a living out of going to towns, renting a space and reading news stories to live audiences. But, this story is much more than a history lesson.
The author's compassion toward her characters was truly beautiful. In speaking of Johanna, shortly after the Captain had taken her on Jiles writes:
" As far as she knew she was walking into a disaster, into a land blighted and starved. All around in the rolling hills there were neither buffalo nor canyon wrens with their spilling of song. In this land there were no Kiowa or mother or father. She was utterly alone, trapped in peculiar clothing, a dress made of cloth with blue and yellow stripes and a tight waist. She had been laced into a thing that she could only imagine was for magical purposes, meant to confine her heart and breath in a sort of cage to hold her forever like a shut fist that would never open." 
Beautiful. And, there are so many more passages that I could share.
The character development in News of the World was seamless. I grew very attached to both main characters without realizing I was so invested in them. Perhaps this is in part because Jiles treats both with utter respect. In the Captain we are given a noble man, who became quite lonely after his wife passed away, but was doing the best he could. In Johanna, a child torn from her parents, adopted into a new culture, sold for four blankets and some silverware, and then handed over to a stranger. Though neither realized it when fate brought these two together, they needed each other and Paulette Jiles did a tremendous job of melding their two personalities, while allowing each character to remain his/herself. This is really a wonderful character-driven novel. Grade: A
Note: I feel like I would be remiss if I didn't mention the fact that News of the World is a novel where the author has chosen not to use quotation marks in dialogue. The writing of Paulette Jiles is so good, you hardly miss them, but I cannot say I was unaware that quotation marks were absent. There were instances when I had to go back and check for thinking versus saying. (For more on "Quotation Marks" see link.)
If you liked this book you might also enjoy:
Disclosure: There are Amazon Affiliate links included within this post.