This post may include Amazon links. As an Amazon Associate I earn from qualifying purchases.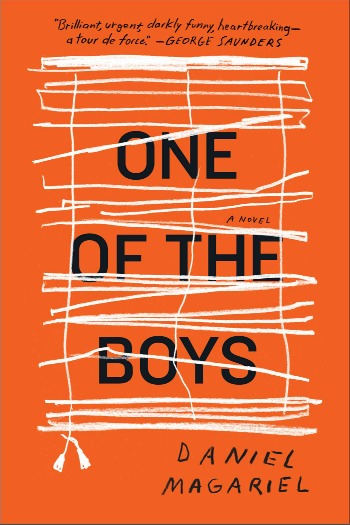 One of the Boys by Daniel Magariel (debut)
Publisher: Scribner
Release Date: March 14, 2017
Length: 176 pages
Buy on Amazon
Single Sentence Summary: Two brothers must rely on each other when the father who fought for their custody fails to be the man they believed in.
Primary Characters: None of the characters in this book are ever spoken of by name, making it a little difficult to talk about. The narrator of the story is the younger, 12-year old son. He's anxious to have the new life promised by his father. His brother is 15, about to enter 9th grade and a little more world weary. Their father is a weak man, used to getting his own way no matter the cost.
Synopsis: After the war for custody is won, two brothers and their father leave Kansas for a new life in Albuquerque, New Mexico. Right from the start there is a sense of uneasiness around their father. He meets with strangers in bars, works from home, but seems to do very little, and there's often strange smells coming from his bedroom. The brothers watch helplessly as their father becomes more and more unstable, and then the verbal abuse and physical violence begin. With no one else to turn to, the brothers must lookout for each other.
Review: Sometimes a book can be painful to read. Sometimes the things that happen in a story sicken you. Sometimes you want to wrap your arms around characters and carry them to safety. One of the Boys is such a book. As much as it's terrifying, horrific, and raw, it's also gripping, real, and hopeful. I'd love to sit down with author Daniel Magariel and pick his brain about the evolution of his debut novel. I'd love to know what happens next.
Magariel wisely chose the younger brother as the narrator for One of the Boys. Coming from a family that could be the poster child for dysfunction, this boy had already seen so much. Yet, he was still innocent enough to have unfailing loyalty toward his father, even at the expense of his mother. In the opening chapter both boys helped their father frame their mother for child abuse, giving their father full custody. They'd long been primed for a life of just the boys, and with that, life might have been great. But it wasn't.
A fresh start in a new city was the promise. The reality was a gut-punch, yet something secretly feared. The father these boys loved didn't just dabble in drugs, he was a junkie, with meth his drug of choice. As with many addicts, there was little room in their father's life for anything else. The best he could offer his sons was a Pavlovian version of love: alternating warmth and caring with beatings and cruelty.
"Never before, though, had he handled either of us boys so violently. Until now his brutality had been reserved for her."
"He was confused and frightened. He didn't understand what I was doing. He bit his lip to make it stop quivering. I loosened my grip, then let go of him completely. We'd hurt him. He'd cried for help. I was horrified by what we'd done."
While reading One of the Boys there were many times I cringed with its harsh realities, but others where I whispered, "Thank God." There is no doubt this is a disturbing story, but disturbing stories are often some of the best. That is definitely the case here. This slim book will stay with you long after you've read the last page. Grade: A-
If you liked this book you might also enjoy:
Our Endless Numbered Days by Claire Fuller – Like the brothers in One of the Boys, Peggy is a victim of a father who is not of sound mind. (My review here.)
A Little Life by Hanya Yanagihara – Both books share themes of physical and psychological abuse.
The Death of Bees by Lisa O'Donnell – After the mysterious death of their parents, two sisters cling to each other.
Note: I received a copy of this book from the publisher (via NetGalley) in exchange for my honest review.
Disclosure: There are Amazon Associate links included within this post.