This post may include Amazon links. As an Amazon Associate I earn from qualifying purchases.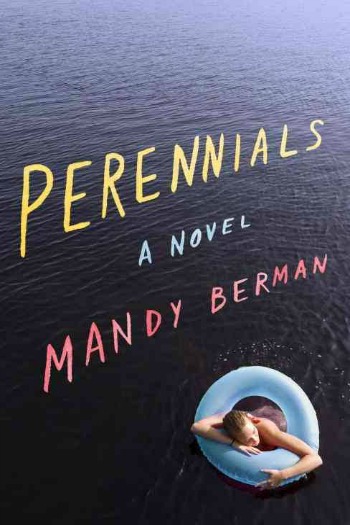 Perennials by Mandy Berman (debut)
Publisher: Random House
Release Date: June 6, 2017
Length: 288 pages
Buy on Amazon
Single Sentence Summary: Rachel and Fiona's friendship sprouted at Camp Marigold, but when they return as counselors their friendship is tested in ways neither could have imagined.
Primary Characters: Fiona Larkin – Fiona's family has a long history at Camp Marigold. It's where her parents met, so spending summers there is a long standing family tradition. Rachel —— – Rachel doesn't have as many advantages as Fiona. She's the child of a single mother and a father who is in her life, but keeps her a secret.
From the Publisher: "At what point does childhood end and adulthood begin? Mandy Berman's evocative debut novel captures, through the lens of summer camp both the thrill and pain of growing up… A seductive blast of nostalgia, a striking portrait of adolescent longing, and a tribute to both the complicated nature and the enduring power of female friendship…"
Review: Growing up I only went to camp a couple of times; it was never longer than a couple of weeks and the other kids were always new to me. So, I was really looking forward to experiencing summer camp in a whole new way with Mandy Berman's debut, Perennials. On that front her book was a huge success. The setting of Camp Marigold was very well developed. I feel like I could step into that camp and everything would be familiar: the tent-cabins with nets strung over the bunks, the boy-girl dining hall, the horse barn and riding paths, and idyllic lake.
Berman's main characters, Fiona and Rachel, I'm less certain about. The two, along with their friendship felt one-dimensional to me. Initially we're told they're the best of friends, though their backgrounds are very different. Six years later, their friendship is faltering with only the most superficial of explanations. Why over the last few years have they drifted apart? Can it really be that Fiona, a girl with everything going for her (she got a horse for her13th birthday), can be so undone by the "freshman 15?" Wouldn't Rachel, more sophisticated and experienced, have been drifting from Fiona for years? Or, is it just this last summer? Much of their drama felt too young adult for me.
Had Berman spent more time developing Fiona and Rachel the story's devastating climax would have been much more powerful. Instead, entire chapters were spent on minor characters that had almost nothing to do with the heart of Perennials. Some chapters felt like little more than fillers. This created a story that drifted from its plot far too often, making it difficult to sustain interest.
While I was not a fan of Perennials, I know others thoroughly enjoyed it. For a different point of view I'd suggest heading to The Misstery and checking out Annie's wonderful review. It's always fun to see how opinions about a book can vary so greatly. Grade: C
If you liked this book you might also enjoy:
Everything Belongs to Us by Yoojin Grace Wuertz – another debut that explores a young female friendship's changes during the college years. Everything Belongs to Us takes place in South Korea in the 1980's. (my review)
Marlena by Julie Buntin – an outstanding debut coming-of-age novel that explores the life long effects of teenage friendship. (my review)
Note: I received an advanced copy of this book from the publisher (via NetGalley) in exchange for my honest review.
Disclosure: There are Amazon Affiliate links included within this post.