This post may include Amazon links. As an Amazon Associate I earn from qualifying purchases.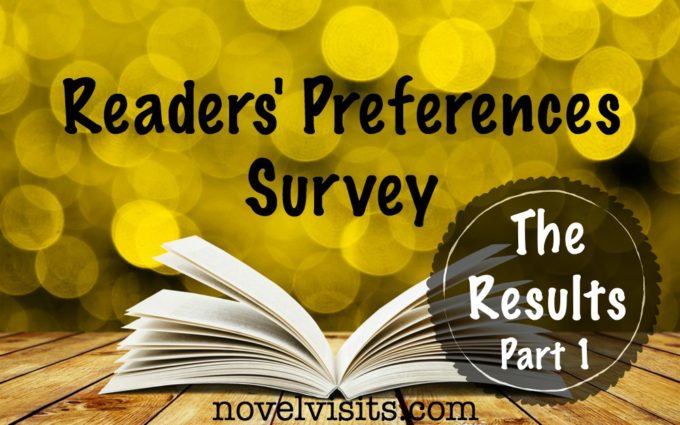 As you may recall, last month I ran a Readers' Preferences Survey that included nine questions about likes and dislikes when it comes to books and writing. Some of the questions gave options for answers, while others were completely open-ended. Your responses were truly amazing and with just under 100 of them, I'm I little overwhelmed! So, instead of sharing all the results at once, I'm breaking them up into two parts. Today, I'll share your responses to the first five question, those with choices given. Then, sometime before the end of the year, I'll take on the much more daunting task of sharing your very thoughtful responses to the four open-ended questions. Let's get started!
Question #1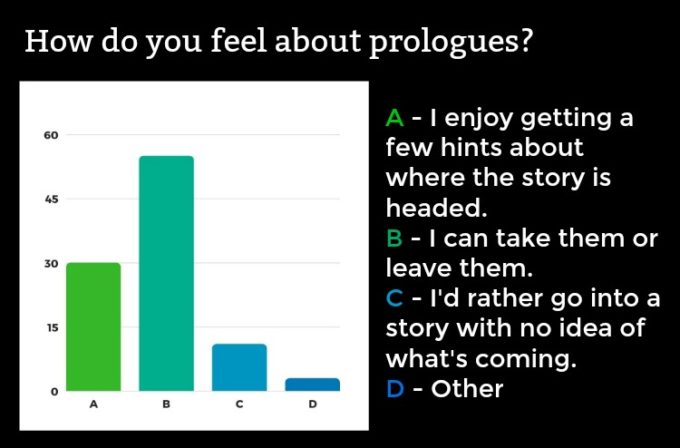 I asked this question because I'm a big fan of prologues and wanted to see how others felt. The overwhelming majority are either indifferent to prologues or are fans. Comments included one who finds prologues annoying, another who loves them, and still another who tends to forget them.
Question #2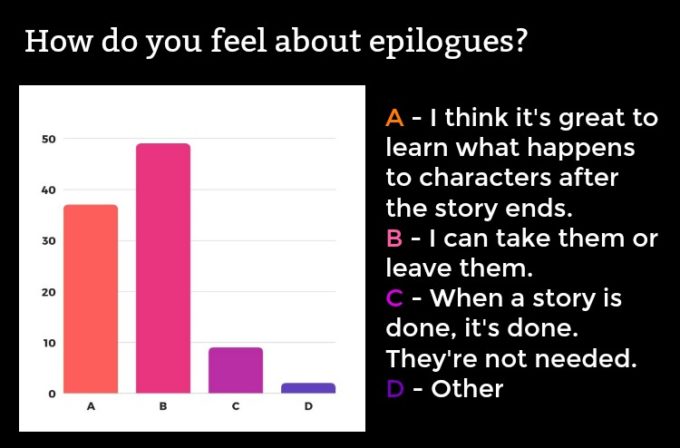 This entire survey really came about because of my annoyance at yet another epilogue. I fall firmly in the minority of readers who can do without them. I was surprised to see just how many readers have a fondness for the epilogue. Many enjoy finding out what happens to the characters after the real story is over. One reader went as far as to say she appreciated how they made for a "neat and tidy" ending.
Question #3
The most surprising result for me on the question of quotation marks was just how many haven't been aware of this trend. Several said they'd never encountered a book where the author didn't use them, and a few other mentioned that since they primarily listen to audiobooks there would be no way of knowing. Still, the vast majority of readers found the lack of quotation marks distracting. Encouraging to writers who favor this trend, just over 25% or respondents have grown accustomed to reading dialogue without quotation marks.
Question #4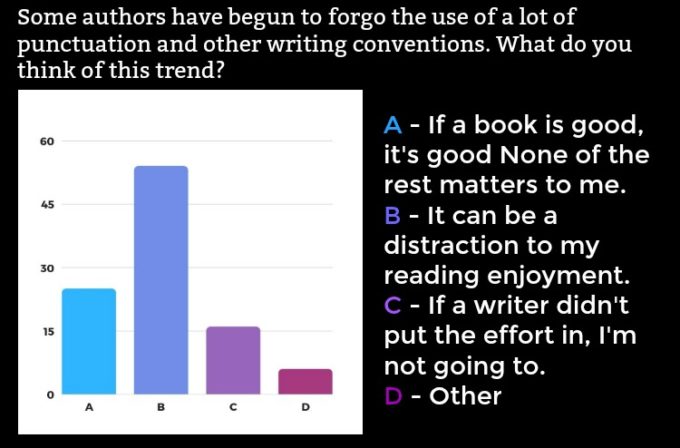 This question came to mind early this fall after reading two different books where I had to go back and reread long passages because sentences could take up an entire page. It was clear from the survey that readers really prefer writers to use the conventions of punctuation and grammar. Several pointed out that clarity of meaning IS the purpose of punctuation. Another reader expressed a special annoyance with misspelled words in a published book. Again, audiobook fans shared how this doesn't affect their listening pleasure.
Question #5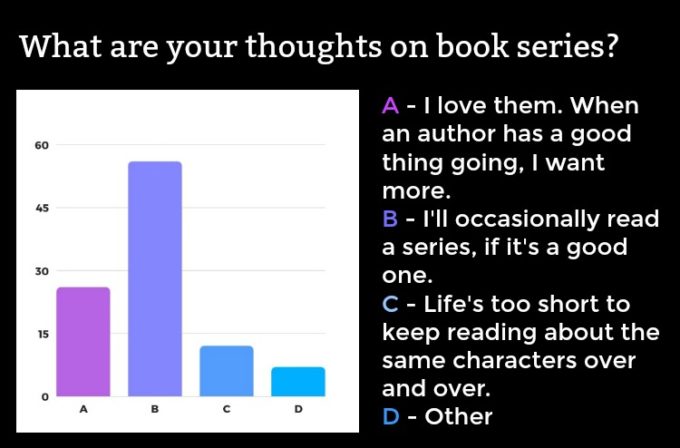 Anyone who's read my blog for long knows I rarely read series, so I was curious to see where readers of Novel Visits fall when it comes to series. Obviously, you're bigger fans than I am, and the comments from you sometimes made me laugh. A couple different readers shared that they're liking series less and less as they seem to be going "downhill." Another shared that she felt like it had become a way for certain writers to "foist duds on us." And perhaps my favorite response, "They are like candy or a drug to me…once I find one I like, I am hooked!!!"
A HUGE thank you to everyone who participated in my Readers' Preferences Survey.
Check back in December for the rest of the results.