This post may include Amazon links. As an Amazon Associate I earn from qualifying purchases.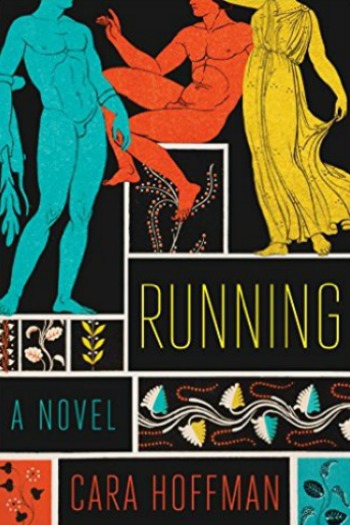 Running by Cara Hoffman
Publisher: Simon & Schuster
Release Date: February 21, 2017
Length: 288 pages
Buy on Amazon
Single Sentence Summary: Three teens, "running" in Athens, become embroiled in a scheme that will forever alter their lives.
Primary Characters: Bridey Sullivan– A girl from Washington, raised by her survivalist uncle. Bridey likes being alone and starting fires. Milo Rollack – A high school dropout, turned boxer from Manchester. Milo left with Jasper the night they met. Jasper Lethe – An Eton dropout, on the run and in search of something more. Jasper becomes more and more unstable as the story goes on. The three become their own sort of dysfunctional family.
Synopsis: Bridey meets Jasper and Milo in Athens where they are all "runners" for the same seedy hotel. (Runners are young people who pass out flyers for hotels in larger cities, luring tourists back often in exchange for a paltry commission and a place to stay.) Their frantic, addicted lifestyle leads to them becoming linked to a terrorist attack. Out of necessity, fear, and hopelessness the three part and the narrative moves to the lifelong after effects of those weeks they were together in Athens.
Review: Running is a dark, haunting story woven together in three different time periods. The first, in 1988 Athens, tells the story of Bridey meeting Jasper and Milo and the brief time in which they live together. Jasper finds Bridey on a train he's "running" and seeing some of himself in her, brings her home to the fleabag hotel where he lives with Milo. It's a much-needed respite for Bridey, but also a lot more. In Milo and Jasper, Bridey finds companionship, drinking-buddies, lovers and more. Together they weather the violence of Declan, a sometimes runner, often times mercenary, who believes he's in charge. Jasper, Milo and Bridey share a love of books and reading. The roof top hotel room where they live is littered with books, passed around like candy. Despite everything, Jasper's instability threatens their delicate balance.
The other two periods follow Bridey and Milo as they live with the results of the first. Just a few months later, Bridey is back in Athens, with a desperate need to know where Jasper and Milo have gone. In twenty years, Milo is a successful poet, with a teaching position in NYC, so why would he still rather sleep on the streets?
In Running, Cara Hoffman did a fabulous job developing her characters, especially Bridey and Milo. She created a background for Bridey that goes a long way to helping the reader understand most (but not all) of the choices she makes.
"Bridey was an American survivor, the kind that made you think of the Donner Party."
Raised by a survivalist uncle, Bridey is one tough girl! Milo for me was the saddest character of the three. In many ways he had the most going for him, but was trapped in a past that would not release its grip on him. I ached for his sadness.
The horror of having desired that boy could still keep him up at nights…The shame of how deeply Milo had loved and despised him was only beginning in those days on the island."
I feel like I've already given too much away, so I won't say more about the story, but there is more to say about the book. It's a book you must pay attention to while reading, but that's really not hard to do. The chapters are short, moving between the three different times. I liked Hoffman's characters despite their many flaws. All do things you will not care for, but you will usually be sympathetic. As I said at the beginning of this review, Running is a dark, haunting story, but it is beautifully crafted. I highly recommend it. Grade: B+
If you liked this book you might also enjoy:
The Girls by Emma Cline – Like Milo, Evie looks back at a short period in her youth that forever changes her. (My review here.)
Girls on Fire by Robin Wasserman – Like Bridey, these teenage girls make some very dark choices on the road to growing up. (My review here.)
Girl at War by Sarah Novic – War forced terrible choices on 11-year old Ana, choices that haunt her as an adult. 
Note: I received a copy of this book from the publisher (via NetGalley) in exchange for my honest review.
Disclosure: There are Amazon Associate links included within this post.