This post may include Amazon links. As an Amazon Associate I earn from qualifying purchases.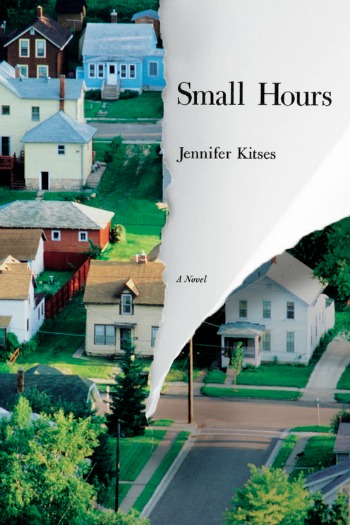 Small Hours by Jennifer Kitses (debut)
Publisher: Grand Central Publishing
Release Date: June 13, 2017
Length: 288 pages
Buy on Amazon
Single Sentence Summary: Tom and Helen wake to a normal day only to have the secrets they hold threaten to destroy their delicately balanced marriage.
Primary Characters: Tom – husband, and father of three 3-three year old girls. Tom feels lots of pressure at home and at work, tends to have lapses in attention. Helen – wife, mother to 3-year old twins, Sophie and Ilona. Helen works from home as a graphic designer and has serious anger issues.
From the Publisher: "... a gripping, suspenseful, and gorgeous debut novel–told hour-by-hour over the course of a single day–in which a husband and wife try to outrun long-buried secrets, sending their lives spiraling into chaos."
Review: Unfolding in alternating perspectives, Small Hours, showcases a marriage on the brink of disaster. Tom and Helen wake up under the assumption that their lives are under control, that their marriage is strong. But, as the day progresses, those fallacies slowly begins to crumble. Why? Secrets.
Small Hours is a story of secrets. Secrets a husband has long hidden from his wife. Secrets she is ashamed to share with him. It's the story of secrets that can no longer be silenced. Secrets that have the power to destroy a good marriage, a marriage neither husband or wife realized was on the precipice of disaster.
"She'd never said anything to Tom about that moment of anger. Or about any of the ones that followed. They became part of an ever-widening category of what she kept to herself."
"There was only one thing he understood with certainty: This life, as he knew it, was coming to an end. These stolen hours that he'd spent checked out from the never-ending pressures of his all-too-real life."
This couple has lived for a long time pretending their world was right, but as the day unfolds their secrets rear up and can no longer be ignored. Jennifer Kitses has done a wonderful job presenting an ordinary couple battling their way through complicated circumstances that they're largely responsible for creating. For both Tom and Helen she's developed backstories that lead to a realistic domino effect for their individual crises. I very much liked that Kitses had elements of Tom's story leading to element's of Helen's and vice versa. The questions quickly became, "What kind of secrets can this marriage survive?" and "Who will be responsible for toppling their union?"
At times the choices Tom and Helen made seemed a little "out there," but not enough so that they were difficult to overlook. And, I found the ending very satisfying. Small Hours is a fun, fast paced book that would be perfect to tuck in your bag for a vacation read this summer. Grade: B
If you liked this book you might also enjoy:
The Hopefuls by Jennifer Close – This story of a D.C. couple living it up in the early Obama years, shares a marriage hitting a breaking point with Small Hours. (my review)
Leave Me by Gayle Forman – In this book a wife holds the biggest secret of all when she leaves, not telling her family where or why she has gone. (my review)
Us by David Nicholls – Us is a really interesting story of a troubled marriage and its many sides. Told with both humor and insight.
Note: I received a copy of this book from the publisher (via NetGalley) in exchange for my honest review.
Disclosure: There are Amazon Associate links included within this post.