This post may include Amazon links. As an Amazon Associate I earn from qualifying purchases.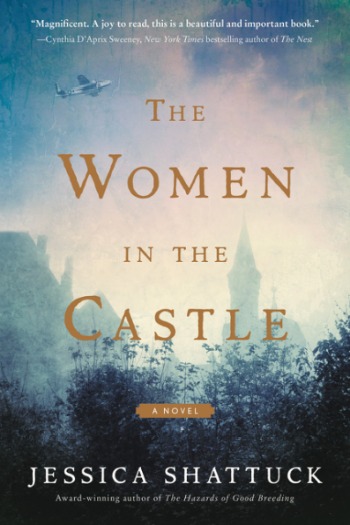 The Women in the Castle by Jessica Shattuck
Publisher: William Morrow
Release Date: March 28, 2017
Length: 368 pages
Buy on Amazon
Single Sentence Summary: Three German women, left widows by the cruelties of WWII in their own country, form tenuous friendships while living together in a crumbling Bavarian castle.
Primary Characters: Marianne von Lingenfels – Wealthy widow to a key player in the German Resistance, Marianne has vowed to help the widows of other Resistance members. Benita – The beautiful, but naïve young widow of Marianne's best friend Connie, a prominent player in the plot to take down Hitler. Ania – The hardworking, secretive wife of another member of the Resistance.
Synopsis: Amidst the ruins and devastation left throughout Germany after World War II, Marianne von Lingenfels strives to fulfill a promise she made to the men who conspired with her husband to take down Hitler: to offer shelter and aid to their widows. She first locates the wife of her closest childhood friend, Connie. She brings Benita and both their children to the beautiful, but damaged family castle in Bavaria. Ania and her two sons are found next and they too join the small family at the castle. Marianne assumes that Benita and Ania share her pride and shame: pride in their husband's valor and shame in their nation's sins. But, the three women shared very different experiences during the war, leaving each with unique and sometimes opposing perspectives.
Review: I have a special love of World War II novels. In fact, last year on the 75th anniversary of the bombing of Pearl Harbor I did a post on my Favorite WWII Novels. With so much rich material, in so many different variations, even after many, many books on the subject, there is still much to be told. One example from earlier this year is We Were the Lucky Ones by Georgia Hunter. Her wonderful story was unique in that it was about a whole family of Polish Jews who managed to stay out of the death camps and survive the war. (My review.) The Women in the Castle is another such book with a fresh perspective.
Jessica Shattuck's book was above all else a story of relationships, but within that were glimpses into what WWII was like from inside Germany. I've read little about the German Resistance and their very real, but failed plot to take out Hitler. It was refreshing to read about the disgust many felt with their own leader. The book gave voice to the deep shame many Germans bore during, and especially after, the war. I'd given little thought as to what it was like to live in post-war Germany. Occupied by Allied Forces for many years, the Germans had to find a way to live with their authority, and to find places for the millions of people displaced, and left homeless as a result of the war.
The relationships forged by the three women living with their children in the castle were complex. Marianne was an open book. She was proud of her husband and his efforts in the Resistance. She was ashamed of her country and had an abiding hate of the Nazis. Everyone knew where her alliances were and she assumed her fellow widows felt the same. Benita and Ania had not experienced the war in the same way as Marianne.
"When the two cars are side by side, Ania finds herself staring into one particular woman's face. She is not old, not young, a mother holding a baby in her arms. For an instant, their eyes connect. And the woman's gaze is so full of dsepair it takes Ania's breath.
Beside her, Wolfgang throws up.
In that moment, Ania understands that they are headed to a terrible place."
Ania's and Benita's feelings about a life in post-war Germany were not always in line with Marianne's. This tension was at the heart of Shattuck's story. Marianne was their benefactor and to disagree or even approach life a little differently was made nearly impossible. For these reasons I admired Marianne, but also had a difficult time liking her. In fact, I didn't really feel invested in any of the women in the castle. I did, however, like the story of their post-war evolutions and the strains that put on their friendships. So for me, the new take on history and the complex relationships between the three women made The Women in the Castle a WWII book that was well worth reading. Grade: B
If you liked this book you might also enjoy:
Skeletons at the Feast by Chris Bohjalian – In both books German citizens are forced to really see and acknowledge to themselves the horrors of what Hitler has done.
The Nightingale by Kristin Hannah – In The Women in the Castle the reader learns about the German Resistance and in The Nightingale about the French Resistance.
22 Britannia Road by Amanda Hodgkinson – Life after WWII is the theme of both books. In this, it's life in a new country for a Polish couple separated for much of the war.
Disclosure: There are Amazon Associate links included within this post.