This post may include Amazon links. As an Amazon Associate I earn from qualifying purchases.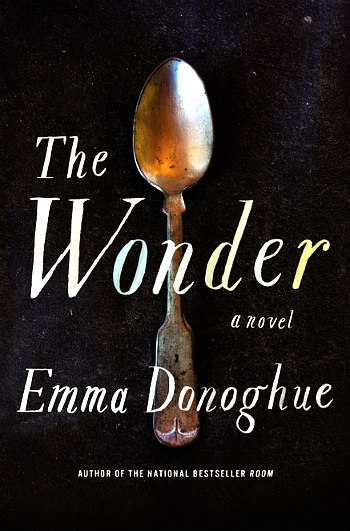 The Wonder by Emma Donoghue
Publisher: Little, Brown and Company
Release Date: September 20, 2016
Length: 304 pages
Buy on Amazon
Single Sentence Summary: English nurse Lib Wright is tasked with the job of observing young Anna O'Donnell whose family claims she has eaten nothing since her 11th birthday four months earlier.
Primary Characters: Lib Wright – a modern, Florence Nightingale trained nurse sent to a small Irish village where a private nurse was needed for two weeks. Anna O'Donnell – the 11-year old patient that Lib is to observe. Anna, a very devout girl, stopped eating four months earlier.
Synopsis: When Lib Wright agrees to leave London for a two-week job in Ireland she doesn't know anything about what she's taken on. Lib is dismayed to see that the village she has been sent to is small, poor, and very, very Catholic. With no real religious faith of her own, Lib has nothing against the Catholic faith, but sees it as a little backward. She doesn't understand it. Lib worries the village is making some sort of play for sainthood when she is told that her sole task is to observe a young girl whose family, doctor, and priest all claim she hasn't eaten anything in four months.
Lib is confident that she can quickly put an end to this outrageous claim, but Anna O'Donnell turns out to be more of a mystery than Lib expected. Lib cannot find anything wrong with Anna who appears to be in excellent health. At the same time, Lib can find no signs that Anna is eating anything at all. As the days pass, Lib and Anna develop more and more of a personal relationship. When Anna's health quite suddenly seems to start declining Lib fears she herself may be part of the problem.
Review: Some writers, like Chris Bojahalian, Ann Patchett, Anita Shreve, and Emma Donoghue, have the ability to turn out novel after novel while still keeping each one fresh and completely unique. That's what readers love so much about these authors, and Emma Donoghue's newest, The Wonder, is no exception. It was inspired by real life cases of "fasting girls" that occurred mainly in girls and women in Europe and North America from the 16th through the 20th centuries. While these cases included people from all social classes and a variety of religious backgrounds, The Wonder is set in a very Catholic, rural village in 1859 Ireland.
I liked this setting very much for the pieces of Irish history it brought with it. Only a few years out of the deadly Potato Famine many people in this small community are barely recovered when Lib Wright arrives during "the hungry season." (Those long weeks of summer before the potatoes can be harvested.) Lib brings with her some very unflattering English views of Ireland and the people who live there.
 "What a rabble, the Irish. Shiftless, thriftless, hopeless, hapless, always brooding over past wrongs. Their tracks going nowhere. Their trees hung with putrid rags."
She is also convinced Anna's fasting is little more than a hoax perpetuated by the entire Irish community. Lib calls into question the Catholic faith and those who follow it, especially under circumstance where there might be something to gain.
I appreciated the relationship built between Lib and Anna, and how the author used that relationship to reveal both of their backstories. Anna, a most pious little 11-year old had much to teach Lib about faith and devotion. Lib's background, rooted in science, was in constant battle with Anna's teachings. Her evolution throughout the story from a woman of science and little more to a woman who could care outside the bounds of a nurse was lovely.
"She muffled her weeping in the blankets, the hard double ridge of the child's lap. The upside-downness of it: to be consoled by a child, and such a child."
As I started The Wonder, I was a little unsure if I would truly like it, but with every chapter I read I grew more and more enamored with this story. The ending was not surprising to me, but still very satisfying. I think this is a novel that many people will love. Grade: A-
If you liked this book you might also enjoy:
Note: I received a copy of this book from the publisher (via NetGalley) in exchange for my honest review.
Disclosure: There are Amazon Affiliate links included within this post.