This post may include Amazon links. As an Amazon Associate I earn from qualifying purchases.
I'd been toying with the idea of doing a post on books I've never read, so when I saw this week's Top Ten Tuesday prompt of "Books on My TBR List the Longest," I knew it was a perfect fit. Hosting for this fun weekly meme has moved over to That Artsy Reader Girl, so many thanks to Jana for taking that on. Now, onto some books that even I'm amazed I've never read.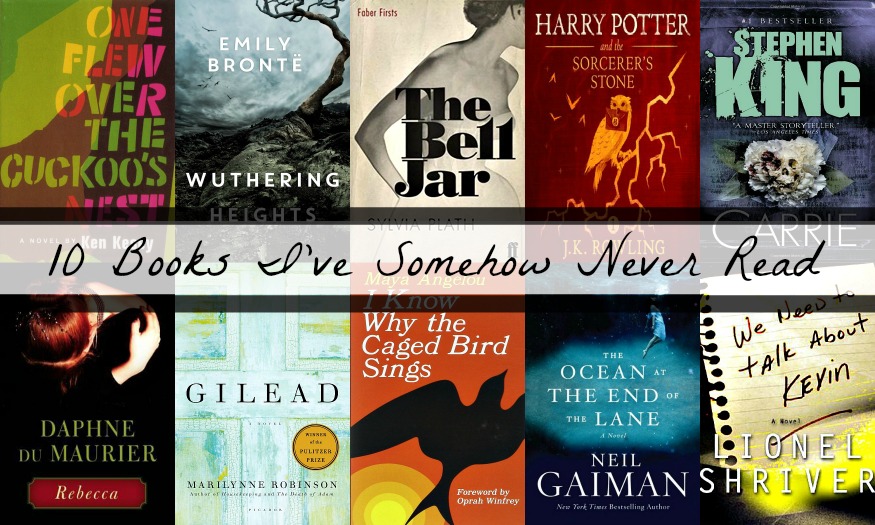 The Bell Jar by Sylvia Plath – Of the books on this list, The Bell Jar is the one I'm most interested in reading. A modern classic with a focus on mental illness would fit in nicely with Everything Here is Beautiful and My Lovely Wife in the Psych Ward, two similarly themed books that have really worked for me recently.
Carrie by Stephan King – Back in my teens and 20's, I was a huge Stephen King fan and devoured many of his books. The Stand and 11/22/63 rank up there among my all time favorite books, but somehow I missed Carrie along the way. I rarely want to read a book after seeing the movie which may be why I skipped Carrie.
Gilead by Marilynne Robinson – I haven't always luck with Pulitzer Prize winning novels. In fact, for about 10 years I refused to read them and that was the fate of Gilead. Donna Tartt and The Goldfinch finally put an end to my self-imposed ban, so I might finally be ready to take on this slim award-winning volume.
Harry Potter by J.K. Rowling – The Harry Potter franchise is what first inspired me to do this list. People are always amazed that I haven't read ANY of the Harry Potter books, and further, I have no desire to read them! Back in the day I went to the first couple of movies with my sons, but that was more than enough of the Boy Wizard for me.
I Know Why the Caged Bird Sings by Maya Angelou – This is one of those books that I feel like I need to read, but for some reason I never actually want to. I'm not sure why I've avoided Angelou's memoir for so long, but since I've recently come to appreciate memoirs more and more, it may be time to give hers a try.
The Ocean at the End of the Lane by Neil Gaiman – People are gaga over Gaiman books and yet I've not read any. In the past the magical realism angle has thrown me off, but that's something I appreciated in last year's Exit West by Mohsin Hamid, so it might finally be time to give The Ocean at the End of the Lane a try.
One Flew Over the Cuckoo's Nest by Ken Kesey – How have I never read this? I think One Flew Over the Cuckoo's Nest suffered the same fate as Carrie: I saw the movie. Nonetheless, I do think it's a book I'd enjoy and really should make some time for in my reading life.
Rebecca by Daphne du Maurier – High school and college kind of burned me out on classic English writers, and even though Rebecca is a more modern story, in my mind it fell into the same category. I've passed Rebecca over for years, but it's one of the books that I'm most interested in working into my reading line-up.
We Need to Talk About Kevin by Lionel Shriver – A book about a horrific school shooting hits a little close to home for me and explains why I've delayed reading We need to Talk About Kevin. Still it's a book that has long been on my TBR list and since school shootings have sadly become more and more frequent, it may be time.
Wuthering Heights by Emily Bronte – I know. You're probably shocked. How is it possible that I've lived to be as old as I am without reading this classic? When I was much younger, I read a lot of the Bronte books, and while they were good in many ways, I'm just not a huge fan. (Sacrilege, I know.) So, never getting to Wuthering Heights makes sense.
Disclaimer: There are Amazon Associate links contained in this post.