This post may include Amazon links. As an Amazon Associate I earn from qualifying purchases.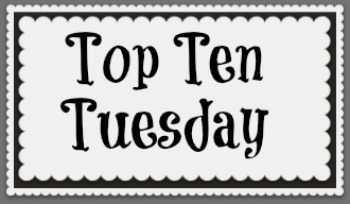 The theme of this week's Top Ten Tuesday, hosted by The Broke and the Bookish, is books that you wish had more or less of something. That wasn't quite working for me and I'd been wanting to do a post highlighting tear-jerkers. So, I played with the theme a little to make it work. Other than the times I was pregnant, I'm not the type to cry over a Hallmark commercial or a sad luck story posted on Facebook. But, when reading a great book, I can get very involved in the characters' lives. Sometimes that results in a flood of tears. These ten novels did just that to me and I bet they have to many of you, too!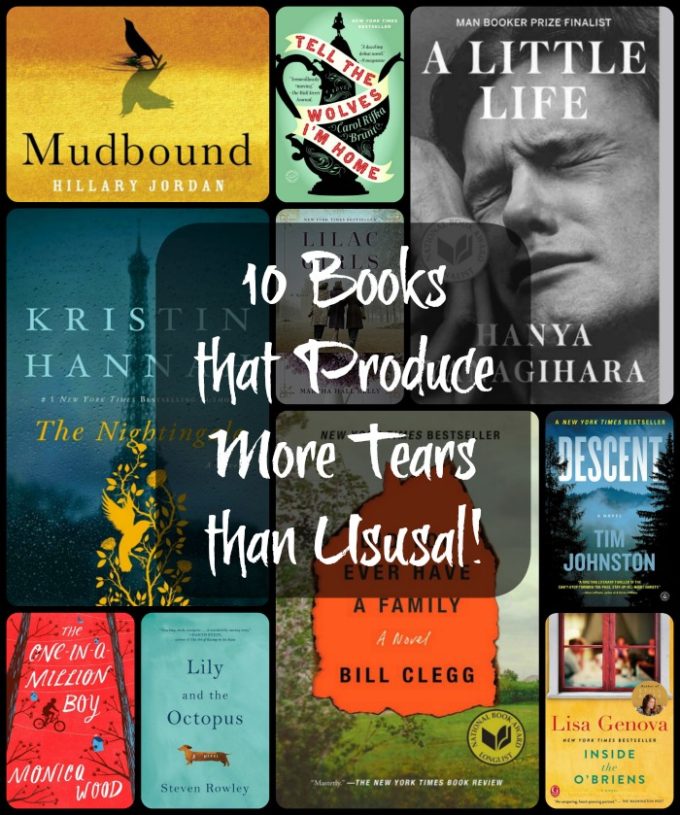 A Little Life by Hanya Yanagihara is one of my all-time favorite books. The themes were difficult, making this book not easy to read, but I still found it magnificent. Stories of life-long friendships always appeal to me. This book about four college classmates all devoted to their terribly flawed classmate, Jude, was no exception. There were several times when reading A Little Life that I had to take a break from it. My sadness was so overwhelming that I literally could not keep reading through my tears. I loved it!
Descent by Tim Johnston – You might not expect a book billed as a psychological thriller to bring on tears, but this one did for me. This story focuses on all four members of the Courtland family in the days and years following the abduction of their teenage daughter, taken while her younger brother looked on. It was that family dynamic that made Descent so poignant. You felt for each of them as they battled demons brought out by the kidnapping. Making it even sadder was how impossible it was for those left behind to stay connected.
Did You Ever Have a Family by Bill Clegg – As Did You Ever Have a Family opens June losses her daughter, her daughter's fiancé, her ex-husband, and her boyfriend in a huge explosion. That was the first time I felt the sting of tears in this book, but not the last. That tragic event is not only devastating for June, but for everyone connected to it in ways big and small. My initial tears were for June, but she was only the first of many who I grieved with in this truly stunning novel.
Inside the O'Briens by Lisa Genova – Huntington's is a devastating, lethal neuromuscular disease that 43-year old Joe is diagnosed with in this book. There is no treatment. There is no cure. There is just a slow progression of symptoms that end in death. It's hereditary. Odds are that two of Joe's four children will get it. And that's the sad story of Inside the O'Briens. I cried for Joe and his horror at knowing he might pass this to his children. I cried for his family, watching Joe suffer. Making it even harder was the fact that his children could find out if they would get the disease or not. A very tough choice. Beautifully told.
Lilac Girls by Martha Hall Kelly – It's no secret that I tend to like WWII novels and obviously they're most often sad. Still, I don't shed tears over all these stories. It takes wartime tragedy in combination with characters I care about for that to happen. Kasia Kuzmerick and her sister, both sent to Ravensbrück, were the characters I cared that deeply about in Lilac Girls. Their stories of suffering as tortured Rabbits of Ravensbrück were heartbreaking. Their fight for some sort of "normal" lives after the war were inspiring. (My full review here.)
Lily and the Octopus by Steven Rowley – Well there should be no surprise here. Lily and the Octopus is a dog book and let's be honest, dogs never survive in dog books. Lily is no exception, and yes, that is what will produce most of your tears, but not all. This book is also powerfully funny and seriously touching. I laughed nearly to the point of tears at times and appreciated every moment of emotion packed into this debut novel. (My full review here.)
Mudbound by Hillary Jordan – This startling debut novel centers on a city-bred woman, Laura, trying to make a life on her husband's rural Mississippi farm in 1946. She and five other characters tell the story. Included are two men just returned from WWII: Laura's brother-in-law and the son of share-croppers who work their land. As these two develop something of a friendship, tensions rise around them leading to a horrifying ending that left me shattered. If you haven't read Mudbound, you should!
The Nightingale by Kristin Hannah – I have a funny story about reading this brilliant novel that tells the stories of two sisters in the French resistance during WWII. I was about halfway through The Nightingale when I got on a plane to return home from a trip to Nicaragua. I had a window seat and next to me were two men I didn't know. The one on the isle was passed out from the time we took off. There was no escape! Anyway, I got to a sad (a really sad) part, but was trying to hide my tears because it was a little embarrassing. Making it even harder was the fact that the only "tissue" I could find was a cocktail napkin. I got past that part, and pulled myself together. An hour later, it happened again. I was at the end and pretty close to sobbing. Now, I had no tissues and I'm starting to feel like I'm making a scene. I feel a tap on my shoulder. The man next to me says, "Are you okay?"
I look at him through my tears and reply, "It's a really sad book."
He hands me a beautifully pressed linen handkerchief and says, "Please, take this. You can keep it."
The One-in-a-Million Boy by Monica Wood – I wish more people would read this book. I loved the story of a man learning lessons about his son from a most unexpected source. Before he suddenly passed away, the boy had befriended a 101-year old woman, Ona, while working on a Boy Scout badge. The relationships between the boy and Ona, and between his father and Ona are so heartwarming. This book makes you feel great just to have read it, but there will be both happy and sad tears, too. (My full review here.)
Tell the Wolves I'm Home by Carol Rifka Brunt – This is a big coming-of-age story with a whole family of characters, but the heart of the story is 14-year old June. It's 1987 and when the uncle she loves passes away and no one will explain why, she turns to Toby, a friend of her Uncle's for answers. Toby is a kind, gentle man whom June comes to love despite her parents reservations. It's their relationship, and June's evolution that brought tears to my eyes.
Disclaimer: There are Amazon Affiliate links contained in this post.