This post may include Amazon links. As an Amazon Associate I earn from qualifying purchases.
So far in 2017, I've read two coming-of-age novels and wasn't totally enamored with either of them. Yet, coming-of-age stories are one of my favorite genres. I love a well written story that highlights the growth of young people as they make that transition into adulthood. It's something that all of us have experienced and can sympathize with. This week's Top Ten Tuesday was a "freebie," meaning any "super specific list you want to tackle." I knew immediately that I wanted to cover some amazing coming-of-age novels. Many thanks to the women at The Broke and the Bookish for continuing their commitment to this fun weekly meme.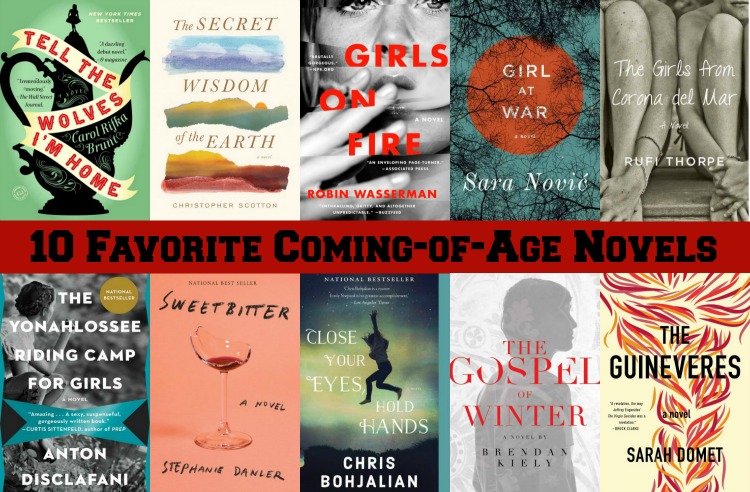 Close Your Eyes, Hold Hands by Chris Bohjalian – This book is not only one of my favorite coming-of-age novels, it's also one of my favorite Chris Bohjalian novels. The story centers on 16-year old Emily, orphaned, homeless, and hiding her real identity, after the nuclear power plant where both her parents worked suffers a catastrophic meltdown. She is amazing!
Girl at War by Sara Nović – I loved this story of Ana as a 10-year old child and as a college student. At ten, she's caught up in the crossfires of Yugoslavia's civil war and must learn to survive at any cost. As a college student, now in America, she returns to her Croatian home to face the ghosts that have never stopped haunting her. In many different ways this is a stunning story of survival.
The Girls from Corona del Mar by Rufi Thorpe – I spent my young adult years in southern California very near Corona del Mar which is only one of the reasons I loved this book. It's the story of Lorrie Ann and Mia, and their deep teenage friendship. As they move closer to adulthood, that friendship is tested, re-examined and profoundly changed when their lives move in very different directions.
Girls on Fire by Robin Wasserman – This is a book that really grows on you. When I first finished it, I knew I liked it, but it was disturbing in many ways. With a little distance, I realize that was the point. Girls on Fire, with a backdrop of 1990's Nirvana, delivers two outcast teenage girls who explore the darker parts of life and find that some of the "popular" kids have already been there. (My review here.)
The Gospel of Winter by Brendan Kiely – Had I realized this was technically a young adult book, I may not have read it. Thank goodness I didn't know because I think this book is brilliant! Aiden lives in a very affluent community, goes to a wealthy private school, but feels so different. His parents are divorcing, and the priest he turns to for help abuses him. This book is really about Aiden's struggle to take back control over his own life.
The Guineveres by Sarah Doment – This book, from last fall, was one I looked forward to with great anticipation and it certainly delivered. Four young teenage girls, all named Guinevere, find they've each been delivered to the Sisters of Extreme Adoration convent.  Each wants nothing more than to find a way to leave it. Their teenage friendship begins with their shared name, and evolves with their shared desire for escape. (My review here.)
The Secret Wisdom of the Earth by Christopher Scotton – The protagonist in this story is young, only 14, but the events that happen over the course of the story will define Kevin for the rest of his life. After Kevin's younger brother is killed in a terrible accident, Kevin and his devastated mother return to her childhood home in rural Kentucky. His grandfather is a huge comfort, but the town itself is seething with bigotry and rage that draw Kevin in.
Sweetbitter by Stephanie Danler – Sweetbitter was on my 2016 Best Books of the Year list, so it had to be here, too! There were so many things to love about this book, but for me the real star was Tess. She's a small town girl who arrives in NYC and spends the next year in the world of food, wine, and drugs. Along the way she learns some harsh lessons about friendship, love, betrayal and most of all herself. (My review here.)
Tell the Wolves I'm Home by Carol Rifka Brunt – This might be my favorite book on this list! June is a shy, awkward 14-year old in 1987. The one person she feels closest to, her uncle (a famous painter), dies of a mysterious illness that no one wants to talk about. But, June wants answers. When a strange man sends June a gift that she recognizes from her uncle's apartment, June may have found the one person who can give them to her.
The Yonahlossee Riding Camp for Girls by Anton DiSclafani – Set in 1930, this is the story of Thea, a 15-year old banished from the only home she'd ever known for her role in a family tragedy. Sent to an equestrian boarding school for Southern debutantes, headstrong Thea struggles to reconcile the events that happened back at home while grappling with how she will shape her future. Fabulous!
These books were each unique and beautifully told coming-of-age stories. It's interesting to note that all, except the novel by Chris Bohjalian, were debuts. It makes sense that so many great coming-of-age stories are debuts. Sometimes these stories spring from actual events in the authors' young lives. Even when they don't, a young author knows well and is closer to those traumatic years of growing up. Whatever the reasons, I truly loved reading each of these wonderful books! What great coming-of-age novels have you read?
Disclaimer: There are Amazon Affiliate links in this post.