This post may include Amazon links. As an Amazon Associate I earn from qualifying purchases.
It's the fourth week of Nonfiction November, a month-long event that spotlights the amazing array of nonfiction out there.  It's hosted and organized by Katie at Doing Dewey, Lory at Emerald City Book Review, Sarah at Sarah's Bookshelves, Julie at Julz Reads, and Kim at Sophisticated Dorkiness.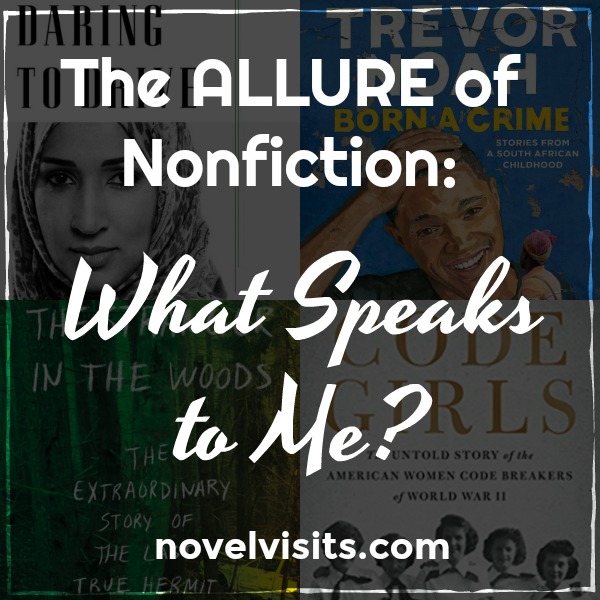 For this week's topic Katie (hosting) explains, "We've talked about how you pick nonfiction books in previous years, but this year talk about what makes a book you've read one of your favorites. Is the topic pretty much all that matters? Are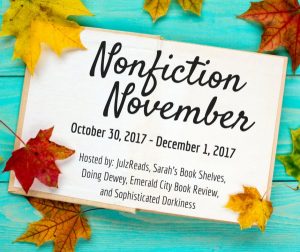 there particular ways a story can be told or particular writing styles that you love? Do you look for a light, humorous approach or do you prefer a more serious tone? Let us know what qualities make you add a nonfiction book to your list of favorites." I love this question of allure because if really made me think! In looking back at some of my favorite nonfiction from this year, I settled on three qualities that seem to draw me in.
Interesting people – For me the best nonfiction is about people, be it individuals or groups. They don't need to be famous, but I want a reason to know them. This is why more and more often memoirs are appealing to me.
Different from my own reality – In fiction I like to be transported, and in nonfiction I appreciate the same. I love to be taken to new places and and look at other experiences besides my own.
Relatability – Within a nonfiction work, I need a little grain of something I can relate to.
The Allure of Nonfiction: What spoke to me.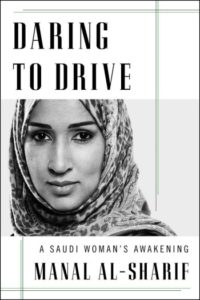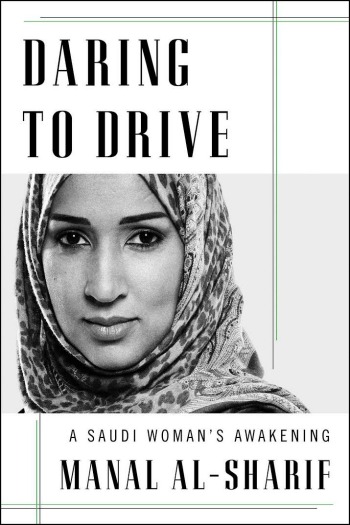 Daring to Drive by Manal Al-Sharif (my review)
Interesting person – Manal al-Sharif's life embodies a spirit that every woman can admire. She was not only one of the most interesting women,I'd ever read about, she was also one of the bravest. Raised to be a strict Muslim woman, Manal evolved into a powerful leader for women's rights in Saudi Arabia.
Different reality – You can't get more different than a very liberal California childhood and a strict Saudi upbringing! Everything about Al-Sharif's life proved foreign to me.
Relatability – Despite vastly different worlds, as a woman I sympathize with al-Sharif for the sacrifices she made for the women of her country and I admire her for doing so. Women need to stick together!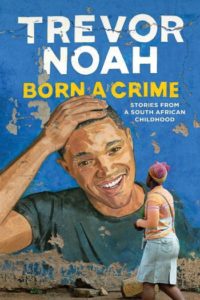 Born a Crime by Trevor Noah (my review)
Interesting person – Trevor Noah was already someone I found funny from watching him on The Daily Show, but his book took my interest to a whole new level. Noah's South African childhood proved to be horrifying and hilarious all at the same time.
Different reality – Coming of age in a country as oppressive as South Africa is not something remotely in my world, but Noah's gifted story telling made it easy to understand his world.
Relatability – Despite the vast differences, there were elements of Noah's life I found very relatable. I also grew up with a single mother striving to make the best possible world for her kids. As with Noah, stepdads that came and went. I could understand those parts of Noah's life.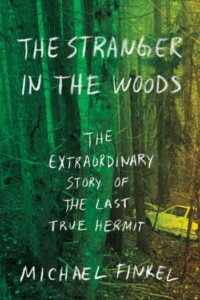 The Stranger in the Woods by Michael Finkel (my review)
Interesting person – It would be difficult to get much more interesting than a man who lived as a hermit for 27 years in the Maine woods.
Different reality – I don't like anything about camping. Anything! So, to choose to camp for most of your life is a complete alternate reality for me. Add to that the fact that on any given work day I talk to well over a hundred people and Christopher Knight chose to give up all human contact. Crazy!
Relatability – Despite what I said above (or maybe because of it), I do cherish some "me time." There are days when all I've done is talk, talk, talk and I don't want to talk to anyone for the rest of the night. So, I can understand Knight's desire to avoid people.
Code Girls by Liza Mundy (my review)
Interesting people – I found the women in Code Girls fascinating. Had it not been for WWII most would have been happily married and having babies. instead thousands of women rose to the task of cracking codes and winning a war. Individually and collectively they led very interesting lives, especially for their time.
Different reality – To be plucked out of a life of obscurity and thrust into a world of intrigue is a reality far different from mine, but isn't it one we'd all welcome?
Relatability – Many of the women code breakers were plucked out of teaching, and those who taught math were especially valued. Being a math teacher, I loved reading about their successes.
The Allure of Nonfiction: What speaks to you?
Disclaimer: There are Amazon Affiliate links contained in this post.