This post may include Amazon links. As an Amazon Associate I earn from qualifying purchases.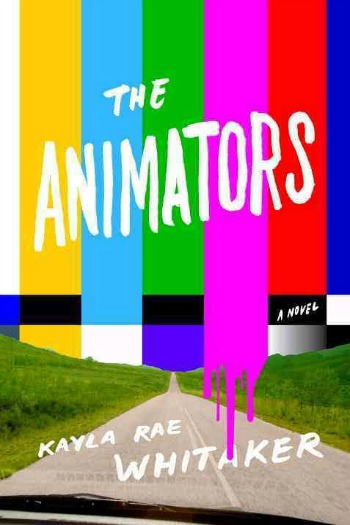 The Animators by Kayla Rae Whitaker (debut)
Publisher: Random House
Release Date: January 31, 2017
Length: 384 pages
Buy on Amazon
Single Sentence Summary: Mel and Sharon meet the first week of college, sharing a love of drawing and animation, which will forever seal their friendship and entwine their lives.
Primary Characters: Mel Vaught – a talented animator with a big, brash, confident personality. Mel is often the life of the party and just as often doesn't know when to stop. Sharon Kisses – also a talented animator, though less sure of herself. Sharon sees herself as the partner who keeps the work moving, but doubts her artistic contributions.
Synopsis: When Mel Vaught and Sharon Kisses meet in college they find they have much in common: drawing, a love of animation, and extremely dysfunctional childhoods. For both, college was an escape and their shared talent allows them to never look back, until they do. After working hard for over a decade, Mel and Sharon hit the big time. Their first feature film, drawn from Mel's own mother's life, is being released and they've just won a prestigious grant for their next film. With success comes self-doubt, fissures in their friendship, and uncertainty about the future of their partnership.
Review: The Animators, Kayla Rae Whitaker's stunning debut, is the best book I've read in a long time! It reminded me a lot of A Little Life by Hanya Yanagihara. Both were stories of profound, life-altering friendships that blossomed in college and carried on throughout life. In neither, were the friendships perfect, but they were always unwavering. From the day Sharon and Mel met they understood each other, cared about each other, and worked hard to build a life where each could succeed. You've got to love that!
This is a book about women making it in the world of animation, something most of its readers will know little about. Whitaker, using Sharon as the book's narrator, provided the perfect amount of background about animation in order for the story to gel without bogging it down. She showed animation's creative process from the generating of ideas to the production of a film. She seamlessly wove the business of animation, the competition for work, and the toll it can all take into this story. And, most of all, Whitaker highlighted the personal, emotional journey that Mel and Sharon took as they mined their own lives for their art.
"When speaking to or about me, my mother has a very short range of tones: suspicion, resignation, exhaustion, singsong condescension, and, occasionally but memorably, disgust."
Together, and alone, both Mel and Sharon had to face the demons of their childhoods, but they did it in a very public way. They put their lives on display as fodder for their movies with painful repercussions. This is the crux of The Animators: their incredibly dysfunctional childhoods, the reopening of old wounds for their art, and the toll that takes on Mel and Sharon as individuals and friends.
" When she looks up at me, her eyes are big, blank; they seem separated from her face. And I see something I have never seen before in Mel: self-removal. Inside, she has fled."
With this book Whitaker did a beautiful job of creating two very flawed women who you cannot help but like. Her writing was so good that you never need to think about it. I'd love to say more about this book. There's so much more I could say, but I'll leave it at, "Read it!" Grade: A
If you liked this book you might also enjoy:
Note: I received a copy of this book from the publisher (via NetGalley) in exchange for my honest review.
Disclosure: There are Amazon Associate links included within this post.