This post may include Amazon links. As an Amazon Associate I earn from qualifying purchases.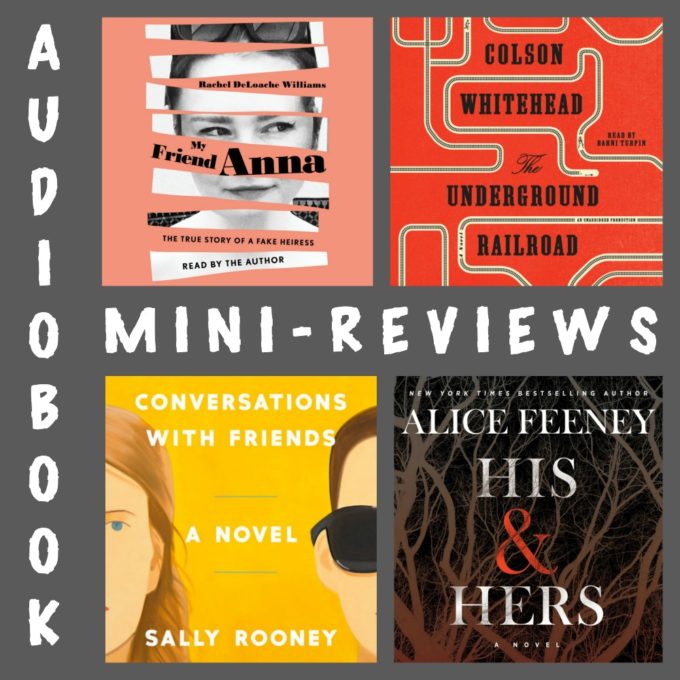 Over the last month I've listened to a lot of audiobooks. In June almost half my reading (7 out of 15 books) was on audio. I had a couple of long drives in there which added to my listening time, and honestly, I just plain love listening to a great book. So, today I'm sharing four audiobooks, including three backlist books and one upcoming release. Happy listening!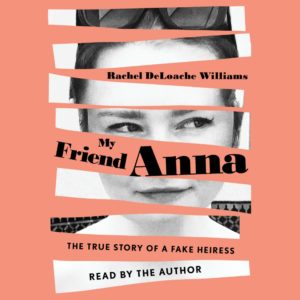 My Friend Anna by Rachel DeLoache Williams
Narrator: Author
Publisher: Gallery Books (Simon & Schuster Audio)
Release Date: July 23, 2019
Length: 288 pages (8 hrs. 47 min.)
Amazon      Libro.fm
My Thoughts: My Friend Anna is the author's almost unbelievable memoir of how a friend turned out to be a grifter who left her tens of thousands of dollars in debt. Anna led a high-flying life, with no expenses spared and Rachel, though sometimes amazed, had no reason to suspect her friend was anything other than what she presented. Until…charges for a lavish vacation ended up on Rachel's charge cards. Williams lays out her growing friendship with Anna, and also the clues that were much easier to see in retrospect. It was a fascinating book to listen to, even if at times I wondered, "How could she not see?" Grade: B+
Narration: Sometimes author read books can be a bit stiff or stilted, but not My Friend Anna. Rachel DeLoache Williams did a fabulous job!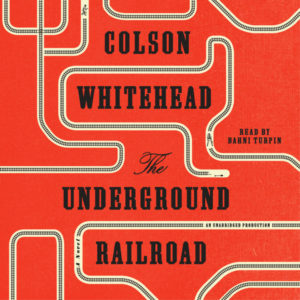 The Underground Railroad by Colson Whitehead
Narrator: Bahni Turpin
Publisher: Doubleday (Random House Audio)
Release Date: August 2, 2016
Length: 310 pages (10 hrs. 43 min.)
Amazon      Libro.fm
My Thoughts: I absolutely adored Colson Whitehead's last book, The Nickel Boys (my review). In fact, it was one of my Best Books of 2019, but somehow I'd just never read The Underground Railroad. On a recent road trip, I fixed that. This is the story of Cora, a slave on a cotton plantation in Georgia, who flees and is helped along the way by several different people/groups on the Underground Railroad. It's a detailed story, with Cora having several different extended stops along the way, meeting both good and evil people. Wrapped up in Whitehead's story was a history lesson of much I should know about Blacks fleeing slavery, but didn't. I appreciate that very much. There was an element of magical realism in The Underground Railroad, which I found a little odd each time it popped up, but overall this Pulitzer Prize winning book had the miles flying by! Grade: B+
Narration: You can't go wrong with Bahni Turpin. She is out and out wonderful. EVERY. TIME.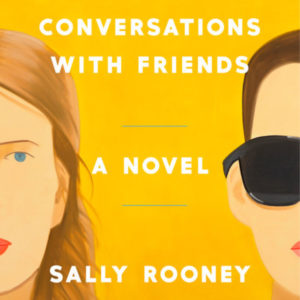 Conversations With Friends by Sally Rooney (debut)
Narrator: Aoife McMahon
Publisher:  Hogarth Books (Random House Audio)
Release Date: July 11, 2017
Length: 320 pages (8 hrs. 21 min.)
Amazon      Libro.fm
My Thoughts: I loved last year's Normal People (my review) and recently watched the Hulu series, which I also loved. That led me to Sally Rooney's 2017 debut, Conversations With Friends. For the first hour or so, I wasn't quite sure, but then the story of 21-year old college student Frances and her friend, Bobbi really took off for me. The two poetry-performance artists are drawn into the world of Melissa and Nick when Melissa writes an article about the them. Conversations With Friends had the same sort of vibe as Normal People: confused young woman, full of angst, longs for love, makes some bad decisions, etc. In listening to this book I realized that I'm drawn to exactly this sort of character. Some readers will have objections to some of the choices Frances makes, but I loved her and this book! Grade: A- 
Narration: I have never listened to narrator Aoife McMahon before, but she's already a favorite. The story is told in first person by Frances, and McMahon truly brought her to life. I always love when it feels like the character is personally sharing their story with you and that's exactly what McMahon achieved in her reading of Conversations With Friends.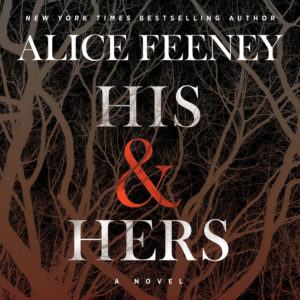 His & Hers by Alice Feeney
Narrators: Richard Armitage and Stephanie Racine
Publisher: Flatiron Books (Macmillan Audio)
Release Date: July 28, 2020
Length: 320 pages (10 hrs. 39 min.)
Amazon      Libro.fm
My Thoughts: I can be up and down with mysteries,  but I hadn't read one in a long time and have never read Alice Feeney so decided to give His & Hers a try. Told alternately by ex-spouses, Anna and Jack, the books revolves around a series of murders in the town where they both grew up. Jack is a detective there and Anna, a news reporter assigned to the story. As with any good mystery, there are a lot of suspects, including both Anna and Jack. From chapter to chapter my theories changed, even as the story itself got a little melodramatic. For me, the last third of the story and especially the ending required A LOT of suspension of disbelief! I think the mark of a truly great mystery is when there is very little of that, so overall, for my tastes, His & Hers was just okay. Grade: C+
Narration: Richard Armitage and Stephanie Racine did a good job with the narration of His & Hers. They were both easy to listen to, bringing Anna and Jack to life. The part of the narration that I didn't like was these short chapters where the killer was giving commentary. Some sort of voice changing machine was used. Each time, it was jarring and unpleasant to listen to. This kept the sex of the killer an unknown, which worked for the plot, but was still off putting on audio.
Note: I received a copy of this audiobook from Macmillan Audio (via Libro.fm) in exchange for my honest thoughts.