This post may include Amazon links. As an Amazon Associate I earn from qualifying purchases.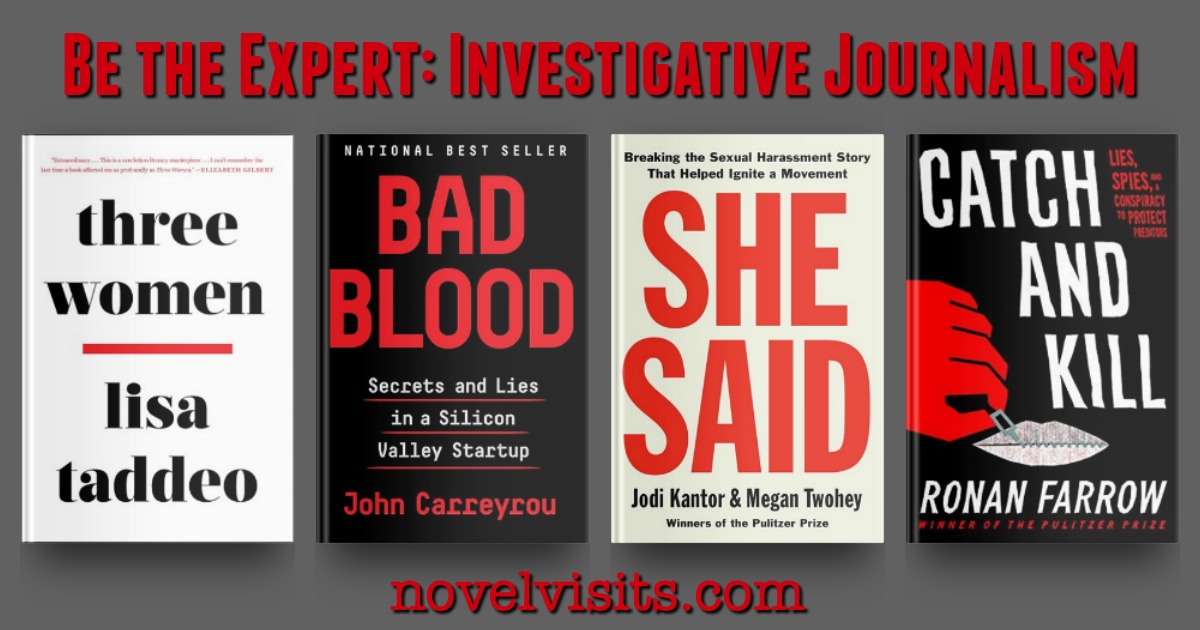 To begin with, don't let the title fool you. I'm definitely not an expert on investigative journalism, but we'll get back to that in a minute. First, we need to talk about how beautiful these four simple covers work together. The common red, white and black color schemes were pure coincidence and pure luck, but I love it!
Now, onto this week's Nonfiction November theme hosted by Katie at Doing Dewey. The challenge was to "share 3 or more books on a single topic that you've read and can recommend (be the expert); you can put the call out for good nonfiction on a specific topic that you've been dying to read (ask the expert); or you can create your own list of books on a topic that you'd like to read (become the expert)."  Throughout this year, I've become fascinated by the sometimes maddening process of investigative journalism and the tenacity of those who take on the challenge.
Three Women by Lisa Taddeo – Taddeo's book focused on female desire shown through the lives of three very different women. Of the three, I most enjoyed her exploration around the sexual relationship 17-year old Maggie had with one of her high school teachers and the subsequent trial. She shown a light on the willingness of society to overlook transgressions by a man considered to be "good" by his community. Pieces of Maggie's story that were never allowed to come to light, Taddeo thankfully managed to include. (my review)
Bad Blood by John Carreyrou – I'm definitely late to the party on this one, but I just loved listening to Bad Blood. Early on I worried that Wall Street Journal investigative journalist Carreyrou's exposé might be a little too technical for me. Luckily, it quickly moved from that to high drama. He skillfully told the unbelievable real life story of Elizabeth Holmes and Thernos, the company she managed to interest high level CEO's, dot.com investors, and even heads of state in. It read like a thriller, which you've got to love! (my review)
She Said by Jodi Kantor and Megan Twohey – The main focus of She Said was the slow and careful development of the sexual abuse story surrounding Harvey Weinstein by two New York Times investigative reporters. Over many years, others had tried and failed to bring allegations against Weinstein to light, but the time was right for these two to prevail. I found it amazing the amount of handholding and trust building that went into getting sources to go on the record. Many victims had been silenced with payoffs and others were afraid to be the first. (my review)
Catch and Kill by Ronan Farrow – Talking about Catch and Kill might be a tad premature, as I'm just now in the middle of listening to this one, but I couldn't NOT include it. Covering much of the same territory as She Said, Farrow's book recounts his time at NBC, also trying to put together the story on Weinstein. Farrow delves deeply into the path of his own investigation, not only with the women he interviewed, but with the resistance and threats he came up against as a result of getting too close to the truth. I'm looking forward to seeing how this one wraps up!
What investigative journalism book should I read next?

PIN THIS POST ⇓