This post may include Amazon links. As an Amazon Associate I earn from qualifying purchases.
It's that time of the month. I'm clearing off my review shelves. As I write this post it's looking like May will be a ten book month for me. Most of those books were very good, a couple only so-so, and two were excellent. The first of those was Nanaville by Anna Quindlen, a wonderful memoir of the joys and pitfalls of being a good grandparent (my review). The second, you'll read in this post!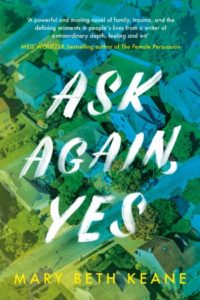 Ask Again, Yes by Mary Beth Keane
Publisher: Scribner
Release Date: May 28, 2019
Length: 400 pages
Amazon
From the Publisher: "Francis Gleeson and Brian Stanhope, rookie cops in the NYPD, live next door to each other outside the city. What happens behind closed doors in both houses—the loneliness of Francis's wife, Lena, and the instability of Brian's wife, Anne, sets the stage for the explosive events to come."
My Thoughts: Ask Again, Yes is the beautifully written story of neighbors, not particularly close despite the fact that both men are NYPD cops. They maintain a civil relationship, but the wives are not spending mornings over coffee and their husbands aren't playing poker and drinking beers together. However, the youngest daughter of the Gleesons and the only son of the Stanhopes are best friends from a very young age. Just as their friendship begins to blossom into something more, a horrible tragedy divides the neighbors and has the Stanhopes fleeing.
"The quiet of the house when she kept to her room was not the peaceful silence of a library, or anywhere near as tranquil. It was, Peter imagined, more like the held-breath interlude between when a button gets pushed and the bomb either detonates or is defused. He could feel his own heartbeat at those times. He could track his blood as it looped in his veins."
The two friends, Kate and Peter, become the focus of Ask Again, Yes in the 40 year span of this character driven novel. I liked their story, and the journey of their lives very much. I also enjoyed some of the side stories with the other characters in the book, but after a while I felt like it began to become too cliched. It seemed like every possible crisis that can affect relationships happened in Ask Again, Yes. The story would have been just as compelling and a lot cleaner without so many different messes to be resolved. None the less, I liked much more than I didn't about Keane's novel and think it will be a winner for anyone who enjoys character driven stories. Grade: B
Note: I received a copy of this book from Scribner (via NetGalley) in exchange for my honest review.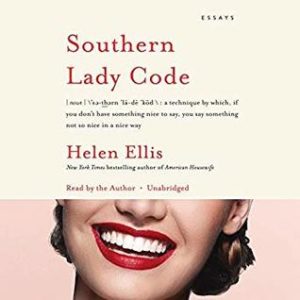 Southern Lady Code by Helen Ellis
Publisher: Doubleday (Random House Audio)
Release Date: April 16, 2019
Length: 224 pages (3 hrs. 11 min.)
Amazon
From the Publisher: "While she may have left her home in Alabama, married a New Yorker, forgotten how to drive, and abandoned the puffy headbands of her youth, Helen Ellis is clinging to her Southern accent like mayonnaise to white bread and offering listeners a hilarious, completely singular view on womanhood for both sides of the Mason-Dixon."
My Thoughts: I want to be friends with Helen Ellis! After listening to her narrate her own essays, I feel like I know Helen and that we'd have great fun hanging out together, plus i could learn a thing or two from her. I tend to be a little blunt in expressing my own opinions, but Helen always uses the "Southern Lady Code" to say something not very nice. In this way she says something that initially appears to be very nice, very polite, but may leave the recipient a little muddled on what Helen really meant. I just can't think that fast on my feet!
All her essays were hilarious, whether on serious topics like supporting a friend who was prosecuting a tough case, or Helen's own attempts at becoming a pot smoker. She had me laughing out loud over and over. I'd highly recommend listening to this one as the author's own expressive voice added greatly to my enjoyment. Grade: B+
Note: I received a copy of this book from Doubleday (via NetGalley) in exchange for my honest review.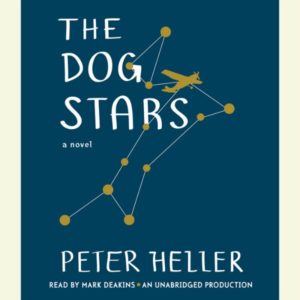 The Dog Stars by Peter Heller
Narrator: Mark Deakins
Publisher: Knopf (Random House Audio)
Release Date: August 7, 2012
Length: 336 pages (10 hrs. 41 min.)
Amazon
From the Publisher: "Hig survived the flu that killed everyone he knows. His wife is gone, his friends are dead, he lives in the hangar of a small abandoned airport with his dog, his only neighbor a gun-toting misanthrope. In his 1956 Cessna, Hig flies the perimeter of the airfield or sneaks off to the mountains to fish and to pretend that things are the way they used to be. But when a random transmission somehow beams through his radio, the voice ignites a hope deep inside him that a better life – something like his old life – exists beyond the airport."
My thoughts: I don't often review backlist books, but there was just no way I could NOT talk a little bit about The Dog Stars. Let's just get it out of the way, I loved this story. I discovered Peter Heller earlier this year when I listened to The River, published in March (my review). His adventurous story told with stunningly clear writing made it a literary gem. Combine that with Mark Deakin's incredible narration and you get a perfect listening experience. ALL the same can be said of this, his earlier work.
The Dog Stars could be classified as dystopian in that the world has suffered a massive flu that wiped out much of the population, but the dystopian elements are really just a backdrop for the story of one man, Hig, a survivor. Hig has managed to survive for nearly ten years with only two friends, a crabby loner neighbor, and his dog, Jake. When tragedy strikes, Hig feels the pull to leave the safety of the airport he's called home for all these years and look for something, for someone more. The story started out a little more slowly than The River, but built and built and built until it reached a point where I could NOT STOP listening. That is the mark of great writing, read beautifully. I know I'm late to this party, but if you haven't read it already, I cannot recommend The Dog Stars highly enough. You will come to love Hig. Grade: A
My May shelves are clear. On to June!
Disclaimer: There are Amazon Associate links contained in this post.