This post may include Amazon links. As an Amazon Associate I earn from qualifying purchases.
Give Me Your Hand by Megan Abbott and Eden by Andrea Kleine have much in common; most striking is that they both feature two women who went through something horrific as teenage girls. So, today I'm doing mini-reviews of both in The Girls, Girls, Girls Edition.
Give Me Your Hand by Megan Abbott
Publisher: Little, Brown and Company
Release Date: July 17, 2018
Length: 352 pages
Amazon
From the Publisher: "Kit Owens harbored only modest ambitions for herself when the mysterious Diane Fleming appeared in her high school chemistry class. But Diane's academic brilliance lit a fire in Kit, and the two developed an unlikely friendship. Until Diane shared a secret that changed everything between them."

My Thoughts: When Kit Owens met Diane Fleming at the start of her senior year of high school, Kit was a bright student, already at the top of her class, but a little lost, no real direction. Diane's ease with her own brilliance helped Kit to feel the same. The two shared a love of science and chemistry and competed for the same prestigious scholarship. But, even before that scholarship was awarded their friendship had fatally faltered. Twelve years later, Kit is again in competition with Diane. This time for the chance to be part of a research study that will ultimately make one of their careers, and Kit is terrified. Terrified of Diane.
"I guess I always knew, in some subterranean way, Diane and I would end up back together.
We are bound, ankle to ankle, a monstrous three-legged race.
Accidental accomplices. Wary conspirators.
Give Me Your Hand moves between chapters titled "Now" and "Then," alternately telling the stories, the secrets of Kit and Diane in the past and the present. I loved this back and forth technique with the then chapters slowly answering the question that arose in the now chapters. Abbott does a remarkable job of dropping hints, propelling her readers forward. Over and over, I succumbed to "just one more chapter."
"Diane," I said, what is it? I paused. "Did someone do something to you? Did someone hurt you?"
I would regret saying this, asking this, more than anything else in my whole cramped life."
See! I don't read a lot of suspense/thriller novels, but have heard so many great things about Megan Abbot that I knew it was time to give her a try. Give Me Your Hand was the perfect place to start. While it had a few moments of unbelievability and choices that didn't fully add up (as many books in this genre do) those in no way hampered my enjoyment of Give Me Your Hand. If you're on the hunt for a fun, summer read, look no further! Grade: B+
Note: I received a copy of this book from Little, Brown and Company (via NetGalley) in exchange for my honest review. Thank you!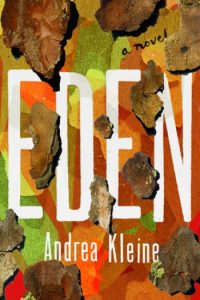 Eden by Andrea Kleine
Publisher: Houghton Mifflin Harcourt
Release Date: July 10, 2018
Length: 272 pages
Amazon
From the Publisher: "Every other weekend, Hope and Eden—backpacks, Walkmans, and homework in hand—wait for their father to pick them up, as he always does, at a strip-mall bus stop. It's the divorce shuffle; they're used to it. Only this weekend, he's screwed up, forgotten, and their world will irrevocably change when a stranger lures them into his truck with a false story and smile."

My Thoughts: From the very start of Eden the reader learns that sisters Eden and Hope were kidnapped as teenagers. What we don't know is what happened to them in the time they were held captive. We know that many years later Hope is a struggling playwright and Eden is estranged from her entire family. Despite the title of this book, the story is really Hope's. Hope narrates, unveiling her story, past and present, as she embarks on a search to find her sister.
Like Abbott, Andrea Kleine dropped just enough hints to keep me wanting more. We learn the kidnapper, Larry, has been in prison for over twenty year, yet are left wondering exactly what he did. We know Hope managed to piece together a life, but know little about Eden. We know both girls were left forever damaged.
"I hated that kind of resolution. Everything is not all right in the end. In the end, your bruises become scars and they make you who you are. This kind of erasure of the past as therapy disturbed me. It angered me. My trauma was my trauma. Larry was mine. He was mine and Eden's."
When Kleine stuck to the story of Hope and Eden, I was completely engaged and wanting more. Unfortunately, other parts were a little too rambling. There were an add assortment of side characters sprinkled throughout the book and though most were important to the storyline, their backstories weren't. I'd have enjoyed Eden more had these been shorter or fewer and had Kleine given a little more attention to Eden and Hope. For me, Eden was just dark enough and wandered smoothly enough to keep me engaged, but in the end didn't quite wow me. Grade: C+
Note: I received a copy of this book from Houghton Mifflin Harcourt (via NetGalley) in exchange for my honest review. Thank you!
Other dark and twisty books about

Girls, Girls, Girls

:
Girls on Fire by Robin Wasserman – Two high school friends in the 80's explore the darker sides of small town life. (my review)
Marlena by Julie Buntin – New to the neighborhood, Cat quickly falls under the influence of her older, more experienced neighbor, Marlena. (my review)
Social Creature by Tara Isabella Burton – An unlikely friendship changes the lives of two young women over the course of only a few months. (my review)
Disclosure: There are Amazon Associate links included within this post.