This post may include Amazon links. As an Amazon Associate I earn from qualifying purchases.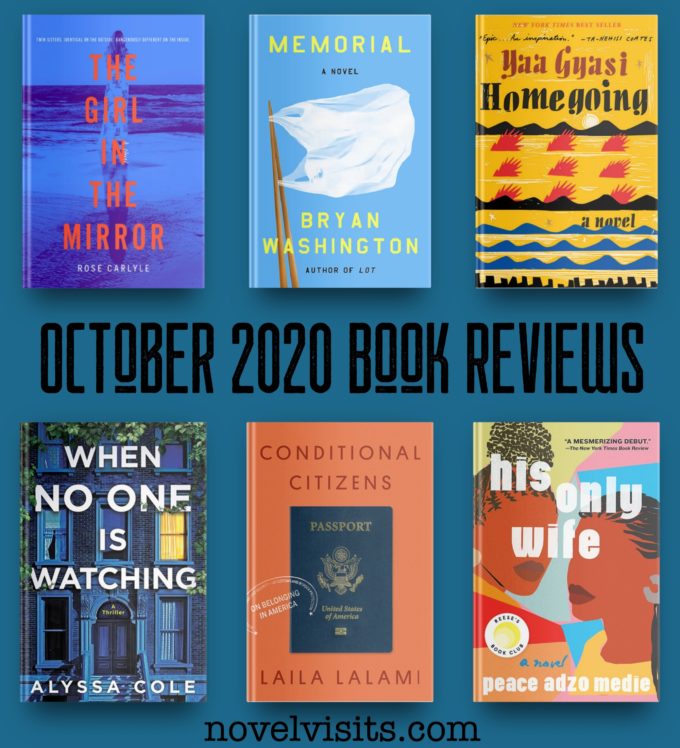 It's been a really crazy month with family occupying much of my time, so that writing reviews has fallen a little by the wayside. I managed to get in three full length reviews, all of books I loved.  October has actually been a really top-notch reading month for me, so among the six titles I'm sharing with you today are several more that really worked (and maybe one or two that didn't). I'll start with two I read in print and then move on to the many audiobooks I listened to this month.
Print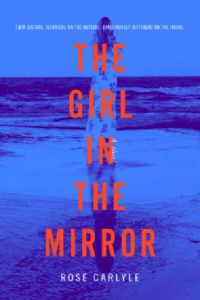 The Girl in the Mirror by Rose Carlyle (debut)
Publisher: William Morrow
Release Date: October 20, 2020
Length: 304 pages
Amazon
My Thoughts: The Girl in the Mirror, a twisty thriller, by debut author Rose Carlyle features 23-year old twins Summer and Iris. Their father died a very rich man, but one who wanted a legacy, and heir to carry on his family name. He left all his money to the first-born grandchild. Summer and Iris were the eldest of his seven children, but even they were only 14 at the time. Stipulations required that the parents of this child were married and of legal age prior to conception. With their eldest half-sister being four years younger, the only real competition was the other.
As Iris's young marriage crumbles, Summer announces she and her husband are pregnant and asks Iris's help in sailing the family yacht from Thailand to the Seychelles. As one might expect from a thriller at sea, things don't go quite as planned and only one twin arrives at their destination. Carlyle cleverly leads the reader on, even as parts of her plot leave the typical thriller skepticism. As she draws you further and further in, your confidence in her story grows and then she takes some razor sharp turns that in the end might leave you thinking "Wow!" It rarely happens, but the end of this thriller took me by surprise. Grade B
Note: I received a copy of this book from William Morrow (in print and via NetGalley) in exchange for my honest thoughts.
Memorial by Bryan Washington
Publisher: Riverhead Books
Release Date: October 27, 2020
Length: 320 pages
Amazon
My Thoughts: Uneasy. That's the single best word I can think of for how Memorial by Bryan Washington made me feel. His is a story of dysfunctional relationships: between parents and adult children, between siblings, and most of all between the couple at the heart of this story, Benson and Mike. They've been together for four years, but are just barely hanging on when almost simultaneously Mike's Japanese mother arrives for a visit and Mike leaves their Texas home, to be with his dying father in Japan.
Tension abounds in this story. Neither of the main characters is easy to like, and each is so damaged that he cannot risk fully committing to much of anything. As a result, they hurt each other over and over. Divided into three sections, I found Mike's middle portion the most engaging, but when he and Ben were together, I found myself wishing they'd end it. Washington's writing was strong, but his deeply unhappy story just wasn't the right one for me in this already troubling time. Grade: C+
Note: I received a copy of this book from Riverhead Books (via Edelweiss) in exchange for my honest thoughts.
Audiobooks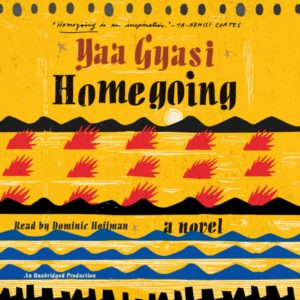 Homegoing by Yaa Gyasi
Narrator: Dominic Hoffman
Publisher: Knopf (Random House Audio)
Release Date: June 7, 2016
Length: 320 pages (13 hrs. 11 min.)
Libro.fm        Amazon
My Thoughts: Why did it take me SO long to get to Homegoing by Yaa Gyasi? I read Transcendent Kingdom last month (my review) and that pushed me to finally, finally try Homegoing. If you've been living under the same rock I was under, let me share the basics. This is a multi-generational story that begins with two half-sisters in Ghana, one is captured and sold into slavery, the other, married off to an English soldier involved in the slave trade. The book follows their descendants in Ghana and America for for over two hundred years.
Yaa Gyasi's writing was spectacular in this book. For fourteen chapters she delivered fourteen different characters whose stories wove together to create a narrative of the legacy the slave trade left in Ghana and the everlasting affects of slavery in America. In each chapter I was completely drawn in and eager to find the connections to the characters who came before. I looked forward to who would come next and what I would learn from each. Hers is the best kind of story: one that you can't put down, that teaches you, and that you're still thinking about long after you finish. Just, WOW! Grade: A
Narration: Dominic Hoffman's narration was perfection, making Homegoing an absolute pleasure to listen to.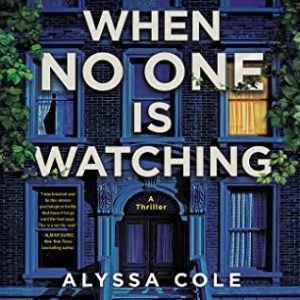 When No One Is Watching by Alyssa Cole
Narrators: Susan Dallian and Jay Aaseng
Publisher: William Morrow Paperbacks (HarperAudio)
Release Date: September 1, 2020
Length: 368 pages (8 hrs. 30 min.)
Libro.fm        Amazon
My Thoughts: It's possible I've been reading too many thrillers lately because my patience for the "way out there" plot points seems to be at a record low. Most recently that was the case with When No One is Watching by Alyssa Cole. While I appreciated her story of a Black Brooklyn neighborhood that was being aggressively gentrified by both large openly racist companies and rich white homebuyers, I felt like it just went too far.
This is a story I would have liked to have heard more about in an up close and detailed way. I'd have appreciated being shown the bonds of neighbors and experiencing the richness of their community. Instead the author told her readers these things, but put most of her effort into sharpening a line between the "good" and "bad" characters. For me, those differences came off a little too stark. The story had few gray areas in it, making the mystery elements not at all unexpected. The climax of the book was surprising, but mainly for how extreme it was. Sadly, for me hen No One is Watching was a bit of a miss. Grade: C
Narration: Even though the story wasn't my favorite, narrators Susan Dalian and Jay Aaseng were wonderful!
Note: I received a copy of this audiobook from HarperAudio (via Libro.fm) in exchange for my honest thoughts.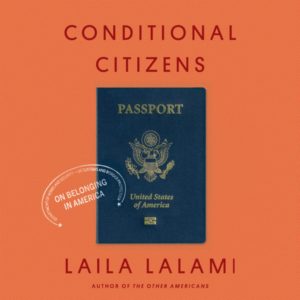 Conditional Citizens by Laila Lalami
Narrator: The Author
Publisher: Pantheon (Random House Audio)
Release Date: September 22, 2020
Length: 208 pages (5 hrs. 48 min.)
Libro.fm        Amazon
My Thoughts: The Other Americans by Laila Lalami was one of my favorite books of 2019 (my review), so when I heard she had a memoir coming out this year, I was eager hear what she had to say. Read beautifully by the author, Conditional Citizens was one of those books whose publication got bumped around a lot due to COVID, but for me the wait was definitely worth it. Besides being an incredible writer, Lalami is herself an immigrant to the U.S. She came here from Morocco for college, fell in love with and married an American citizen, and shortly after gained her own U.S. citizenship. What she didn't realize on that momentous day was that her citizenship would be looked at differently than her husband's. Her citizenship proved to be conditional.
Throughout Conditional Citizen, Lalami explores the many ways citizenship in America is not equal, not only for reasons of national origin, but for those of race, class, and gender, too. She deftly explores social structure and the historically white, male-dominated hierarchy that has tended to marginalize many others. Hers is a slim volume that makes you really consider what it means to be an American, and if it isn't long past time for that to change. Grade: A-
Narration: For me author read books can be risky, but that was not the case here. Lalami did a beautiful job sharing her thoughts.
Note: I received a copy of this book from Pantheon (via Edelweiss) in exchange for my honest thoughts.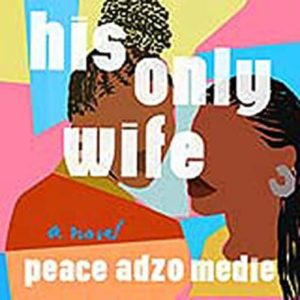 His Only Wife by Peace Adzo Medie
Narrator: Soneela Nankani
Publisher: Algonquin Books (Workman Publishing)
Release Date: September 1, 2020
Length: 288 pages (9 hrs. 3 min.)
Libro.fm        Amazon
My Thoughts: His Only Wife is the story of Afi, a young woman of few means trying to build her seamstress business in the small town where she grew up in Ghana. Almost out of the blue Afi receives a marriage proposal from the middle son of the most wealthy woman in her community. A proposal like this is too good to turn down, though the two have barely met, and Elikem is so busy he must send a stand in for him on their wedding day. After the wedding, Afi moves to the capital city of Accra where her relationship with her new husband suffers from a few highs and many lows. Despite Afi's concerns over her marriage, she flourishes in Accra, taking on challenges and opportunities she'd never had before, while slowly developing her own voice.
I listened to most of His Only Wife, while on a recent road trip and found it the perfect audiobook for such a time. The story was deeply engaging, with each new chapter adding another layer. It took many different characters to move through Afi's story, and I loved that they were so rich and varied. I especially enjoyed rooting for Afi, even as I suspected where her life would end up. I appreciated that Peace Adzo Medie wrote such a completely fun story and at the same time taught me about many elements of the Ghanaian culture. If you're on the lookout for a lighter book, I recommend you give His Only Wife a try! Grade: B
Narration: The wonderfully expressive narration by Soneela Nankani easily made her one of my new favorite readers. I look forward to listening to more from her.
PIN THESE OCTOBER 2020 REVIEWS ⇓