This post may include Amazon links. As an Amazon Associate I earn from qualifying purchases.
Holding On To Nothing by Elizabeth Chiles Shelburne
The Man Who Had Everything by Deborah Levy
Olive, Again by Elizabeth Strout
Older Brother by Mahir Guven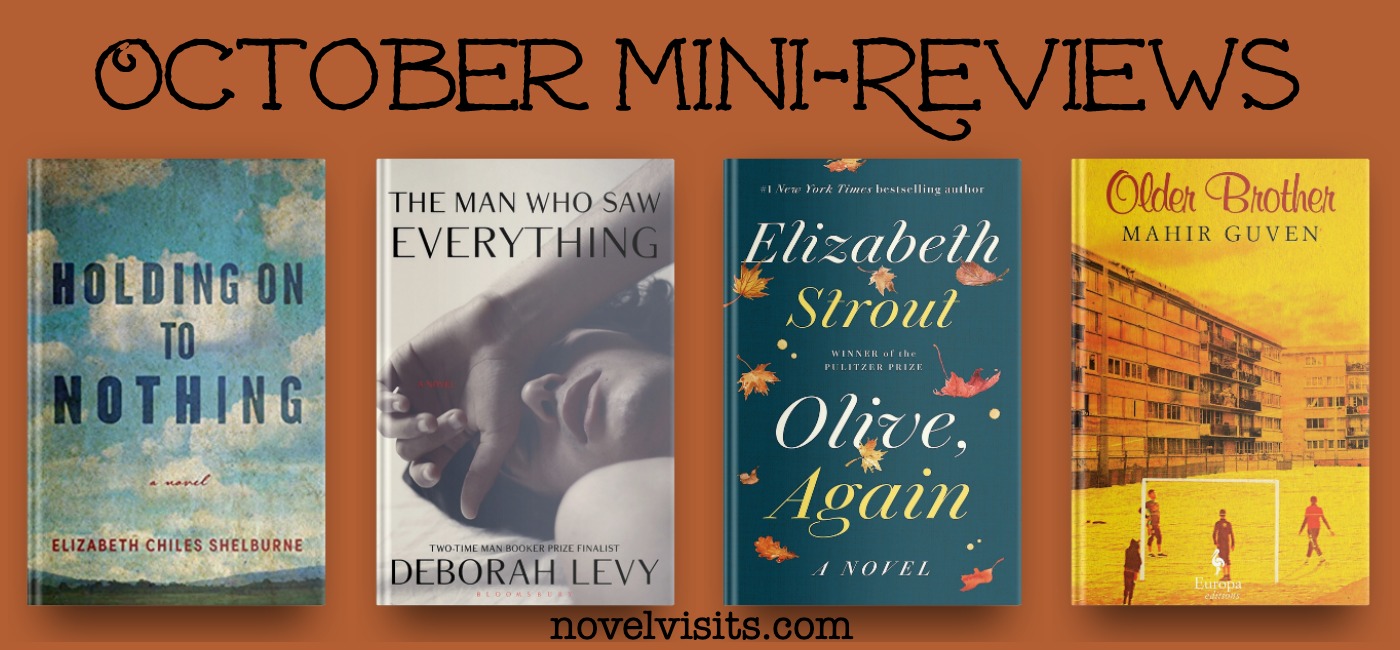 With another week left to go in October, I'm finding that I'm severely behind on writing reviews. I usually wait until the very end of the month, but thought it was time to shine a light on these October releases. Each of the four books is unique and a little unsettling, but all in very different ways. Some I enjoyed, one I decidedly did not! So, let's get to my October mini-reviews for all the gritty details.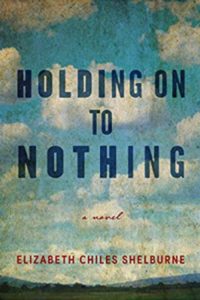 Holding On to Nothing by Elizabeth Chiles Shelburne
Publisher: Blair
Release Date: October 22, 2019
Length: 272 pages
Amazon
From the Publisher: "Lucy Kilgore has her bags packed for her escape from her rural Tennessee upbringing, but a drunken mistake forever tethers her to the town and one of its least-admired residents, Jeptha Taylor, who becomes the father of her child. Together, these two young people work to form a family, though neither has any idea how to accomplish that, and the odds are against them in a place with little to offer other than bluegrass music, tobacco fields, and a Walmart full of beer and firearms for the hunting season…"
My Thoughts: Holding On to Nothing tells the story of Lucy Kilgore and Jeptha Taylor, two young people from rural Kentucky who grew up with few options. Lucy was orphaned at 13, but grew up with her mother's best friend. She's always wanted to escape to college and she's just about there. Jeptha comes from a family who've been nothing but trouble, and he's continuing the family tradition. The lines are drawn and when Lucy gets pregnant by Jeptha, the two strive to make a family. This is not an unusual set up, but I had hoped that the story would stray from the usual. Unfortunately, it did not. The characters in Holding On to Nothing were just too black and white: Lucy the good girl, the noble girl, Jeptha the bad boy, the no-good drunk,  Everything played out as expected and I found that disappointing. The story itself was a fast easy read, that I know many will enjoy, but for me it lacked the southern grit I'd been longing for. Grade: C+
Note: I received a copy of this book from Blair Publishing (via Edelweiss) in exchange for my honest review.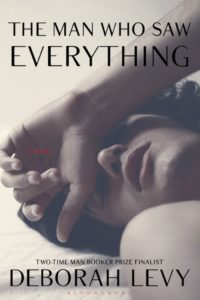 The Man Who Saw Everything by Deborah Levy
Publisher: Bloomsbury Publishing
Release Date: October 15, 2019
Length: 2o8 pages
Amazon
From the Publisher: "It is 1988 and Saul Adler, a narcissistic young historian, has been invited to Communist East Berlin to do research; in exchange, he must publish a favorable essay about the German Democratic Republic. As a gift for his translator's sister, a Beatles fanatic who will be his host, Saul's girlfriend will shoot a photograph of him standing in the crosswalk on Abbey Road, an homage to the famous album cover. As he waits for her to arrive, he is grazed by an oncoming car, which changes the trajectory of his life…"
My Thoughts: The Man Who Saw Everything begins in September 1988 on Abbey Road in London, where Saul Alder is hit by a car while preparing have a photo taken of himself crossing the zebra crossing as a tribute to the famous Beatles album. From there the story began to flow in and out of being clear to me. Saul traveled to East Germany to do some work on his Phd., and while there seemed to be aware of detailed circumstances of the Berlin wall falling three years later. Time and again, I was confused by time frames that weren't adding up. While this was a bit off-putting, I continued to be curious enough to read further. Saul himself was a very compelling character. Finally, just before the halfway mark, an event occurred that made everything else clear. From then on, I more easily pieced together Saul Alder's life and very much appreciated the creative storytelling delivered by Deborah Levy. The novel itself was quite literary and I don't think it will work for everyone, but in the end, I was very glad I read it. Grade B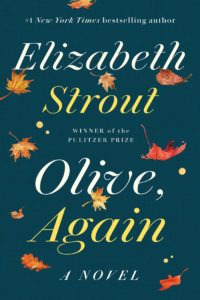 Olive, Again by Elizabeth Strout
Publisher: Random House
Release Date: October 15, 2019
Length: 304 pages
Amazon
From the Publisher: "…the iconic Olive struggles to understand not only herself and her own life but the lives of those around her in the town of Crosby, Maine. Whether with a teenager coming to terms with the loss of her father, a young woman about to give birth during a hilariously inopportune moment, a nurse who confesses a secret high school crush, or a lawyer who struggles with an inheritance she does not want to accept, the unforgettable Olive will continue to startle us, to move us, and to inspire us…"
My Thoughts: Back in 2008 I tried to read Olive Kitteridge by Elizabeth Strout, but ended up quitting on the Pulitzer Prize winning novel. Since then, I read and enjoyed My Name Is Lucy Barton (my review) and its follow up Anything Is Possible (my review). I had hoped that her later two books were a sign that my tastes had changed enough that I would enjoy Olive, Again. Sadly, I didn't. I finished this one, but found Olive to be just too dour to love and the quirky characters living in her community also held little interest for me. With few exceptions, the characters and their stories were just too depressing and the book certainly does nothing to make me ever want to visit Maine. Even Strout's wonderfully sparse writing style could not save Olive, Again for me. Grade: D
Note: I received a copy of this book from Random House (via NetGalley) in exchange for my honest review.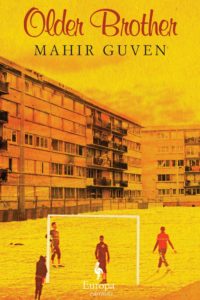 Older Brother by Mahir Guven
Publisher: Europa Editions
Release Date: October 8, 2019
Length: 256 pages
Amazon
From the Publisher: "The father, an atheist communist who moved from Syria to France for his studies and stayed for love, has worked for decades driving a taxi to support his family. The eldest son is a driver for an app-based car service, which comically puts him at odds with his father, whose very livelihood is threatened by this new generation of disruptors. The younger son, shy and serious, works as a nurse in a French hospital. Jaded by the regular rejections he encounters in French society, he decides to join a Muslim humanitarian organization to help wounded civilians in the war in Syria…"
My Thoughts: Older Brother is the story of two Franco-Syrian brothers born and raised in Paris. Their mother died when they were in their early teens and the two watched their father try to make his living as a taxi driver. The elder brother smoked a lot of weed and drove for UBER. The younger brother worked as a nurse until he went off to Syria to do humanitarian work, then dropped completely out of contact. While I enjoyed the story when it was focused on the brothers and their relationship, huge chunks of the book were just too dull, including the younger brother's time in Syria and the older brother's run-ins with the law. What did work for me in Older Brother was the plight of being Syrian in an age of terrorism. That gave me much to think about. I also really liked the epilogue (something I rarely say). It made the entire story make much more sense. I'm just not sure it was worth the wait. Grade: C+
Note: I received a copy of this book from Europa Editions (via NetGalley) in exchange for my honest review.
PIN THESE OCTOBER MINI-REVIEWS ⇓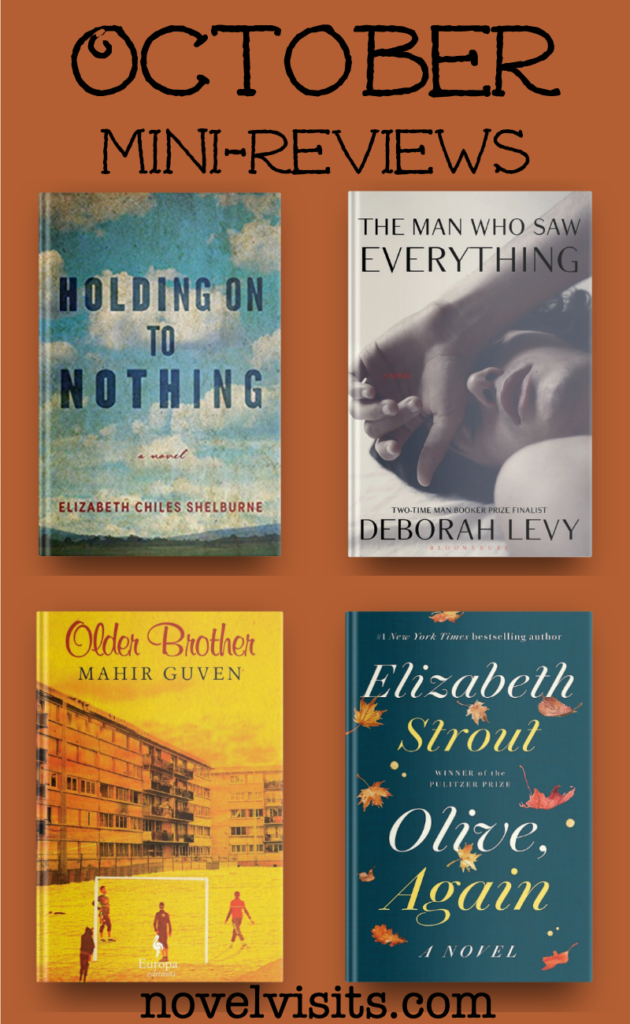 Disclosure: There are Amazon Associate links included within this post. As an Amazon Associate I earn a small commission from qualifying purchases.