This post may include Amazon links. As an Amazon Associate I earn from qualifying purchases.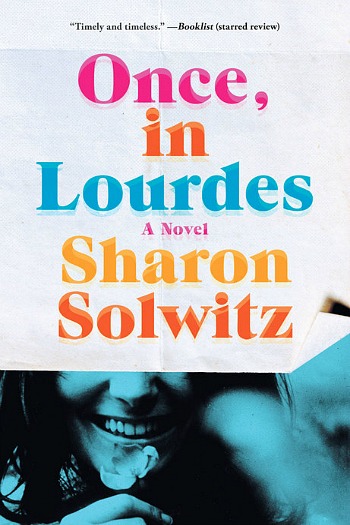 Once, In Lourdes by Sharon Solwitz
Publisher: Spiegel & Grau
Release Date: May 30, 2017
Length: 320 pages
Buy on Amazon
Single Sentence Summary: On a hot August day in 1968 friends, Kay, Saint, Vera and C.J., take a pledge giving themselves two weeks to experience all of life and then die together.
Primary Characters: Kay, Saint, Vera and C.J. were each, for different reasons, outcasts at their small town high school. Finding each other was their salvation. They cared deeply about the group and believed their friendship would last forever, creating their own moniker: 4EVER.
Synopsis: It's August of 1968. The country is in turmoil with protest over the Vietnam War and the upcoming Democratic Convention is expected to bring even more. In the small town of Lourdes, Illinois live four troubled teens that mean everything to each other. When one hurts, they all do. Beautiful, vulnerable, acerbic Vera is ready to end her life. Instead, her friends pledge to join her after they've all had a little more time to live.
Review: Once, In Lourdes by Sharon Solwitz is a story of four deeply troubled young people. When Kay was younger her mother committed suicide; she's overweight and her new stepmother makes sure Kay knows just how distasteful that is. Saint has grown up poor, without a father and has problems with his temper. C.J. doesn't think he'll ever be able to live up to his father's expectations and he's frightened by his own feelings for other boys. And, Vera – poor, tormented Vera. Vera uses casual sex as a drug, which seems to work until she crosses a line that can never be undone. She is the catalyst for their Pledge.
Coming-of-age stories are among my favorite genres, but I found Once, In Lourdes to be a difficult book to become immersed in. Had this not been an advanced reading copy, it's very likely that I'd have given up on it. Luckily, I did stick it out, and am very glad I did. It took until well after the halfway point for me to understand the characters and the choices each made. In all likelihood this slow character development was intentional, but it also demands a lot of the reader. Once the characters made sense to me the book became much more compelling. I loved the last third, including the ending.
Narrated by Kay, the chapters move between the four friends, slowly revealing the depth of their problems, how their unusual friendship was forged, and why they'd pledge their lives for each other.
"With the Pledge, we might have seemed to be courting death, but it was also joy we were after. We wanted to feel our birthright, what we thought other, happier people felt – the sense of endless possibility, the world shimmering around us. To dance beneath the diamond sky."
The backdrop of late 60's turbulence makes it easier to understand the incredible bond of these 4EVER friends. Much of the world around them doesn't make sense, so why should their own lives? The commitment to each other is absolute, until it isn't. With compassion and intensity Solwitz brings her quartet to the brink of adulthood, laying out futures they may not be able to survive. If you can preserver through the slow first half of Once, In Lourdes, you'll be rewarded with the gritty elegance of the story's conclusion. Grade: B-
If you liked this book you might also enjoy:
Girls on Fire by Robin Wasserman – This book also takes teenage friendship to some dangerous places. Set in the 90's, it features two outcast teenage girls explore the darker parts of life. (My review)
Our Hearts Will Burn Us Down by Anne Valente – This book also features four high school friends. Their bonds are challenged in the aftermath of a school shooting and the strange events that follow. (My review)
Running by Cara Hoffman – A gritty story of three teens working as "runners" for a seedy hotel in Athens. The short time they're together forever changes their lives. (My review)
Note: I received a copy of this book from the publisher (via NetGalley) in exchange for my honest review.
Disclosure: There are Amazon Associate links included within this post.