This post may include Amazon links. As an Amazon Associate I earn from qualifying purchases.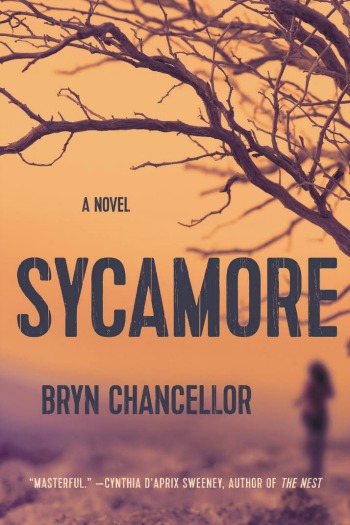 Sycamore by Bryn Chancellor (debut)
Publisher: Harper
Release Date: May 9, 2017
Length: 336
Buy on Amazon
A Little Background
Single Sentence Summary
When Jess Winters disappears one stormy December night, everyone in her small town is left holding onto a piece of her story.
From the Publisher
Out for a hike one scorching afternoon in Sycamore, Arizona, a newcomer to town stumbles across what appear to be human remains embedded in the wall of a dry desert ravine. As news of the discovery makes its way around town, Sycamore's longtime residents fear the bones may belong to Jess Winters, the teenage girl who disappeared suddenly some eighteen years earlier, an unsolved mystery that has soaked into the porous rock of the town and haunted it ever since.
The Draw
Sycamore was on Amazon's "Best Books of the Year So Far" list last month and was a book not even on my radar.
The suspense element provided a change of pace.
I'm a fan of debuts.
My Thoughts
What Worked
Gorgeous writing – Bryn Chancellor's writing was stunning, making it pure pleasure to read her debut.
"Even out in the desert, beyond the city's glow, stars and planets hung back like shy children. Her nostrils flared at the sudden smell of mint, and she shivered with the sensation she had tumbled down a hole."
"She stopped worrying about what it meant to exist, about what awaited in the wide, wide world. Wrapped in that languid heat, she stopped thinking altogether. Here she simply was."
Rich characters – Sycamore is populated with a whole town full of characters that somehow are all fully developed. Half the chapters focus on Jess, the 17-year old girl who vanished in 1991, so we'd expect to really know her, but we know ALL the characters. I found it amazing to understand so well the many people of Sycamore from Maud, Jess's mom, to Dani, her best friend, to Esther, her humanities teacher, to Iris, owner of the pecan orchard where Jess worked. And, even more amazing? I liked all the people of Sycamore.
Dual timelines – Chancellor's story alternated between 1991, the year Jess disappeared, and 2009, the year that bones were found. The 1991 chapters were all told from Jess's perspective, giving background into the months leading up to her vanishing. The rest of the chapters were each delivered from the perspective of a different citizen of Sycamore.
A completed puzzle – The two timelines and the multiple perspectives used in Sycamore fit together beautifully. Reading the story very much reminded me of working on a jigsaw puzzle. Chancellor worked each chapter with the ones around it until a complete and satisfying story emerged. Wonderful!
What Didn't
Really, everything about Sycamore worked for me, but I will say that the start was a little slow. I wasn't fully invested in the story until about the 30% mark.
Some might find the multiple perspectives a challenge because in the early chapters characters are mentioned who the reader does not yet know.
The Final Assessment
I don't know how I missed Sycamore earlier this year, but am so glad I found it. Part suspense novel, part coming-of-age story, I loved everything about this book. I sincerely hope Bryn Chancellor is working on her next book because I can hardly wait to read it. Grade: A
If you liked this book you might also enjoy:
Disclosure: There are Amazon Associate links included within this post.