This post may include Amazon links. As an Amazon Associate I earn from qualifying purchases.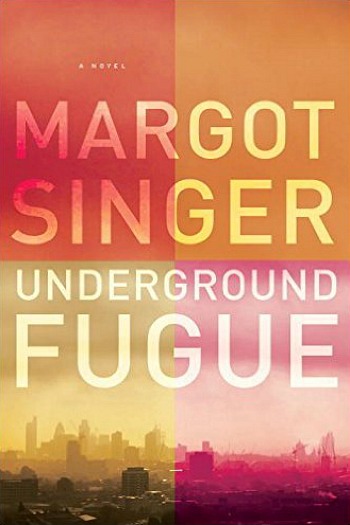 Underground Fugue by Margot Singer (debut)
Publisher: Melville House
Release Date: April 18, 2017
Length: 304 pages
Buy on Amazon
Single Sentence Summary: A story of loss, misunderstandings, and betrayal in the weeks before and after the 2008 London bombings.
Primary Characters: Esther – An American woman who has returned to London to care for her dying mother. Javad – The neurosurgeon/scientist living next door to Esther's mother. Originally from Iran, Javad has lived in London most of his life. Amir – Javad's 19-year old son, a university student.
Synopsis: When Esther flees New York for London it's ostensibly to care for her dying mother, but she's also fleeing an overwhelming grief and a marriage she can no longer inhabit. She first meets Amir, coming home late one night. Something about Amir pulls at Esther's heart. She yearns to know more about this sullen young man. When Amir's father, Javad, and Esther are introduced an attraction slowly blossoms. Over the course of spring Esther's interest in her neighbors becomes increasingly complex. At the same time, Amir and Javad are struggling to find their footing as father and son. After terrorist attack London, all their relationships stretch to the breaking point.
Review: Underground Fugue is a story woven around the themes of loss, misunderstanding, and betrayal. Margot Singer has these riddled (a little too obviously) throughout the book, starting with Esther's losses.
"Her mother is eighty-three and has lived her life, Esther knows, but still the word dying drops inside her like a stone. Since she was last in London, Esther lost her son, quit her job, left her husband. The world has changed. One by one, the moorings have been cut free."
All she has lost would be hard for anyone to bear, leaving Esther a woman truly unmoored. She moves through her days with the uncertainty of one who has lost her place in life. Javad, too, has experienced loss. As a young man, fleeing Iran, he lost his homeland, and the family that stayed behind. In England, Javad lost his marriage and closeness to his son. Amir's losses came as the story unfolded, harsh and unfair.
Misunderstandings – big and small. They happen every minute of everyday throughout the world and were at the heart of Underground Fugue. Amir and Javad's strained history brought about uncertainty, tension and arguments. Amir loved his mother; Javad saw her as a drunk. Esther's mother hid much of her own history, leading Esther to judge her bitterly. Esther's obsession with the boy next door (a boy very nearly the same age as the son she lost), and the steps she took to study him led to misinterpretations with cruel consequences. Herein, was one of several betrayals the story relied on.
While I found the basic premise of Underground Fugue compelling, this was a perfect example of a book trying to do way too much. The story would be plenty full with everything already described, but unfortunately, there was much more. Esther and Javad narrate chapters, but so does Lonia, Esther's mother. She's recalling her brother and how they became lost to each other during WWII. Not needed. There's a mute, amnesic pianist, introduced in the prologue. The mystery of who he is appears throughout the book. Why? The themes of fugues, both musical and mental, are awkwardly interspersed. Extremely obvious. Esther talks too much about baking and Javad too much about neuroscience. Dull. All this took away from the core of Underground Fugue. It felt forced. For me, there was just far too much going on to enjoy what could have been a really interesting story of a woman undone. Grade: C-
If you're looking for something a little different you might enjoy:
Disclosure: There are Amazon Associate links included within this post.