This post may include Amazon links. As an Amazon Associate I earn from qualifying purchases.
It's that time of the month again when my book review shelves need to be cleared. My reading pace this whole summer has been fast for me at about 11 books per month. That's sure to slow WAY down as I'm back at work this week and won't be spending lazy days on my front porch reading for hours any longer. (So sad!) Still, I appreciate all the extra time I've had AND just how great books have been for me this summer. Today I'll be sharing three that I just haven't managed to clear off my shelves yet, but first, I want to remind you of my favorite August books: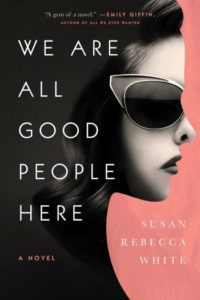 We Are All Good People Here by Susan Rebecca White
Publisher: Atria Books
Release Date: August 6, 2019
Length: 304 pages
Amazon
From the Publisher: "Eve Whalen, privileged child of an old-money Atlanta family, meets Daniella Gold in the fall of 1962, on their first day at Belmont College. Paired as roommates, the two become fast friends. Daniella, raised in Georgetown by a Jewish father and a Methodist mother, has always felt caught between two worlds. But at Belmont, her bond with Eve allows her to finally experience a sense of belonging…"
My Thoughts: I'm going to be honest, I was first drawn to We Are All Good People Here because of that fabulous cover! Then, the publisher's synopsis drew me in with a story of a lifelong friendship between two women who meet in college in the 60's. The promise of their stories moving forward and taking on issues of the era with one woman Eve, moving into radicalism, and the other, Daniella, in to more pragmatic ways of dealing with social injustice made this exactly my sort of book. I love the era, I love stories of friendship, and yet, somehow the whole thing just didn't quite come together for me. I liked the story well enough to stay with it, but in the end I found it to be just a little too clichéd and the characters a little one-dimensional. This particularly became true in the second half of We Are All Good People Here. I'm know others have really enjoyed this book, but for me it was more of a miss than a hit. Grade: C
Note: I received a copy of this book from Atria Books (via NetGalley) in exchange for my honest review.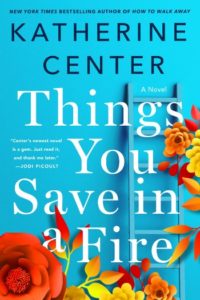 Things You Save in a Fire by Katherine Center
Publisher: St. Martin's Press
Release Date: August 13, 2019
Length: 320 pages
Amazon
From the Publisher: "Cassie Hanwell was born for emergencies. As one of the only female firefighters in her Texas firehouse, she's seen her fair share of them, and she's a total pro at other people's tragedies. But when her estranged and ailing mother asks her to give up her whole life and move to Boston, Cassie suddenly has an emergency of her own…"
My Thoughts: This is a tough one for me to review. I expected to like it every bit as much as last year's How to Walk Away (my review). Of course, I knew it would be chick lit and have some rather implausible parts. I thought it was just the sort of book I really like on audio. I'd listened to How to Walk Away, but instead I read Things You Save in a Fire. A bit of a mistake. Audiobooks are just more forgiving for me. Now, I'm not saying Things You Save in a Fire wasn't good, but it did have some flaws. This is the story of Cassie, an emotionally damage female firefighter leaving a job she loves to be closer to the mother she's been estranged from for years. Much of her story hinged on a secret tragedy from her past and by the time it was finally revealed I felt a little manipulated. I also felt like the change in her personality was just too extreme. She started as a woman that was unrecognizable by the end. Despite those complaints, this was a super easy, fast read. Center included a lot in her story and it all kept me going and engaged. I read this book in the midst of a week of traveling with grandkids and it proved to be a perfect story for when you have to keep picking up and putting down a book over and over. Katherine Center fans will likely enjoy Things You Save in a Fire, and my take away is that from now on I'm going audio with her stories. Grade: B-
Note: I received a copy of this book from St. Martin's Press (via NetGalley) in exchange for my honest review.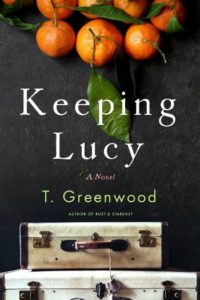 Keeping Lucy by T. Greenwood
Publisher: St. Martin's Press
Release Date: August 6, 2019
Length: 320 pages
Amazon
From the Publisher: "Dover, Massachusetts, 1969. Ginny Richardson's heart was torn open when her baby girl, Lucy, born with Down Syndrome, was taken from her. Under pressure from his powerful family, her husband, Ab, sent Lucy away to Willowridge, a special school for the "feeble-minded." Ab tried to convince Ginny it was for the best. That they should grieve for their daughter as though she were dead. That they should try to move on.
But two years later, when Ginny's best friend, Marsha, shows her a series of articles exposing Willowridge as a hell-on-earth–its squalid hallways filled with neglected children–she knows she can't leave her daughter there…"
My Thoughts: I was a little nervous about Keeping Lucy because I've had mixed results with T. Greenwood books, but I needn't have worried. I liked this story very much and found Greenwood's writing solid – just plain good storytelling. Lucy is a child born with Down's Syndrome in 1969. Without giving her mother much of a choice, Lucy's father and politically inclined grandfather had her whisked away to a "school" for children who were less than perfect. That premise was difficult to accept and I had to keep reminding myself that it was a different time and there wasn't as much acceptance of children with differences as we find today. After two long years, Lucy's mother Ginny comes to her rescue when horror stories about the school hit the newspapers.
The bulk of the story followed Ginny on a journey toward knowing her daughter, protecting her, and finding a life that included Lucy. At times I grew a little frustrated with Ginny, and had to remind myself that women had so many fewer choices in the early 70's. I needed to give her a little leeway and was rooting for her as she grew stronger and more determined. A few times in the story Ginny had some incredibly, almost unbelievably, good luck, but I let that go. Keeping Lucy was a solid, easy-to-read story of a mother's love and regret. The historical aspects around the treatment of children with Down's Syndrome were a good reminder of how far we've come, but also how much more ground we could gain. Grade: B
Note: I received a copy of this book from St. Martin's Press (via NetGalley) in exchange for my honest review.
My shelves are cleared…for now!
Disclosure: There are Amazon Associate links included within this post.