This post may include Amazon links. As an Amazon Associate I earn from qualifying purchases.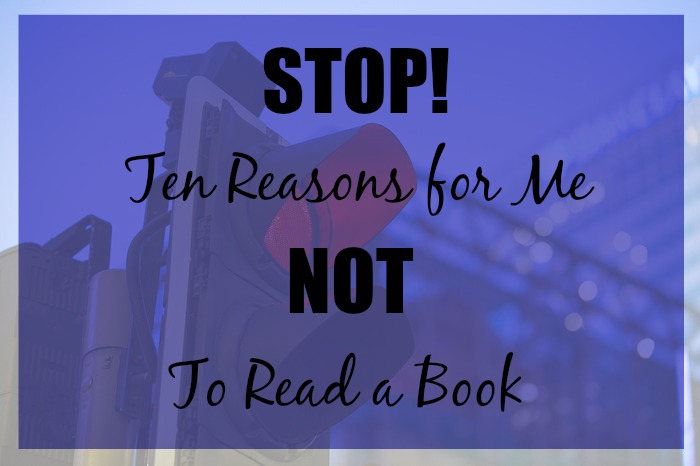 Last week on Top Ten Tuesday, the women at The Broke and the Bookish had us looking at everything that most appeals to us in books. It was fun looking at my Book Temptations Too Great to Resist. This week, the theme is reversed. It was actually easier for me to come up with what I don't like in books than it was to pinpoint what I most like. Included in my list are some qualities you might expect, a couple that will be surprises, and at least one that is just plain weird! Of course, as with everything, there are exceptions. I'll be taking a look at those, as well.
SERIES

 – Books that are part of a series is my number one turn off. I usually won't even read the rest of a book's description once I find there are sequels. I don't like being committed to endless reading to get to the bottom of a story. Just as I wouldn't pick up a 2000 page book, I don't need to read five or six 300 page books to find out what happens. EXCEPTION: The Hunger Games series by Suzanne Collins – I did finally agree to try The Hunger Games when kids at school were incensed that I hadn't read it. They were right and I read all three!

FANTASY

– Fantasy books just aren't my thing. I don't mind if there is a little something outside the realm of reality, but dragons, wizards and witches? No, thanks. Fantasy books tend to have very distinct covers and that's usually as far as I get in looking at one. EXCEPTION: The Golem and the Jinni – by Helene Wecker – This unusual book was getting such good reviews, I had to give it a try. I truly loved this golem and jinni.

ROMANCE

 – As a young teen I devoured my mom's romance novels, but after a few years I was done. (And, happily, so was she.) I definitely don't mind books with romance in them; I just don't want it to be the main focus of a book's storyline. EXCEPTION: All Stories are Love Stories by Elizabeth Percer – In this novel, two distinct love stories are involved, but they're plopped down in the middle of a couple of devastating San Francisco earthquakes. The drama of survival takes the lead over the romance. (My review) 

SCIENCE FICTION

– I've never been a fan of Star Trek or Star Wars. It seems I'm pretty grounded in reality, so when I see a science fiction book, my initial response is a resounding "no." EXCEPTION:

The Martian

by Andy Weir – I came late to the party on this one, but after SO many great reviews I had to give The Martian a try. It definitely lived up to all the hype.
SPORTS 

–

I grew up with a stepfather who was a sports fanatic. He watched not only the usual sports like football and baseball, but ping pong and wrestling, pretty much anything. I think that's why I've never been much of a sports fan, and so avoid sports books. EXCEPTION: The Boys in the Boat by Daniel James Brown – Anytime I do read a sports book, the focus has to be on much more than the sport. I loved learning about the lives of the rowers in this one, and even admit that the rowing itself was extremely exciting.
ROYALTY – In general, historical fiction is one of my favorite genres, but not any that involves royalty. I have a difficult time reading about kings, queens, knights, etc. They just aren't my thing. EXCEPTION: Honestly, I couldn't find any! I did, however, watch Victoria on PBS this winter and really enjoyed that.

COP/DETECTIVES

– Crime stories really are not a big draw for me. I just don't typically care "who dunnit" or why. This is another genre that I read more of when I was younger, but have let go. When I do read one, the focus has to be on something more.  EXCEPTION: The Expats by Chris Pavone – This one's a stretch. It's about an ex-CIA agent trying to piece together some odd events going on around her.
MAGICAL REALISM – Magical realism goes along with fantasy in that I seem to prefer books firmly grounded in the plausible. It can be off-putting when faced with a story element that almost feels like cheating. EXCEPTION: Exit West by Mohsin Hamid – This novel of refugees had an element of magical realism at its core, but it didn't bother me at all. In fact, I loved it and thought this book was outstanding. (My review)

YOUNG ADULT

 

– I work with middle schoolers and though I love the kids, when I pick up a book I don't want to be reminded of them! I get plenty of the drama at work. For this reason, I usually avoid all young adult books. EXCEPTION: The Book Thief by Markus Zusak – I didn't realize this was a young adult book until after I read it and even then was shocked to see that it was. I actually did a little research and found that in Australia (where the author is from), it was not marketed as young adult. Interesting!
IRELAND – This IS the weird one. I admit it! For some bizarre reason I don't want to touch books set in Ireland. Usually as soon as I see anything about Ireland in the description, I will nix the book. It's especially weird considering I'm part Irish. Many years ago, I read a bunch of depressing books set in Ireland in a short period of time. Since then I've not wanted to go back. EXCEPTION: The Wonder by Emma Donoghue – I took a chance on The Wonder last fall and was pleasantly surprised, but not enough to change my mind about books set in Ireland! (My review)
What reasons stop you from reading a book?
Disclaimer: There are Amazon Affiliate links contained in this post.