This post may include Amazon links. As an Amazon Associate I earn from qualifying purchases.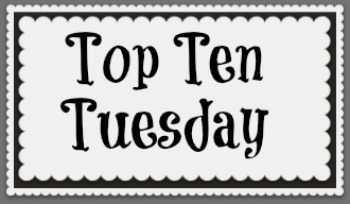 I really appreciate the way these Top Ten Tuesdays really make me think about the books I've read. Many thanks to the women at The Broke and the Bookish for always coming up with great topics! That brings me to this week's theme, Ten Underrated Books I've Read in the Last Year or So. I'm all over the "or so" part! The ten books I chose include five from 2016 and then five books that are a little older. I could have stuck with all 2016 books, but the others are some of my favorites and I want to give them a little attention, too.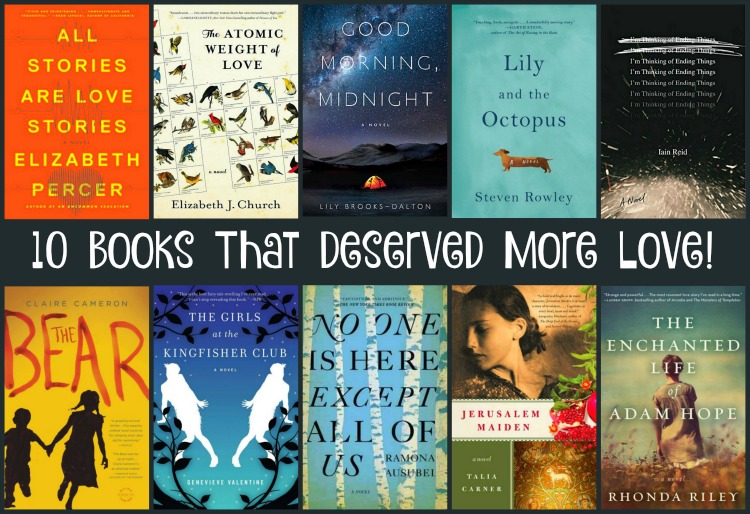 2016
All Stories are Love Stories by Elizabeth Percer – This "love story" is not a usual love story. Instead, it follows two men desperately trying to reunite with the people they love most after two terrible earthquakes rock San Francisco. This great book definitely deserved more attention. (My full review here.)
The Atomic Weight of Love by Elizabeth Church – At first this debut might not look like much. A woman in the 40's follows her husband to Los Alamos and gives up much of her own life. Meridian's story is so much more than that though. I loved watching her grow and change over the book's 50 year span. (My full review here.)
Good Morning, Midnight by Lily Brooks Dalton – An aging (slightly crazy) astronomer and a small child are abandoned in the Arctic with all communication to the rest of the world gone. The only connection he can find is with astronauts, also out of contact with the world. How will they survive? Another wonderful debut. (My full review here.)
Lily and the Octopus by Steven Rowley – Okay, so this was also a debut! I think most people who gave Lily a try liked it, but I think many people were reluctant to read it. It's not your typical dog book. It's a wildly imaginative story of a man's love for his dog and their life together. Yes, the typical dog thing happens, but it's still a good ending! (My full review here.)
I'm Thinking of Ending Things by Iain Reid – I'm surprised that this book is on my list. When I first finished Reid's debut novel, I didn't think I liked it, but it wouldn't let me go. I could not stop thinking about this dark psychological thriller. I'm still thinking about it. This book is short and may be best read in a single sitting. (My full review here.)
Slightly Older
The Bear by Claire Cameron – You will NEVER want to go camping again! This story is told by a 5-year old girl who saves her brother and herself after a rogue bear attacks her family's campsite. At first I thought I'd be put off by the voice of such a young narrator, but she was amazing. The author has a new book, The Last Neanderthal, coming out in April.
The Girls at the Kingfisher Club by Genevieve Valentine – This fun novel is a reimagining of the fairy tale, The Twelve Dancing Princesses, set in a backdrop of the Roaring 20's in NYC. It features twelve charming sisters, locked away by day, but who escape in the night to dance away their pain. The women and the era made this such a great book.
No One is Here Except All of Us by Ramona Ausubel – Another fairy tale-like book, this is the story of a remote Jewish village during WWII. On the word of a stranger, they imagine a whole new world for themselves and live in peace for many years. But, the outside world cannot stay away forever and eventually they must face it. Ramona Ausubel is the author of last summer's Sons and Daughters of Ease and Plenty.
Jerusalem Maiden by Talia Carner – Those who read Jerusalem Maiden seemed to love it, but I wish more had read it. It's the story of an Orthodox Jewish girl growing up with her very strict family in Jerusalem. Art is her love, but it's also forbidden. For many years, she tries of follow the path set out for her, but an unexpected opportunity takes her off in a new direction.
The Enchanted Life of Adam Hope by Rhonda Riley – I've recommended this book to a lot of people. Some like it, others find it just too strange. I agree that the basic premise of the book is a little out there, but it's a truly beautiful story of discovery, hope, and most of all love. I'm not generally a fan of love stories, but this one is so different that it's much more than just that.
Disclosure: There are Amazon Affiliate links contained in this post.