This post may include Amazon links. As an Amazon Associate I earn from qualifying purchases.
I don't know about you, but my annual "to be read" list is always MUCH, MUCH longer than I could ever possibly read. In the last couple of years I've gotten better at deleting books along the way when I feel confident I no longer want to read them, but still others remain. A year ago I shared Books I Meant to Read in 2017, But Just Never Did, and am pleased to report that I did go back and read three of them. That's not a huge number, but I'm not a big backlist reader. Fingers crossed I'll get to a few of these 2018 books I missed.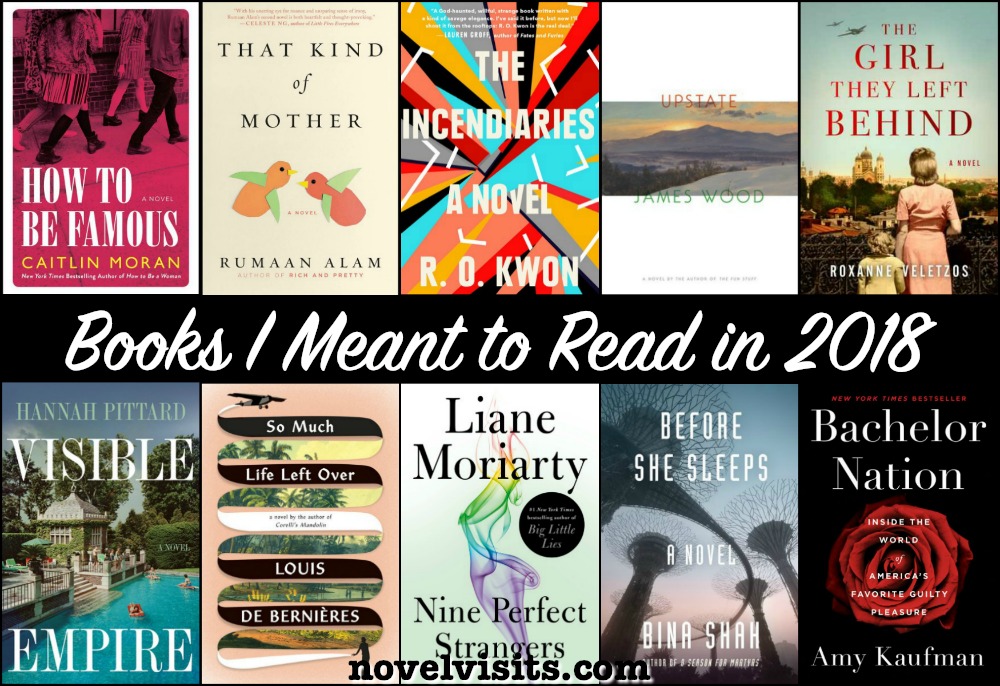 Bachelor Nation by Amy Kaufman – I've been a fan of The Bachelor since season one and for many years I felt like it was sort of a dirty little secret. Why was a woman my age engrossed in the hijinks of such an over-the-top reality T.V. show? Then I started blogging, and found a whole world of other Bachelor lovers! I've had mixed feelings about reading Bachelor Nation. I want to know more of the behind the scenes dirt, and I don't. Still, I plan to eventually get to this one on audio.
Before She Sleeps by Bina Shah – I like some dystopian stories and this The Handmaid's Tale-like novel should be just right for me. When it came out last summer, I just wasn't in the mood, but every time I cull my TBR list, I keep it around. Before She Sleeps is another that could be great on audio.
The Girl They Left Behind by Roxanne Veletzos – Historical fiction is one of my very favorite genres and WWII one of my favorite eras. So, why did I keep passing on The Girl They Left Behind? I think it was because not long before it came out I read a couple that really disappointed me (Summer Wives by Beatriz Williams and Eagle & Crane by Suzanne Rindell), setting me up for a self imposed break from historical fiction.
How to Be Famous by Caitlin Moran – I loved Moran's debut, How to Build a Girl, so want to give its sequel a try, but I have a thing about sequels. For me they often disappoint, so I tend to avoid them. I know that's far from fair and something I need to get over.
The Incendiaries by R.O. Kwon – I features The Incendiaries on my Summer Preview 2018, but was declined an ARC. Still, I had every intention of reading Kwon's book after it was released. Then I started seeing some mixed early reviews and didn't want to pony up my own money for it. When my library hold finally came in I was swamped with work and other books, so I just never got to it.
Nine Perfect Strangers by Liane Moriarty – I was a big fan of Liane Moriarty for a long time. The Perfect Husband and Big Little Lies were both wonderful escapes, but her last book, Truly Madly Guilty was a little disappointing. Perhaps that was why I remained reluctant to try her latest. Have any of you read Nine Perfect Strangers?
So Much Life Left Over by Louis De Bernieres – When I realized that So Much Life Left Over was actually the second in a three book series, I grew less interested. Catherine at The Gilmore Guide to Books assured me that it stands alone just fine, but I could never quite get past my sequel phobia!
That Kind of Mother by Ruuman Alam – I was so excited about That Kind of Mother that I highlighted it in my Spring Preview 2018. I thought I'd listen on audio, but didn't care for the narrator on the short sample I listened to. Then I heard from a couple others that they didn't care for the story and I just sort of lost interest.
Upstate by James Wood – I think Upstate suffered for me because of the time of year it came out. It's a very serious literary sounding book about a dysfunctional family relationship. That sounds right up my alley, but it came out in March after I'd read a lot of other heavier books and was looking for lighter stories. This is one I still really want to read.
Visible Empire by Hannah Pittard – On my own I may have overlooked this book completely, but Sarah at Sarah's Book Shelves loved it and she and I have very similar reading tastes. I added it to my TBR list after reading her review, but then just never actually read it. I thought I'd get to it when I was sort of free reading in December, but time got away from me. Maybe this year?
Have you read any of these 2018 books I missed?
Disclaimer: There are Amazon Associate links contained in this post.
 Top Ten Tuesday hosted by That Artsy Reader Girl!