This post may include Amazon links. As an Amazon Associate I earn from qualifying purchases.

It's that time of year when we celebrate nonfiction! For five weeks the hosts of Nonfiction November offer up a variety of different topics to shine some light on all the great nonfiction out there. This week's host is Julie at Julz Reads, and the topic is "My Year in Nonfiction." You can add your own nonfiction offerings by linking up on her site.
Before I get to this week's specific questions, I want to share a few stats about my nonfiction reading this year. As of this writing, I've finished 97 books this year and 16 of those have been nonfiction, which is 16.5% of my reading. That's up a tiny bit from last year, but way up from where I was a couple years ago (barely 10%). I think 15-18% is the sweet spot for me when it comes to nonfiction. Fiction will always be my first love, but I've come to crave great nonfiction reading, as well. So, let's take a look at my year.
My Favorite Nonfiction Book of the Year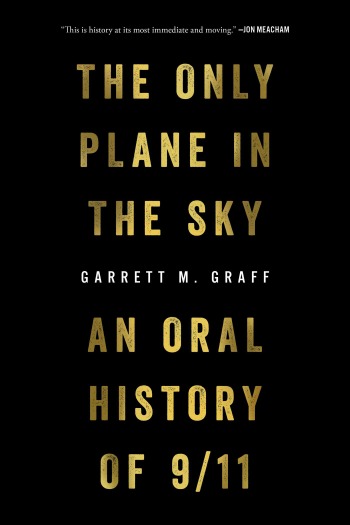 This wasn't even a difficult call for me. I've had lots of nonfiction that I gave an A- grade to this year, but only two books that I gave a solid A, and of those The Only Plane in the Sky by Garrett M. Graff was by far my favorite. I know this book moved a lot of people and I keep asking myself, why? For me I think it's because of the personal connection. Not that I was there or knew anyone who was lost, but that like everyone else, I was a witness to that horrible day, and after 18 years, I was ready to learn more. (my review)
Topic Most Attracted to This Year

Memoirs continue to be where I go to most often with nonfiction. Nine of my 16 books were memoirs and of those I have a few favorites.
Know My Name by Chanel Miller – I just listened to this book and have yet to review it, but loved hearing Miller tell her story of surviving her assault on the Stanford campus, the ensuing court battle, her assailant's sentencing, and the aftermath. I highly recommend this story of a woman finding her voice. (review coming on Thursday)
Nanaville by Anna Quindlen – It's Anna Quindlen! Her wit and wisdom shined just as brightly as you might expect in this little book about her love of being a grandparent. For anyone who is a grandparent, there was so much to relate to, but even for those not there, Quindlen's triumphs and errors made for great reading. (my review)
Maid by Stephanie Land – I was also touched by this memoir from a single mom who struggled for years to make a life for herself and her young daughter working as a house cleaner. At times I was frustrated by her missteps, but that is reality for so many and I appreciated that she never lost sight of her dreams. (my review)
Wild Game by Adrienne Brodeur – I liked Brodeur's memoir very much, but it also hit a little close to home for me, so I found it difficult to have a completely clear perspective on it. Still, that says a lot about the author's writing which I found to be wonderful. The story itself almost felt like the perfect script for a movie! (my review)
Nonfiction Recommended the Most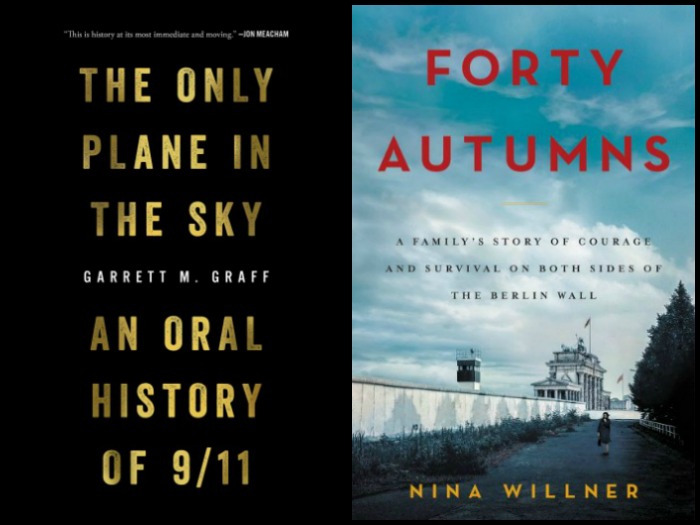 The Only Plane in the Sky by Garrett Graff – Even though I just listened to this in September, I started recommending it to everyone after only the first couple hours! I liked it so much, I bought my own copy in print.
Forty Autumns by Nina Willner – Though this book is from a couple years ago, I still find myself recommending it anytime someone is looking for nonfiction, and especially if they've got any interest in history. This is the second year in a row, I've put Forty Autumns down as a response to this Nonfiction November query.  (my review)
What I Hope to Get Out of Nonfiction November
That's easy: lots and lots and lots of nonfiction book recommendations. I'm especially going to be keeping an eye out for investigative journalism like Bad Blood by John Carreyrou (my review) and She Said by Jodi Kantor and Megan Twohey (review coming on Thursday). I read both this year and found I really enjoyed learning about the development of big news stories. Other than that, I'll be looking for rave reviews about most any type of nonfiction!
PIN THIS POST ⇓