This post may include Amazon links. As an Amazon Associate I earn from qualifying purchases.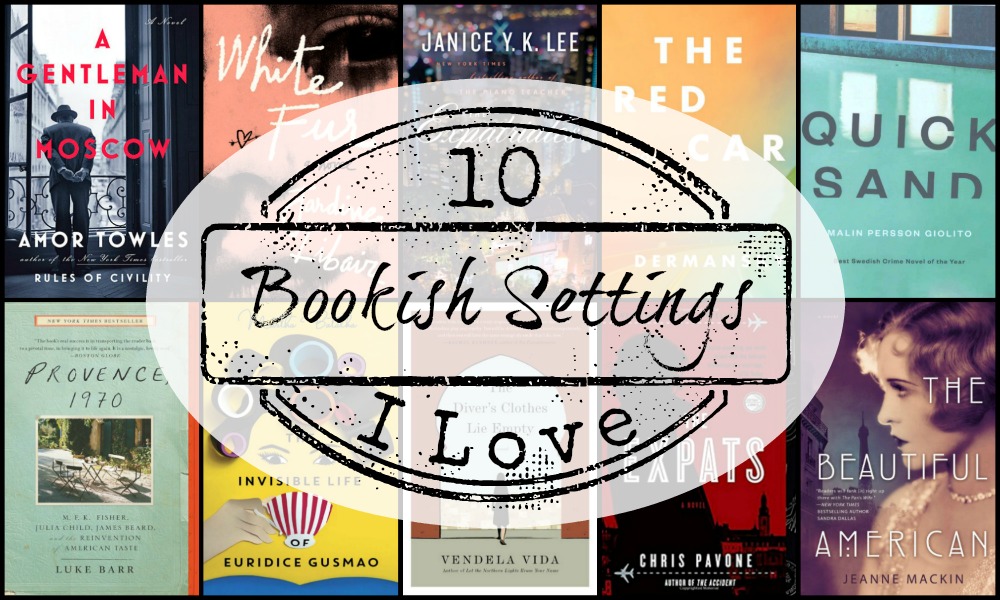 I love to travel and can really never get enough of it, but sometimes time and budget get in the way of doing as much as I'd like. Still, I'm always on the go with the books. There's nothing I enjoy more than journeying to a favorite destination with a great book. For today's Top Ten Tuesday the ladies at The Broke and the Bookish have set a theme of favorite bookish settings. I'm sharing ten favorite cities I've been transported to with books. Some I've been to, other's are on my wish list, but all make wonderful settings.
Casablanca, Morocco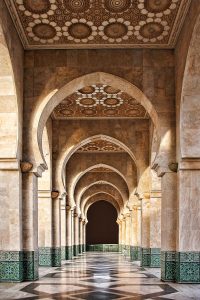 I've yet to travel to Morocco, but plan to rectify that situation someday. Instead, The Diver's Clothes Lie Empty by Vendela Vida has taken me there. This literary thriller shows off Casablanca through the eyes of an American woman.
From the publisher: "In Vendela Vida's taut and mesmerizing novel of ideas, a woman travels to Casablanca, Morocco, on mysterious business. While checking into her hotel, the woman is robbed of her wallet and passport—all of her money and identification. Stripped of her identity, she feels burdened by the crime yet strangely liberated by her sudden freedom to be anyone she wants to be."
Hong Kong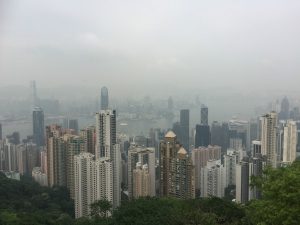 I'm not sure why, but I've yet to make it to Asia in any way other than books. Hong Kong has been a favorite literary destination thanks to Janice Y.K. Lee. Her most recent novel, The Expatriates, wove so many different parts of the city into its narrative.
From the Publisher: "…Lee explores with devastating poignancy the emotions, identities, and relationships of three very different American women living in the same small expat community in Hong Kong…As each woman struggles with her own demons, their lives collide in ways that have irreversible consequences for them all. "
Luxembourg City, Luxembourg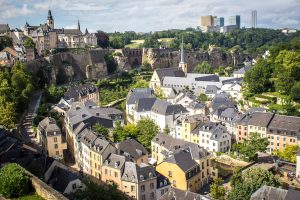 I've been all around Luxembourg, but never actually there! Instead I spent a few days on the edge of my seat as I walkied the streets of Luxembourg City with Chris Pavone's thriller, The Expats.
From the Publisher: "Kate Moore's quiet Luxembourg days are filled with playdates and coffee mornings, her weekends in Paris and skiing the Alps. But Kate is also guarding a tremendous secret—one that's becoming so unbearable it begins to unravel her new expat life…As Kate begins to dig, to uncover the secrets of the people around her, she finds herself buried in layers of deceit so thick they threaten her family, her marriage, and her life."
Moscow, Russia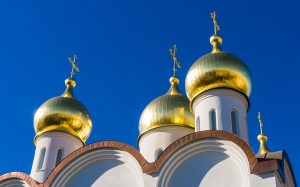 While in college one of my cousins traveled to Moscow and came back with a husband! I'd love to visit, but maybe without the local souvenir. Most of A Gentleman in Moscow took place inside a hotel, but Amor Towles still delivered a real taste of that city. (my review)
From the Publisher: "In 1922, Count Alexander Rostov is deemed an unrepentant aristocrat by a Bolshevik tribunal, and is sentenced to house arrest in the Metropol, a grand hotel across the street from the Kremlin. Rostov, an indomitable man of erudition and wit, has never worked a day in his life, and must now live in an attic room while some of the most tumultuous decades in Russian history are unfolding outside the hotel's doors."
New York, New York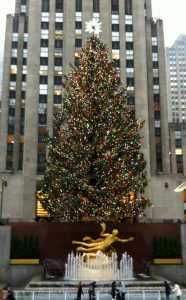 Finally! A favorite literary destination that I've been to many times. I actually love visiting New York both in person and as the setting of so many of my favorite books. I had countless options here, but decided to go with this year's White Fur by Jardine Libaire. (my review)
From the Publisher: "When Elise Perez meets Jamey Hyde on a desolate winter afternoon, fate implodes, and neither of their lives will ever be the same...The couple moves to Manhattan in search of a new life, and White Fur follows them as they wander through Newport mansions and East Village dives, WASP-establishment yacht clubs and the grimy streets below Canal Street, fighting the forces determined to keep them apart."
Paris, France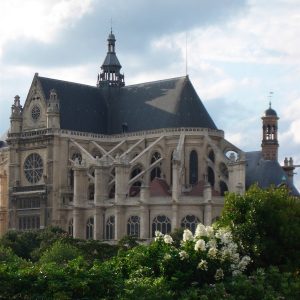 Paris is without question my favorite city on Earth. I've been lucky enough to spend quite a bit af time there and never feel like I get enough. I've read dozens of books set in Paris, but settled on The Beautiful American by Jeanne Mackin, which in part highlights Paris in its glamorous post-war years.
From the Publisher: "Nora and Lee knew each other in the heady days of late 1920s Paris, when Nora was giddy with love for her childhood sweetheart, Lee became the celebrated mistress of the artist Man Ray, and Lee's magnetic beauty drew them all into the glamorous lives of famous artists and their wealthy patrons...A novel of freedom and frailty, desire and daring, The Beautiful American portrays the extraordinary relationship between two passionate, unconventional women."
Provence, France
Since we just left Paris, we should make a stop in Provence. No book I've ever read gave a better taste for Provence then Luke Barr's Provence, 1970: M.F.K. Fisher, Julia Child, James Beard, and the Reinvention of American Taste. His book was sumptuous in every way!
From the Publisher: "Provence, 1970 is about a singular historic moment. In the winter of that year, more or less coincidentally, the iconic culinary figures James Beard, M.F.K. Fisher, Julia Child, Richard Olney, Simone Beck, and Judith Jones found themselves together in the South of France. They cooked and ate, talked and argued, about the future of food in America, the meaning of taste, and the limits of snobbery. Without quite realizing it, they were shaping today's tastes and culture, the way we eat now."

Rio de Janeiro, Brazil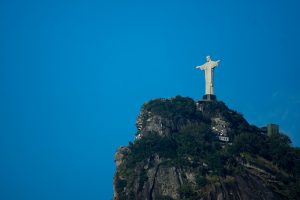 The only South American country I've made it to was Ecuador, which truly whet my taste for more travel to that continent. High on my list is Rio, especially after my recent literary visit with Martha Batalha's The Invisible Life of Euridice Gusmao. (my review)
From the Publisher: "Euridice is young, bright and ambitious. A talented musician, she dreams only of fame and fortune. But this is Rio de Janeiro in the 1940s, and the one thing society expects of its women: to be loving wives and mothers. So when her rebellious sister Guida elopes, breaking her parents' hearts, Euridice sacrifices her own aspirations to marry conventional Antenor…"
San Francisco, California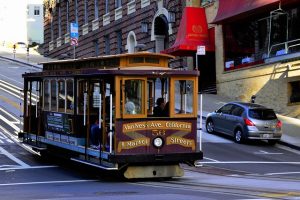 I grew up in the Bay Area. I've spent a lot of time in San Francisco. I think it just might be my favorite city in the U.S. So many great books have used this beautiful city as their backdrops. I could choose dozens, but like the modern take on San Francisco in The Red Car by Marcy Dermansky. (my review)
From the Publisher: "When Leah's former boss and mentor, Judy, dies in an accident and leaves Leah her most prized possession—a flashy red sports car—the shock forces Leah to reevaluate her whole life. Leah is living in Queens with a husband she doesn't love and a list of unfulfilled ambitions. Returning to San Francisco to claim the mysteriously powerful car, she revisits past lives and loves in several sprawling days colored by sex and sorrow."
Stockholm, Sweden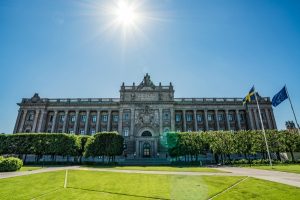 A beautiful old city surrounded by water, there is much I love about Stockholm. It's picturesque in every way, but this year's courtroom novel Quicksand by Malin Perrson Giolito added a definite layer of grit to the city. (my review)
From the Publisher: "A mass shooting has taken place at a prep school in Stockholm's wealthiest suburb. Maja Norberg is eighteen years old and on trial for her involvement in the massacre where her boyfriend and best friend were killed. When the novel opens, Maja has spent nine excruciating months in jail awaiting trial. Now the time has come for her to enter the courtroom."
What are your favorite bookish settings?
Disclosure: There are Amazon Associate links included within this post.