This post may include Amazon links. As an Amazon Associate I earn from qualifying purchases.

For an entire month this summer, including the first three weeks of August, I was lucky enough to be away from home spending time with family. This gave me the much needed break from living alone all spring and facing a fall of teaching online once again. I did work a few days during that time, but mostly enjoyed more conversations, more great food, and much more wine than usual. Of course, I also managed to squeeze in some great reading, that I'm excited to be sharing with you today. I suspect one of these books may end up on my Best Books of 2020 list come December!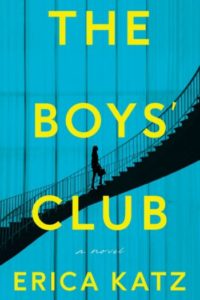 The Boys' Club by Erica Katz (debut)
Publisher: Harper Books
Release Date: August 4, 2020
Length: 416 pages
Amazon
My Thoughts: Alex Vogel, a Harvard Law School graduate had a plan. She'd join a Big Law firm, but settle into a lower key specialty, preserving a life for herself and her boyfriend, Sam. Like many plans, Alex's vanished when the real world and her very competitive nature got in the way. Instead, Alex ventured into the limelight with the big hitters in Mergers & Acquisitions.
Thus, begins The Boys' Club by debut author Erica Katz, a foray into a literary legal drama that made for some excellent summer reading. I liked getting a behind the scenes look at the complexities of corporate America and the legal maneuvering as one company gobbles up another. Some of the details sort of flew over my head, but that didn't really matter because Alex and her role were always clear. As an eager young, female lawyer in a heavily male-dominated arena, Alex had a lot to prove. I found both her successes and failures compelling, keeping me turning the pages throughout.
The story had two small flaws for me. First, I wish there had been an exact placement in time. As in, was this before or after #MeToo? It felt like before, but I was never sure. Second, does every young female character need to sleep with a colleague? It's an over used trope and one that I think could easily have been avoided in The Boys' Club. Despite those two issues, I thoroughly enjoyed my time spent with Alex and her compatriots in the world of M & A. Grade: B
Note: I received a copy of this book from Harper in exchange for my honest thoughts.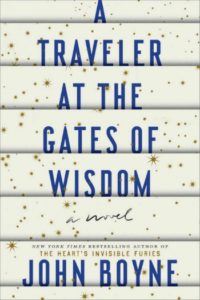 A Traveler at the Gates of Wisdom by John Boyne
Publisher: Hogarth Books
Release Date: August 11, 2020
Length: 480 pages
Amazon
My Thoughts: The Heart's Invisible Furies written by the incredible author, John Boyne, was number one on my Best Books of 2017, making me an instant fan (my review). As soon as I heard Boyne had a new book coming out this year, my NetGalley request went in. I wanted to read A Traveler at the Gates of Wisdom the minute I was approved, but forced myself to wait. So, was the wait worth it? Well, yes and no.
A Traveler tells the story of one man's life through the lives of many men. It begins in the year A.D. 1 with a newborn boy in Palestine, and moves through the more than 2000 years in jumps of 30 to 50 years. The location changes with each new iteration, which moves his story forward in small ways. Throughout, the basics of this man's life stay the same: he's artistic, he has an older brother who vanished, a cousin betrays him, and he outlives three wives. The brother's name always begins with a J, his cousins with an H, etc. This daring creativity in storytelling made Boyne's latest book a unique and powerfully written history lesson.
I found myself constantly fascinated with where his story would go to next, but at the same time, with the many swift jumps, I was never able to feel attached to the story's narrator. For me, the story lacked heart and heart is often so very big in Boyne's writing. I missed it terribly. The book's last chapter and its epilogue also threw me. I wish they'd both been different. Still, I'm glad I stuck with A Traveler at the Gates of Wisdom for Boyne's uniquely told tale, but I fear it will be a book that many will give up on. Grade: B
Note: I received a copy of this book from Hogarth (via NetGalley) in exchange for my honest thoughts.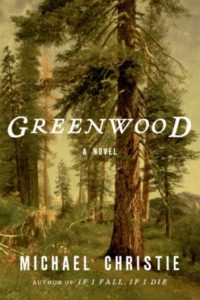 Greenwood by Michael Christie
Publisher: Hogarth Books
Release Date: February 28, 2020
Length: 528 pages
Amazon
My Thoughts: We know that all books tell a story in one way or another, but some books tell a S⋅T⋅O⋅R⋅Y. Greenwood by Michael Christie was one of those books! This was a wonderfully constructed family saga, both starting and ending in 2038 when an atmospheric "Withering" had destroyed much of the Earth's green spaces. It's where we first meet Jake Greenwood, a tour-guide at a high-end Canadian resort for people wanting to experience nature as it used to be. From there, Christie follows Jake's family back three generations to 1908 with her great-grandfather and his brother, one who founded a lumber empire and the other who spent much of his life in prison.
As Christie introduced each generation, I found myself engrossed in their individual stories, eager to find out what would happen next and the impact of each generation's actions on the next. Each character was rich, fully-developed, and likable in their own specific ways. Part historical fiction, part environmental fiction, all character-driven, Greenwood, is a beautifully written story I won't soon forget. Grade: A
"If it's true that the United States was born of slavery and revolutionary violence, she muses while watching them work, then surely her own country was born of a cruel, grasping indifference to its indigenous people and the natural world."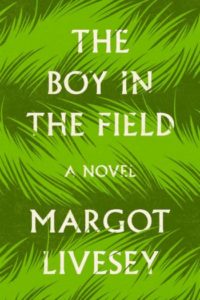 The Boy in the Field by Margot Livesey
Publisher: Harper Books
Release Date: August 11, 2020
Length: 272 pages
Amazon
My Thoughts: The Boy in the Field by Margot Livesey turned out to be a perfect summer escape for me. With short chapters told alternately from the perspectives of three teenage siblings, it was easy to pick up and put down, but also get right back into.
Matthew, Zoe and Duncan, were walking home from school because their dad forgot to pick them up. Not so unusual, right? Until, Zoe noticed what looked like a person lying in the tall grass of a field near the road. She and her brothers discovered a boy around their own age bleeding badly and unconscious. The field took on a sort of surreal quality for each, as they realized something horrible had happened to the boy, flagged down help, tried to provide comfort, and awaited an ambulance. Thanks to their actions, the boy was saved, but the siblings were forever changed.
Something about finding this boy and knowing someone hurt him altered the trios perspectives on everything. None ever quite saw the world in the same way again, starting with their own parents and including friends and relationships. Each was changed in subtle, but real ways as they learned more about the boy and themselves in a world not as safe as it once seemed. The Boy in the Field is not a thriller or a mystery, but rather a quiet coming-of-age story full of introspection and the love of family, I really enjoyed it! Grade: B
Note: I received a copy of this book from Harper in exchange for my honest thoughts.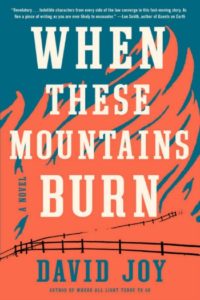 When These Mountains Burn by David Joy
Publisher: G.P. Putnam's Sons
Release Date: August 18, 2020
Length: 272 pages
Amazon
My Thoughts: David Joy is one of my auto-buy authors. His grit-lit fiction always touches me in unexpected ways. The Line That Held Us, his previous release (my review), was one of my Best Books of 2018, so my expectations were high for When These Mountains Burned. Taking place in eastern North Carolina in the fall of 2016, this is the story of a community ravaged by drugs, first by meth and more recently by heroin. They're everywhere: on tribal lands, in small, quaint towns, in homes with wealth, in homes struck by poverty. At a glance, addicts recognize themselves in the faces of others; they get each other's pain.
"It had never been that addicts didn't care whether they lived or died, it was that the feeling you were chasing rested right against the brink and sometimes you just fell over."
In this setting, Joy tells a story of a father's grief and need for revenge as he watches his 41-year old son, unable to fight his life-long addiction. He introduces the reader to another addict who truly wants a different life, but has no idea how to escape his body's cravings. Mixed in with these characters are a group of cops/DEA agents fighting an uphill battle, ruthless drug dealers, and fires raging all around. Even though I shed a few tears near the end of When These Mountains Burned, for me it didn't have quite the emotional impact of The Line That Held Us. Instead, Joy's powerful writing left me feeling haunted by the legacy of addiction that our country just can't seem to kick. Grade: A-
Note:I received a copy of this book from G.P. Putnam's Sons (in print and via NetGalley) in exchange for my honest thoughts.
PIN THIS POST

⇓