This post may include Amazon links. As an Amazon Associate I earn from qualifying purchases.
You know those books that absolutely spoke to you, but that just didn't seem to get the attention they deserved? We probably can all think of many of these hidden gems. Today I'm sharing ten of my favorites, two from each of the last five years. I hope you'll find a book of two to add to your own cache of backlist books.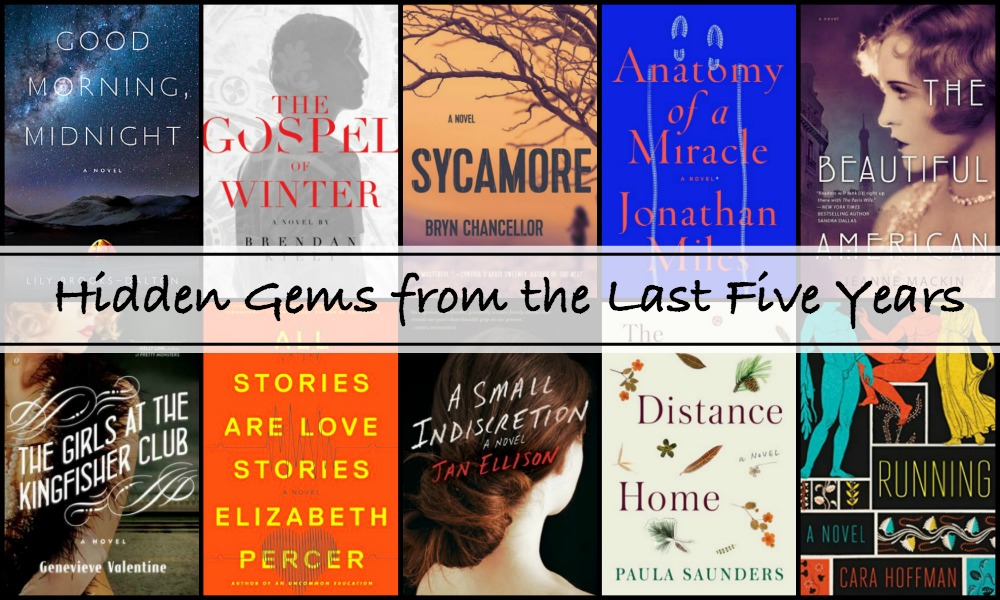 Top Ten Tuesday hosted by That Artsy Reader Girl.
From 2014
The Beautiful American by Jeanne Mackin – Everything about this historical fiction spoke to me. It combined the real life of famed model/photographer Lee Miller with that of its main fictional character, Nora Tours. Much of the book took place in one of my very favorite, locales, Paris and it spanned a favorite era, the 1920's through WWII. Plus, the story itself was excellent!
The Gospel of Winter by Brendan Kiely – Had I known that The Gospel of Winter was considered to be a young adult novel I may not have read it. Thank goodness I didn't because I LOVED this book! It's the story of an upper middle class boy struggling to understand life after his father leaves and his mother pretends to be fine. He turns to his parish priest and soon finds himself in the middle of a breaking abuse scandal. So good!
From 2015
A Small Indiscretion by Jan Ellison – This is the story of Annie, a woman who spent a rather wild year in London when she was only 19. Many years later a photo arrives for Annie in the mail. A photo from that time and Annie's curiosity is piqued. The choices she makes puts her marriage and the safe life her family enjoys in jeopardy. This proved to be a terrific, suspenseful debut.
The Girls at the Kingfisher Club by Genevieve Valentine – What's not to love about 12 dancing sister's in 1920's New York? Daughters of a wealthy, controlling man the girls are forbidden from leaving the top two floors of their mansion. But what's the fun in that? The oldest begins sneaking out and discovers dancing at a speak-easy. She brings the steps home to her sisters who all fall in love with dance. As they get older, all eventually sneak out to the clubs. A fun story, but with a serious side.
From 2016
All Stories Are Love Stories by Elizabeth Percer (my review) – A massive earthquake devastates San Francisco, crumbling buildings and turning freeways into parking lots. Two men, one trapped in one of those buildings and the other left stranded on a freeway, fight to reunite with the people they love. Beautifully told, this debut captured love in all its many forms.
Good Morning, Midnight by Lily Brooks-Dalton (my review) – Another shining debut from 2016, Good Morning, Midnight tells the story of six astronauts returning from Jupiter and a lone astronomer at the Arctic Circle as they discover they may be the only people left in this solar system. Though a wildly different story from the last one, this dystopian tale also looks at love and the things that matter most in life.
From 2017
Running by Cara Hoffman (my review) – A truly under-appreciated novel, Running tells the story of three teens, luring tourists to the cheap hotels they "run" for, in exchange for a few dollars and a place to sleep in Athens. As young people will often do, they become embroiled in a scheme that will forever alter their lives. Running was one of those novels that took hold of me and wouldn't let go until I'd reached its last page.
Sycamore by Brynn Chancellor (my review) – If I could only have ONE book on this hidden gems list it would be SYCAMORE. Part suspense novel, part coming-of-age story, I loved everything about this book and so few people have read it. This is the story of  17-year old Jess Winters who disappeared one stormy December night from her small Arizona town.  Using dual timelines debut author Chancellor slowly reveals that everyone in that small town was left holding onto a piece of her story. Excellent!
From 2018
Anatomy of a Miracle by Jonathan Miles (my review) – I think this book hasn't had a lot of attention because it's not an easy book to sink into. You have to give this story of a paraplegic veteran who suddenly stands and walks a little bit of slack and resist pulling back. Given time, the story takes off as everyone begins to want a piece of his miracle, while all he wants is to understand why. Written in a journalistic style, this book reads almost like nonfiction.
The Distance Home by Paula Saunders (my review) – This might be the most overlooked book of the summer. The Distance Home tells the story of a dysfunctional South Dakota family who actually love each other very much, but just don't do it well. Harsh at times, it was a slow building saga of a family trying, and trying again, and trying again. Poor, cruel, unkind choices pulled them apart over and over again, and still under all the drama, all the raw emotion love never quite let go. Plus, Saunder's writing? Exceptional!
What are some of your favorite hidden gems?
Disclosure: There are Amazon Associate links included within this post.