This post may include Amazon links. As an Amazon Associate I earn from qualifying purchases.
Last week I re-shared an older post about LONG BOOKS thinking about all the extra time many of us have right now. For some this might be the perfect time to take on one of those chunkers, bur I know for me it would be difficult. My mind is all over the place, and from what I hear, a lot of you are experiencing that sort of "quarantine restlessness," too. But, we still want to read, right? The solution? Shorter books! It can be difficult to find slim books with great stories, but there are many out there. Included here are ten shorter books that I highly recommended back in 2017 when I originally shared this list and that I still stand behind today. Each could be read in a single day, and even better because they're all a little older you can likely get them on Libby, OverDrive or your local library's electronic system.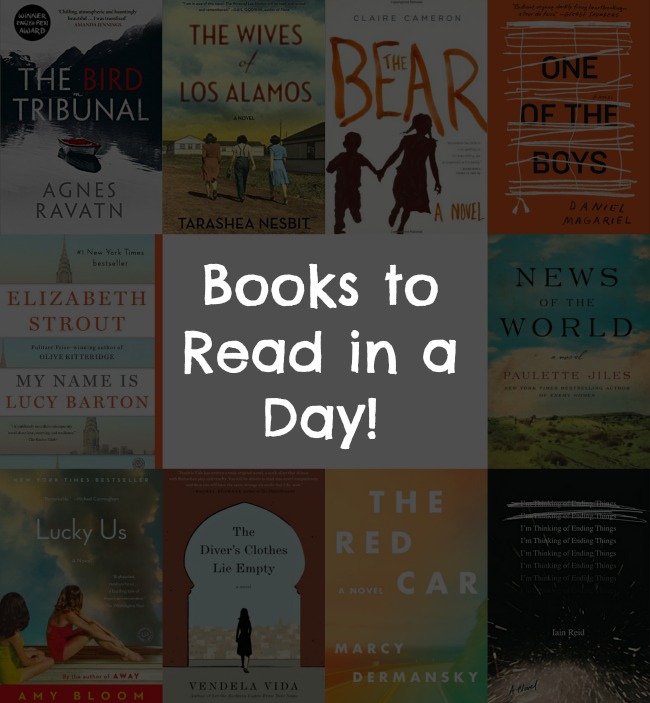 When considering books that might be read in a single day I set 250 pages in the hardback edition as my max (and was almost successful). I found a little something for everyone and have divided my books into three genres. I hope readers short on time, but high on interest, will find something to love among these quick reads!
History Lessons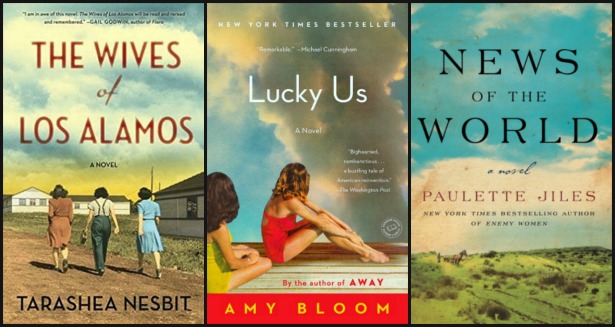 The Wives of Los Alamos by Tarashea Nesbit (240 pages) – Learn a little bit about what it was like for the women living at Los Alamos as their husbands were busy working on the "top secret project." Told in a collective voice, The Wives of Los Alamos is a story that will stay with you long after you've finished.
Lucky Us by Amy Bloom (256 pages) – This is a fun, light read that follows half-sisters, Iris and Eva, as they stumble through life together and apart. Starting in the 40's Lucky Us spans twenty years, moves from Hollywood to New York to London, and has a rich cast of characters that always keep the story interesting!
News of the World by Paulette Jiles (224 pages) – Captain Jefferson Kyle Kidd was a news reader traveling Texas from town to town reading to the people. When asked to return a girl long held captive by the Kiowa to her family, he reluctantly agrees. Their journey is an amazing story of loneliness, acceptance, and love. (My review here.)
It's Getting Dark

I'm Thinking of Ending Things by Iain Reid (224 pages) – This is a book that most people will read in a single day because you can't put it down! It's a creepy story of a couple on a road trip to meet his parents, except she's considering ending their relationship. On the way home, the story moves into bizarre psychological thriller territory. (My review here.)
The Bear by Claire Cameron (240 pages) – The opening scene in this book has guaranteed that I'll never go camping again! Obviously, the start of this book is dark and scary, which is why I included it here. But, it's really a story of hope and love, told by a 5-year old girl trying to save herself and her little brother. I loved this book.
One of the Boys by Daniel Magariel (176 pages) – Another book told by a child, in this a 12-year old boy. He, his older brother and their father have moved to Albuquerque for a new life together. That life is shattered when their father's drug abuse turns him into a different man, cruel and abusive. It's an excellent, but dark story of survival. (My review here.)
The Bird Tribunal by Agnes Ravatn (192 pages) – Originally published in Norway, The Bird Tribunal is set there and tells the story of Allis and Bagge, employee and employer. She takes a position as his housekeeper/gardener, but something is not quite right about either of them. Both are hiding secrets and nothing is as it seems. (My review here.)
Ladies, Lost & Found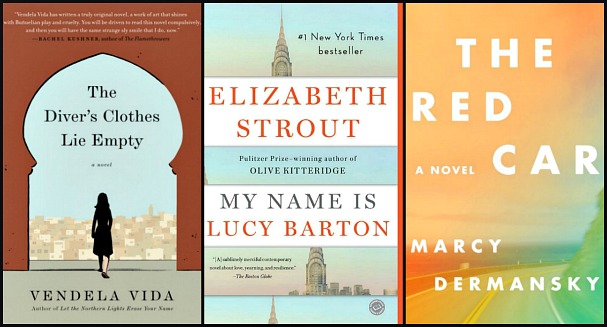 The Diver's Clothes Lie Empty by Vendela Vida (224 pages) – A woman alone in Casablanca, Morocco is robbed of everything – wallet, passport, money, all identification. As the police investigate she feels fear, but also freedom. When she gets a chance job as a stand-in on a movie set she begins to see a whole new world of possibilities.
My Name is Lucy Barton by Elizabeth Strout (208 pages) – Lucy Barton lies in a hospital bed after a surgery leads to  infection. When she wakes and finds her mother sitting beside her bed, Lucy is alternately irritated and delighted. Their conversations over the five-day visit stir memories from Lucy's childhood and leave her reconsidering her own life. (My review here.)
The Red Car by Marcy Dermansky (208 pages) – When Leah was younger and lived in San Francisco, she had a boss and mentor, Judy, who pushed her to believe in herself. Years later, Leah is stunned when she gets an email telling her Judy has died. Leah is even more shocked when she learns that she has inherited Judy's red sports car. (My review here.)
What are your favorite books to read in a day?