This post may include Amazon links. As an Amazon Associate I earn from qualifying purchases.
Girls! Girls! Girls! While the rest of the world may be evolving a little too slowly, the literary world has long been on board for more "girl power." For this week's Top Ten Tuesday (hosted by That Artsy Reader Girl) the challenge was to talk about books with a common word/theme to their titles. I wasn't sure about this one, but once I settled on girl(s), it became a challenge to narrow my list to only ten, so I went with twelve. The big two, the obvious two will be last!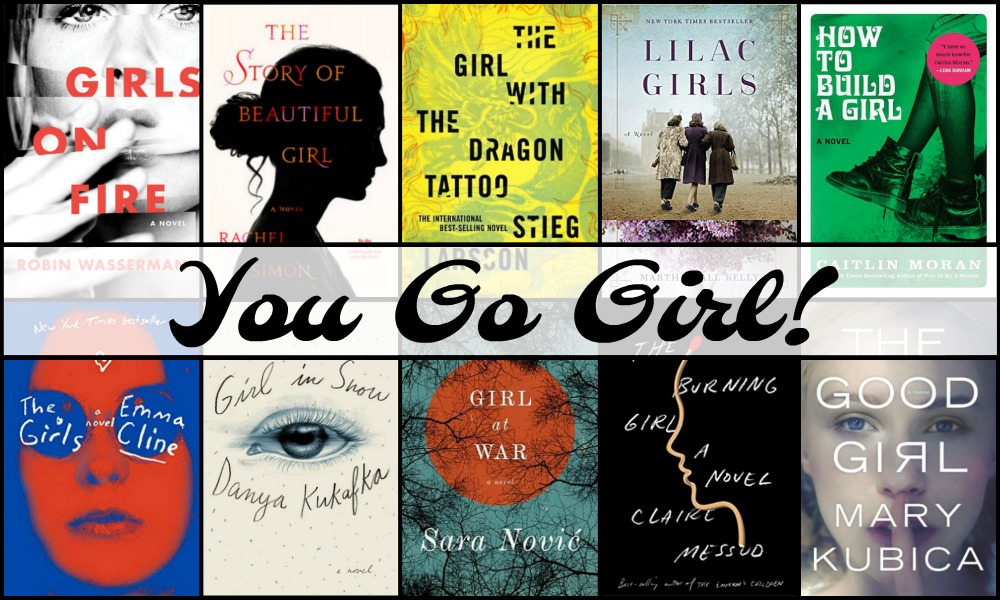 The Burning Girl by Claire Messud – This novel delivers an interesting twist on a classic coming-of-age scenario: teenage friendship. What makes it so different is one girl's total obsession with another, and of her learning about herself through that experience. For me, this wasn't the brilliant coming-of-age story I had hoped for, but listening to it on audio somehow improved the experience. (my review)
Girl at War by Sara Nović – I can't say enough good things about Girl at War. Nović's powerful debut tells the story of Ana Jurić, a young girl who must figure out how to survive the brutal war that invades Croatia when she is only ten. Her resourcefulness and resolve help Ana to survive, but left with dark memories and ghosts of the horrors she saw, Ana must find a way to survive those.
Girl in Snow by Danya Kukafka – Reviews were all over the place for Danya Kukafka's widely hyped debut. I fell on the side of not quite relating to this story of three unlikely residents of a small Colorado town who examine their own hearts as they stumble upon clues in the murder of a popular high school freshman. The writing was lovely, but the resolution of the murder didn't quite work for me. (my review)
The Girl With the Dragon Tattoo by Stieg Larsson – I'm not huge on thrillers and I don't like series, but I loved The Girl With the Dragon Tattoo and all it's subsequent books. There was just something about Lisbeth Salander and Mikael Blomkvist that kept me coming back for more. I read the three written by Larsson, but haven't read any of the subsequent books by David Lagercrantz. Have you?
The Girls by Emma Cline – The Girls was one of the most hotly anticipated books two summers ago. Most people loved it, but I was a tad disappointed. This is the story of a girl who becomes involved with a Mansonesque type group. For me, it followed aspects of the Manson story a little too closely and lost ground on originality. (my review)
Girls on Fire by Robin Wasserman – I though this book about two outcast teenage girls was wonderful. Dark and gritty, the two friends begin to explore some seamier sides of life and find that many of the "popular" kids have already been there. Wasserman's background was in young adult fiction, and this first foray into general fiction left me wanting more. (my review)
The Good Girl by Mary Kubica – I vividly remember being on the edge of my seat the entire time I was reading The Good Girl. This story of a young woman who is taken and held for ransom is the high bar to which I've held every Kubica book since up to. Sadly for me, none of the others have quite been up to the challenge. If you've never read a Mary Kubica book, start with The Good Girl.
How to Build a Girl by Caitlin Moran – If you like coming-of-age stories, then you really should try this funny, gritty novel about a British girl who decides she has to reinvent herself. After a deeply shaming experience, Johanna doesn't want to be Johanna anymore, so becomes Dolly Wilde, a fast-talking, hard-living, Goth teen who writes reviews of rock bands. Moran managed a terrific balance of humor and poignancy in her story.
Lilac Girls by Martha Hall Kelly –  One of my Best Novels of 2016, I clearly loved this WWII historical fiction. Martha Hall Kelly's story of was of three women: a Polish teenager, a New York socialite, and a German physician. Each mange survive World War II, but in very different ways. Much more than your usual WWII story, Hall's debut covered aspects of the War I'd never read about. (my review)
The Story of Beautiful Girl by Rachel Simon – During the summer of 2011, I read book after book that I just loved and this novel was one of the very best. It's the unlikely love story of two people locked away in an institution for the "feebleminded" in the 1960's. Lynnie has a developmental disability. Homan is a deaf black man. Theirs is an incredible journey and one I highly recommend taking.
And, We Cannot Forget….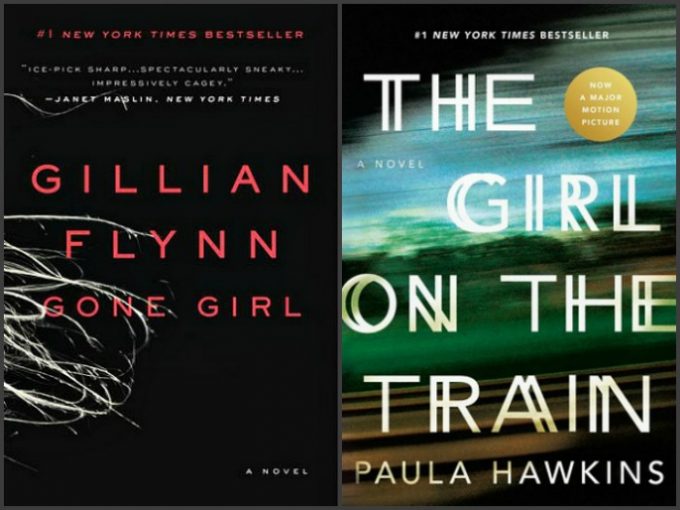 Gone Girl by Gillian Flynn – Perhaps the biggest "girl" book of all and certainly the one most often used as a comparison for other books has got to be Gone Girl. I devoured Gillian Flynn's book on a cross country flight to visit my sister and when I got off the plane it was ALL I could talk about. I pretty much insisted she read it and read it NOW! (She loved Gone Girl, too.)
The Girl on the Train by Paula Hawkins – Like most everyone else, I succumbed to the hype and read The Girl on the Train, but unlike many, I only though it was okay. For me, Rachel was just a little too unhinged to be believable and the plot twists required too much suspension of disbelief. The movie? Even worse!
Do you have a favorite "girl" novel I've missed?
Disclaimer: There are Amazon Associate links contained in this post.