This post may include Amazon links. As an Amazon Associate I earn from qualifying purchases.
I'm not one to do much rereading of books, even ones I loved. Still back in February, I reflected on 10 Books I'd Like to Read Again for a Top Ten Tuesday Post. Today's theme (hosted by That Artsy Reader Girl) is a bit of the opposite: books I loved, but know in my heart I'll never read again. This list was much harder to cull because for me, loving a book in no way ensures that I'd ever have any desire to read it again. So, today I share twelve, but that list could really be so much longer!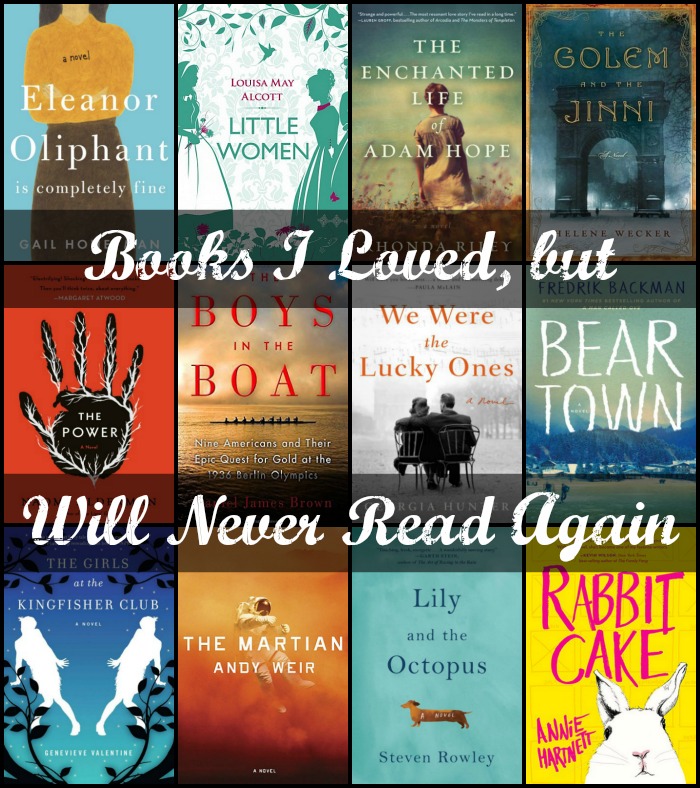 Beartown by Fredrik Backman – Backman's mega-hit from last year made my Best Books of 2017 list. I loved his story of a small community divided after a scandal erupts around its hockey team, but for me once will be enough. I even have mixed feelings about his follow up book, Us Against You, coming out in June. Though I'm definitely going to read it, a second go makes me nervous. (my review)
The Boys in the Boat by Daniel James Brown – I was slow to jump on the The Boys in the Boat bandwagon, but once I finally got there, I became a huge fan. I've recommended Brown's book to almost everyone I know. This nonfiction account of the 1936 Olympic rowing team was especially relevant to me since the boys came from Washington and rowed for UW, but my memories are so vivid, I'd have no need to reread it.
Eleanor Oliphant is Completely Fine by Gail Honeyman – Another of my favorite books from 2017, I just adored Eleanor. She was a perfect mix of quirk, humor and damaged that made for an intoxicating read. I so enjoyed the time I spent with Eleanor that I would never even attempt to read her again. What if she didn't quite hold up the second time around? I couldn't take it! (my review)
The Enchanted Life of Adam Hope by Rhonda Riley – Adam Hope is a book that you either love or hate. I don't think there's a lot of middle ground and obviously I fell on the love side. If you haven't read it, I highly recommend trying this weird and sweet love story that is so much more. Part of me would like to read it again, but I think some of the magic would be lost.
The Girls at the Kingfisher Club by Genevieve Valentine – Spending time with the twelve dancing sisters in this roaring '20s novel was a delight. The premise might have been a little odd, but the telling was superb. Valentine easily brought the Manhattan speakeasy scene to life and made me a fan of this sensational read.
The Golem and the Jinni by Helene Wecker – You know how it is when you resist reading a book for a long time, but then you finally succumb and are stunned? That was The Golem and the Jinni for me. There is no arguing that the entire premise of this book is weirdly out-there, and yet it was completely captivating. These two unique characters are ones whose memories of I want to preserve just the way they are.
Lily and the Octopus by Steven Rowley – I found this debut novel to be absolutely delightful, but even as I was reading it, I knew what the outcome would be. (It's a dog book, right?) That's exactly why I could never read it again. The journey was what made it special, but now that I've already been there, there's no need to go back. (my review)
Little Women by Louisa May Alcott – I had to include my favorite childhood novel. I bet between the ages of 9 and 12 I read Little Women at least 6 times. I just loved it, and think every young girl should read it, but that was then. The only way I see myself reading it again might eventually be with one of my granddaughters.
The Martian by Andy Weir – Here's another book I resisted for a very long time, but then couldn't put down. I loved the thrilling time I spent with Mark Watney on Mars. I could barely breathe during most of its reading and that's what made it so special. Now that i know how Mark survives, I have no desire to return to Mars.
The Power by Naomi Alderman – This book was one of my top three last year and my favorite audiobook, yet I don't think I'd ever read it again. Part of what made The Power so special for me was its originality and the unique characters Alderman brought to life. The discovery of all that was much of the book's pleasure and I think that would be impossible to recreate a second time around. (my review)
Rabbit Cake by Annie Hartnett – Maybe it's something about quirky books that makes me not want to read them again, because like Eleanor, Adam, Lily, and Golem, this is another quirky story. The time spent with Elvis, her father and sister as they tried to carry on after the death of her mother was time well spent. I want everyone to read it, at least once! (my review)
We Were the Lucky Ones by Georgia Hunter – I enjoy historical fiction and WWII era historical fiction especially. I don't see myself rereading most any historical fiction, even those I adored like We Were the Lucky Ones. I think this story (and others) are so special, and so revelatory the first time around that they could never live up to that on a reread. In any case, it's not a chance I'm willing to take. (my review)
Are there books you love, but will never read again?
Disclaimer: There are Amazon Associate links contained in this post.