This post may include Amazon links. As an Amazon Associate I earn from qualifying purchases.
It's difficult to believe that July is over and we're onto August. I'm not going to lie, that makes me a little sad. Summer is my favorite time of year and I always hate how fast it seems to go. Too much fun, I guess. In the world of books I had a good and not so good month. July was good to me in that I managed to have another ten book month, but too many were just okay and that isn't counting the three I quit on. The good new is that I had the time to check out so many book.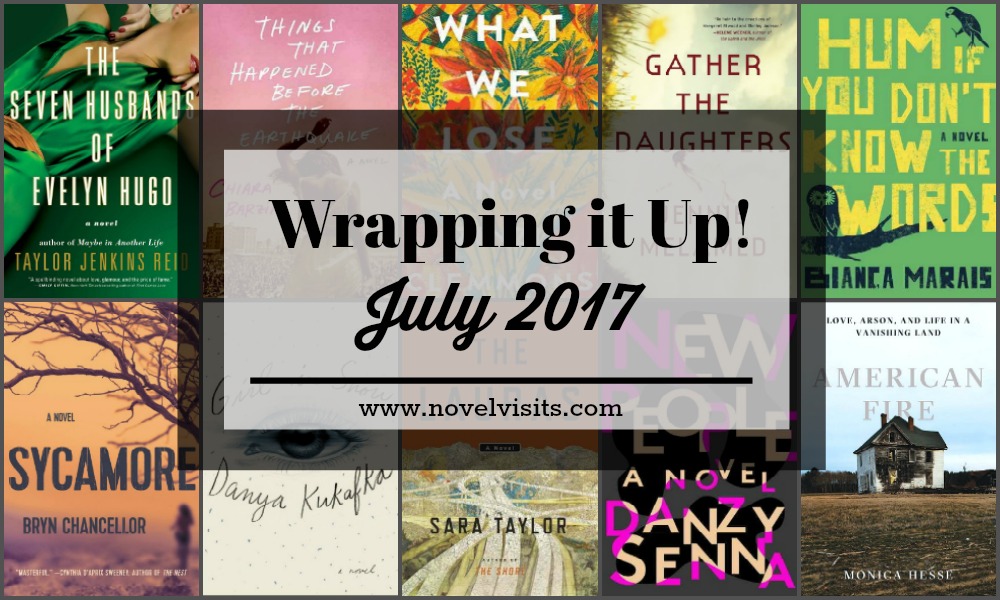 Books Completed in July
Sycamore by Bryn Chancellor – This debut was a winner for me! I loved the story of a vanished teen and the community who lived with her loss. (My review – Grade: A)
The Seven Husbands of Evelyn Hugo by Taylor Jenkins Reid – The most pleasant surprise of the month! I thoroughly enjoyed listening to Evelyn tell the story of her life including those she loved and those she didn't. (My review – Grade: A-, Narration: A-)
Hum If You Don't Know the Words by Bianca Marais – Set in Apartheid South Africa, Marais's debut is the story of an unlikely friendship between a 10-year old white girl and her Xhosa caregiver. (My review – Grade: B)
What We Lose by Zinzi Clemmons – I struggled with Clemmons debut. The vignette format just didn't work for me and the political passages just seemed out of place. (My review – Grade: C)
Gather the Daughters by Jennie Melamed – Another winning debut for July! I loved Melamed's take on a dystopian world where daughters find a way to stand up against the abusive rules laid down by their "ancestors." (My review – Grade: A)
American Fire by Monica Hesse – This was my second audio book for July and my only nonfiction. After a bit of a slow start, I ended up being fascinated by the real life story of a string of arsons in a small Virginia community. (My review – Grade: B)
New People by Danzy Senna – This much hyped book was one that I struggled through. The central character was one I found it impossible to have much sympathy for, and some of her choices were simply too far out there. (Review to come.)
The Lauras by Sara Taylor – A mother and her child on a two year road trip brings many discoveries along the way: about themselves and each other. The book took time to get involved with, but in the end I found it very satisfying. (My review – Grade: B)
Girl in Snow by Danya Kukafka – Kukafka's debut was more of a slow burning suspense novel than a thriller. For me, there were too many odd pieces that to create a satisfying resolution to a girl's murder. (My review is tomorrow, 8/4.)
Things that Happened Before the Earthquake by Chiara Barzini – I almost quit on this one, but in the end was glad I stuck it out. It took a lot to get there, but I really liked the resolution of this story of an teenage Italian girl who immigrates to Los Angeles in the 90's. (Review in mid-August.)
Reviewed, But Read Earlier
The Confusion of Languages by Siobhan Fallon – The story of two very different women living as military spouses in Jordan proved to be a solid debut. (My review – Grade: B)
Goodbye, Vitamin by Rachel Khong – I didn't like Khong's debut as much as most did. I found both her diary format and the pace of her book a little challenging. (My review – Grade: B-)
Since We Fell by Dennis Lehane – Here's a book I listened to on audio and ended up loving the narration by  Julia Whelan. I think she really made the story of a woman who finds out her husband isn't at all who she thought he was. (My review – Grade: B+, Narration: A)
The Bad News, Did Not Finish
Infinite Summer by Edoardo Nesi – I simply could not connect or care about any of the characters in this novel.
Refuge by Dina Nayeri – I'm disappointed the Refuge didn't hold my interest. It's a book I had very much looked forward to.
Careers for Women by Joanna Scott – I feel like this was a book that wasn't described correctly. I expected a novel about working women in 1950's NYC, but instead got a story that jumped around in time spanning over 30 years. On top of that, the pieces weren't fitting together for me.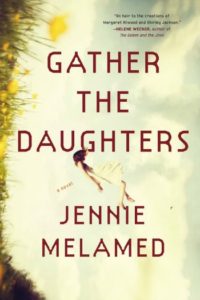 It was close this month, but Jennie Melamed's dystopian debut won out as my favorite book for July. It's true that there were some hard themes in her story, yet the overall feeling of Gather the Daughters was hopeful and inspirational. I loved it!
Blog Favorites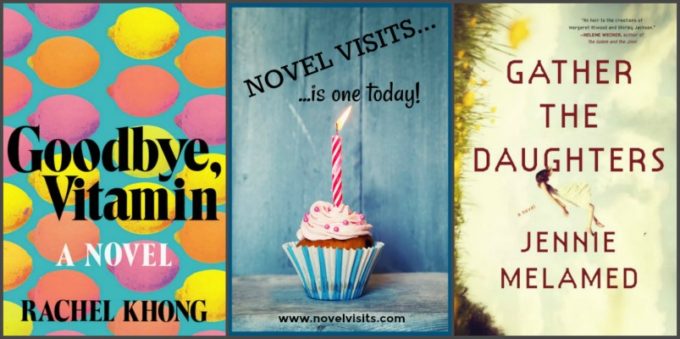 The most viewed review in July was Goodbye, Vitamin by Rachel Khong, but the one that was viewed most on the day it was published was Jennie Melamed's Gather the Daughters.
Novel Visits Turns One had the most hits of any post on a single day.
I'm happy to report that the book most frequently purchased through the Amazon Associates link was Gather the Daughters. I hope all who purchased it enjoy the story as much as I did.
Looking at Goals
July's 10 books brought my yearly total up to 57 0r 58. Goodreads and I seem to be one off on our counts, and for now I'm going to live with that! In any case, I'm well ahead of where I expected to be at this point in the year.
Two audio books brings my yearly count up to 13. Audios have really helped with my total books read.
American Fire brought my nonfiction total up to six. I'd like to get this total up a little higher. Finding nonfiction to connect with is a challenge for me.
I hope July was good to you!
Disclaimer: There are Amazon Associate links contained in this post.