This post may include Amazon links. As an Amazon Associate I earn from qualifying purchases.
Somehow October turned out to be a big month for me. I finished ten books! I probably shouldn't have finished ten, but in the midst of a slump that started in September (possibly even August), I pushed through at least one book that should have been a clear DNF. While I don't feel fully broken out of that slump, things are looking up. I've really liked several books in a row, and am currently in the middle of one that is wowing me. But, back to October books!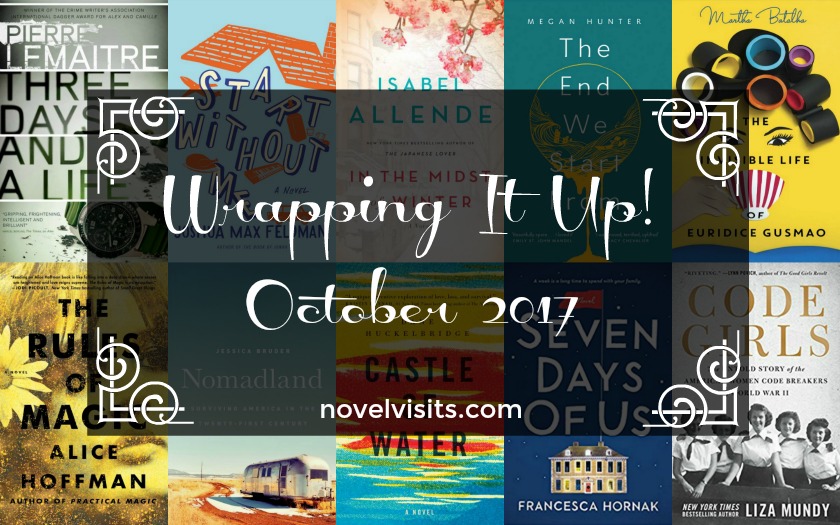 Books Completed in October
Castle of Water by Dane Huckelbridge – This debut was a breath of fresh air for me after a string of disappointing books. Light and fun with a serious twist I devoured it in just over 24-hours. (My Review – Grade: A-)
Seven Days of Us by Francesca Hornak – Ever finish a book and wish you hadn't? That's Seven Days of Us for me. (My Review – Grade: I didn't grade it. The review was harsh enough!)
Nomadland by Jessica Bruder – I found this nonfiction read fascinating. Bruder follows a growing community of largely older Americans who travel the country in search of work to supplement their meager retirement funds. Review coming this month.
Start Without Me by Joshua Max Feldman – I enjoyed spending Thanksgiving Day with Adam and Marissa, two strangers who meet in a hotel coffee shop, and support each other as they face down demons and their families. (My Review – Grade: B-)
The Rules of Magic by Alice Hoffman – Two sisters and their brother, all cursed to a life where falling in love is dangerous, none-the-less learn to hold onto love in their magic filled world. (My Review – Grade: B)
In the Midst of Winter by Isabel Allende – The deeper I got into this book the more I liked it. The attraction of two very opposite people, as they tried to help an undocumented young woman, made for a lovely love story. (My Review – Grade: B+)
The End We Start From by Megan Hunter – Hunter's debut is more novella than novel, but its short pages leave you with much to consider about the power of a mother's love. Review coming this month.
The Invisible Life of Euridice Gusmao by Martha Batalha – Another debut, this from Barzilian writer Batalha follows a bored housewife in 1940's Rio as she searches for a way, any way, to make more of her life. It was laugh out loud funny! (My Review – Grade: B+)
Three Days and a Life by Pierre Lemaitre – Another book I really enjoyed. French writer Lemaitre follows the life of a man after he gets away with murder as a 12-year old. The guilt and fear of being caught were palpable. My review coming this month.
Code Girls by Liza Mundy – A second nonfiction hit for October! Code Girls was a serious education for me and made me a big admirer of women in the "Greatest Generation." My review will be later this month.
Reviewed, But Read Earlier
The Burning Girl by Claire Messud – I listened to this one and liked it well enough, but had I read it, I feel like I would have grown tired of the teenage drama. (My Review – Grade: C+)
Little Fires Everywhere by Celeste Ng – Too often sophomore efforts disappoint, but that was not the case with Ng's second book. The narration by  Jennifer Lim was excellent. (My Review – Grade: A)
Manhattan Beach by Jennifer Egan – Without a doubt, Manhattan Beach was a big disappointment. I had such high hopes for Egan's latest and it just didn't deliver. (My Review – Grade: C-)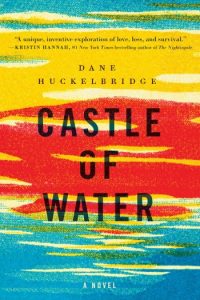 With some reservations I'm picking Castle of Water for my favorite book in October. While I did truly enjoy the story, i wasn't completely wowed by it. I like to think that best books of the month will be in contention for my best books of the year list, and i just don't see that happening here. Still, it was a fun read and I was thoroughly engaged the entire time i was reading Castle of Water.
Blog Favorites

The most viewed post was Fall Favorites from Yesteryear in which I visited some of my favorite fall books from the last several years. In the midst of a slump, it was nice to remember some of the wonderful novels from falls past.
My rantings about that slump and my speculation into some of its causes also garnered quite a bit of attention with my post The Booklover's Curse: When Good Just Isn't Good Enough. If you haven't checked it out you might want to. We all experience this curse at times!
Not surprisingly, Castle of Water turned out to be my most viewed review.
Looking At Goals
The 10 books of October brought my yearly total up to 83 or 84 (I don't know how I keep getting off with Goodreads!) I did, however, reached my Goodreads goal of 75 early in the month.
Two nonfiction audios in October brings me to 20 for the year. What a change from 2 last year!.
The two nonfictions brought my total there up to 8. Still lower than I'd like, but with this being Nonfiction November, I'm hoping to add a couple more this month.
I hope October was good to you!
Disclaimer: There are Amazon Associate links contained in this post.