This post may include Amazon links. As an Amazon Associate I earn from qualifying purchases.
August turned out to be a crazy, busy month for me. I spent a lot of time with family and friends which is always refreshing for my soul. Great books can also be a wonderful energizer for me, but this month they let me down a little. In July it seemed that I read too many just okay books and that trend carried on into August. To be clear, I read good books, some very good, but not enough "WOW" books in August. September, I'm counting on you!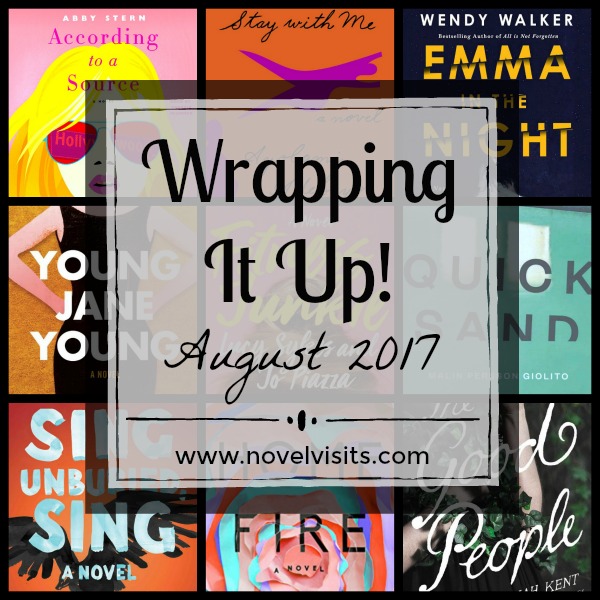 Books Completed in August
According to a Source by Abby Stern – A book in a genre totally outside of my wheelhouse: chic lit. I loved that this story of a woman working for a Hollywood gossip magazine was just plain fun! (My Audio Review – Grade B+)
Stay With Me by Ayobami Adebayo – This debut featured a young Nigerian couple struggling with infertility, secrets and lies. Adebayo beautifully portrayed their love and longing for each other. (My Review – Grade B)
Emma in the Night by Wendy Walker – Walker's sophomore thriller proved even better than her first. In this, two sisters vanish, but three years later, only one returns and she has vengeance on her mind. (My Review – Grade B+)
Young Jane Young by Gabrielle Zevin – Zevin's much anticipated book started out strong, but then took some weird turns, leaving readers much to talk about. If you've yet to join in, please do. (My Discussion Post)
Fitness Junkie by Lucy Sykes and Jo Piazza – The story of a NYC woman exploring the wacky world of crazy diets and outrageous fitness routines was my second wildly fun chic lit book in August. (My Audio Review – Grade B+)
Quicksand by Malin Perrson Giolito – This Swedish best seller told the story of Maja, an 18-year old on trial for being part of a mass school shooting. For me she proved much more sympathetic than I'd expected. (My Review – Grade A-)
Sing, Unburied Sing by Jesmyn Ward – I really, really liked this raw story of a rural Mississippi family fighting ghosts of the past while trying to cope with the realities of the present. (Review will up be next week.)
Home Fire by Kamila Shamsie – Another much anticipated book, Home Fire was about two London families haunted by their Pakistani Muslim roots, the world around them and their own choices. I listened to this one. (My Review – Grade B-)
The Good People by Hannah Kent – Another sophomore effort, The Good People centers on three women in the life of a child believed to be a changeling in 1825 Ireland. (My review will be in mid-September.)
Reviewed, But Read Earlier
The Lauras by Sara Taylor – A mother and her child on a two year road trip brings many discoveries along the way: about themselves and each other. (My review – Grade: B)
Girl in Snow by Danya Kukafka – Kukafka's debut was more of a slow burning suspense novel than a thriller. For me, there were too many odd pieces that to create a satisfying resolution to a girl's murder. (My review – Grade C+)
Things that Happened Before the Earthquake by Chiara Barzini –  It took perseverance to get there, but I really liked the resolution of this story of an teenage Italian girl who immigrates to Los Angeles in the 90's. (My Review – Grade B-)
New People by Danzy Senna – This much-hyped book was one that I struggled through. The central character was one I found it impossible to have much sympathy for, and some of her choices were simply too far out there. (My Review – Grade C+)
The Bad News, Did Not Finish
Only one! A Loving, Faithful Animal by Josephine Rowe – I was excited to read this Australian debut about a disturbed Vietnam vet and his family, but the author's writing style was just too choppy for me to enjoy.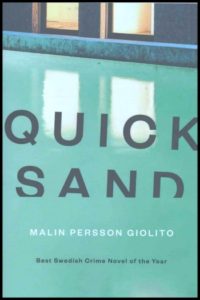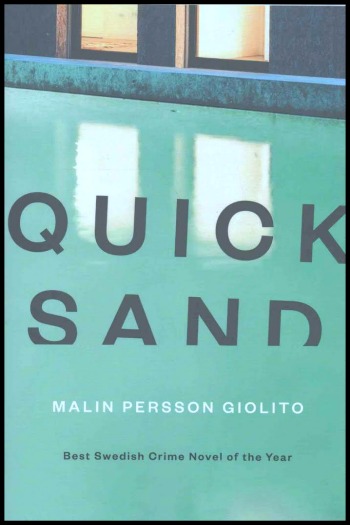 Since Quicksand was my ONLY book in August that I rated in the "A range", this wasn't a difficult choice. It's a little sad that I didn't even have to make a decision.
Blog Favorites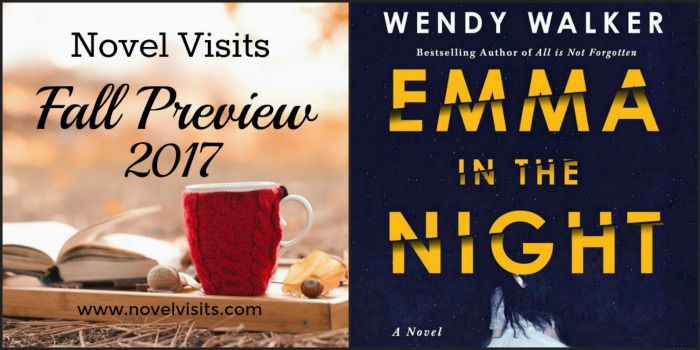 The most viewed post in August by far was the Fall Preview 2017 offering. This is no surprise since book lovers always like to see what they have to look forward to.
Emma in the Night proved to be the most looked at review. I think Emma has a lot of appeal for many readers, so this is also not really surprising.
Looking at Goals
The 9 books for August brought my yearly total up to 67. If I can get 8 books read in September (highly doubtful), I will meet my Goodreads goal of 75 for 2017.
The 3 audio books in August brings me to 16 for the year, and is in large part why I'm so far ahead on my yearly reading goal.
Sadly, no nonfiction in August. I'm determined to make my next audio book a nonfiction. Any suggestions for me?
I hope August was good to you!
Disclaimer: There are Amazon Associate links contained in this post.