This post may include Amazon links. As an Amazon Associate I earn from qualifying purchases.
Wow! November has already come and gone, and I don't know about you, but for me it went way too fast. It's probably an unattainable dream, but I really hope that December slows down a little. The Christmas season can be so amazing and I want to really savor it this year. I felt like I was constantly reading/listening throughout November, but only finished seven books. I'm okay with that, and expect that in December my number might be even lower. (I hit my Goodreads goal last month, so no worries there.)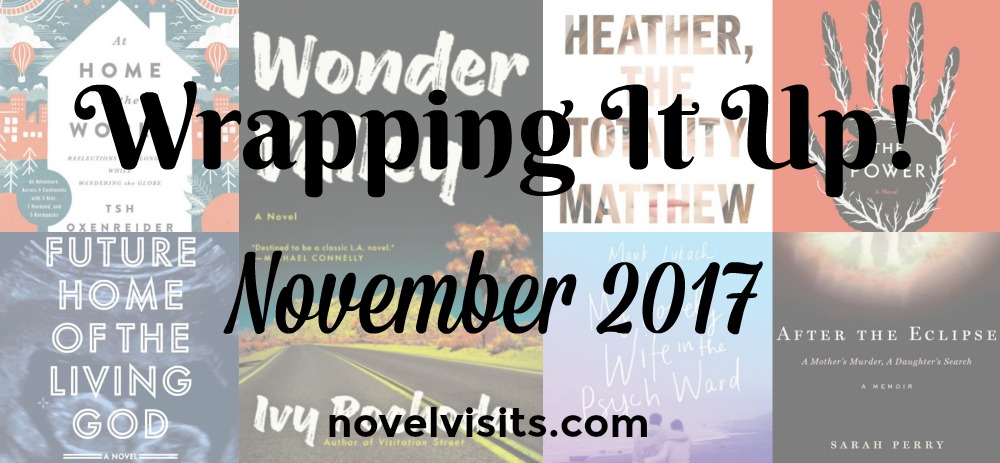 Books Completed in November
The Power by Naomi Alderman – I went into this book with few expectations and was almost immediately immersed in Alderman's story of a dystopian world where power shifts to women. I listened to this one and narrator Adjoa Andoh proved herself to be among the very best. (My Review – Grade: A)
After the Eclipse by Sarah Perry – Perry's memoir told of her life long search for peace after her young mother was brutally murdered. It was a tribute to both her mother and the will to survive. (My Review – Grade: B)
Wonder Valley by Ivy Pochoda – Wonder Valley followed a cast of odd characters in the streets of Los Angeles and at a weird commune in the California desert. It was a quick, fun read. (Review coming in December.)
At Home in the World by Tsh Oxenreider – I loved traveling the world with Oxenreider, her husband and three children. The author narrated the audio version and did a very nice job. (My Review – Grade: B+)
Heather, the Totality by Matthew Weiner – Ugh! Sorry, but I have little good to say about this one. Heather was very short so easy to get through? (My Review – Grade: D)
Future Home of the Living God by Louise Erdrich – My second dystopian novel of November turned out to be not quite as good as the first, but overall I still enjoyed this story of a pregnant young woman in a world where evolution has begun to work in reverse. (Review coming in December.)
My Lovely Wife in the Psych Ward by Mark Lukach – When the author's wife had her first psychotic break they were totally unprepared for it, and with the next, they were even less prepared. I learned a lot and was mesmerized by Lukach's account of his wife's psychosis. (My Review – Grade: A-)
Reviewed, But Read Earlier
In the Midst of Winter – by Isabel Allende – The deeper I got into this book the more I liked it. The attraction of two very opposite people, as they tried to help an undocumented young woman, made for a lovely love story. (My Review – Grade: B+)
The Invisible Life of Euridice Gusmao – by Martha Batalha – Another debut, this from Barzilian writer Batalha followed a bored housewife in 1940's Rio as she searched for a means to make more of her life. It was laugh out loud funny! (My Review – Grade: B+)
Nomadland by Jessica Bruder – The author followed the lives of retirees faced with "houselessness," living/traveling in vans, trailers, and RV's in an effort to make ends meet. (My Review – Grade: B+)
Three Days and a Life by Pierre Lemaitre – The author created a murderer you couldn't help but care about because he was only twelve. Twelve and terrified. (My Review – Grade: B)
The End We Start From by Megan Hunter – Hunter's review had a lot of buzz around it, but for me this dystopian "ish"  debut fell flat and her writing style felt sloppy. (My Review – Grade: C-)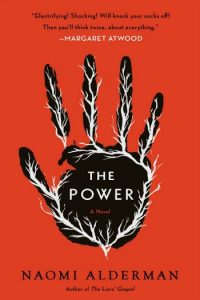 Easy, easy, easy! I loved everything about The Power by Naomi Alderman: the story, the writing and the creativity level. I'm well aware that others have not cared for The Power, but honestly, I have a hard time understanding why. As I mentioned before, the audio version is nothing short of brilliant. If you like audiobooks, I would highly recommend listening to The Power.
Blog Favorites

My most popular post for November was Novel Visits Winter Preview 2018, where I shared 14 books I'm eager to read. These included fiction and nonfiction, but no debuts. I'm saving 2018 winter debuts for their own post later in the month. If you haven't checked out my Winter Preview yet, take a look. I'm pretty sure it will cause your TBR list to grow!
This year I participated in Nonfiction November four out of the five weeks, starting with My Year So Far which saw quite a lot of traffic.
Pairing Nonfiction & Fiction was a really fun post to write. I highlighted three book pairings, and then over the course of the next week I thought of a few more I could have done. Next year!
Looking At Goals
The 7 books in November brings my yearly total up to 91, well over my  Goodreads goal of 75. I'd so love to reach 100 books by the end of the year, but realistically I just don't think it will happen. December is so full of other activities, but I'll give it my best effort.
I finished three audiobook in November bringing me to 23 for the year. (Obviously a huge help in getting so many books in this year.)
Three of my November books were nonfictions bringing my total for this year up to 11. That's definitely not a huge amount, but considering I only read one last year, it's a huge change. I've even added nonfiction to my drop down menu of reviews. You'll find it under "By Genre."
I hope your November was wonderful!
Disclaimer: There are Amazon Associate links contained in this post.