This post may include Amazon links. As an Amazon Associate I earn from qualifying purchases.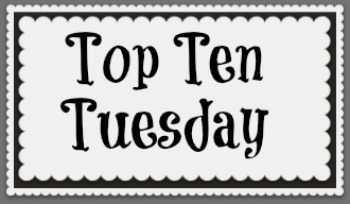 "Books I Loved More/Less Than I Thought I Would," is the theme for this week's Top Ten Tuesday, hosted by The Broke and the Bookish. I love this topic because the unexpected happens so often with books. There can be huge disappointment when a book you expected to love just doesn't pan out. But, when it goes the other way? What joy to fall in love with a book that you really didn't have many expectations for.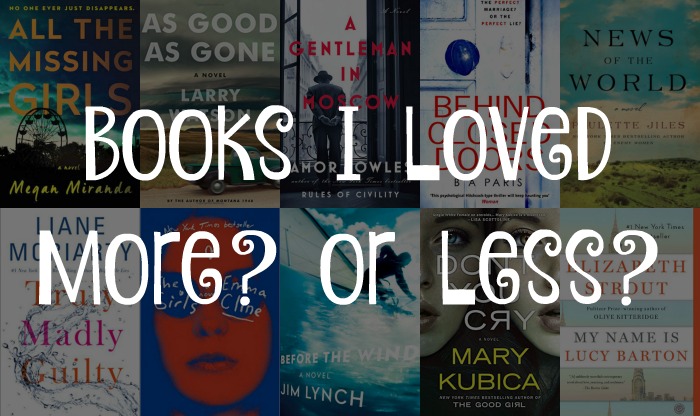 I couldn't decided which way to go, so decided to split the difference. Here are ten books from 2016. Some I loved more than I expected to, and others less. Can you guess where they fall?
A Gentleman in Moscow by Amor Towles – Here is a book that I'd looked forward to for months. Towles's debut, Rules of Civility, was a novel I absolutely loved, so my expectations were very high. While I enjoyed A Gentleman in Moscow, it definitely fell short for this reader. LESS (My review here.)
All the Missing Girls by Megan Miranda – I had expected to like this book a lot. Two missing girls in the same small town. The cast of suspects the same. Played out over a summer, but told in reverse. All the Missing Girls just didn't work for me. It took me several weeks to finish which never happens! LESS (My review here.)
As Good as Gone by Larry Watson – I downloaded As Good as Gone in an airport right before hopping on a plane for a cross-country flight. I knew nothing about it and really just wanted to make sure I didn't run out of reading material. To my utter delight, I liked this novel from start to finish! MORE (My review here.)
Before the Wind by Jim Lynch – This book about a very dysfunctional sailing family in the Northwest seemed totally out of my wheelhouse. It did, however, come highly recommended by bloggers who tend to like some of the same type books as me. So, in a period where I was really needing a book to connect with, I gave Before the Wind a chance. Good call! MORE (My review here.)
Behind Closed Doors by B.A. Paris – This debut novel I actually listened to on a long road trip. I was hoping to find a story that would make the hours pass quickly. Behind Closed Doors did just that. This suspense filled novel of a wife trapped in her marriage by an extremely controlling husband was beautifully narrated by Georgia McGuire. MORE (My review here.)
Don't You Cry by Mary Kubica – Kubica's debut, The Good Girl, was nothing short of brilliant, so I naturally expected the same in Don't You Cry. I listened to it on the same road trip mentioned earlier, with disappointing results. The story unfolded slowly, with little suspense, and an ending too easy to predict. LESS (My review here.)
The Girls by Emma Cline – This was one of the most highly anticipated books of last summer, and sounded like a perfect book for me. It took place in the 70's an era I love and was billed as a coming-of-age story about a girl involved with a Manson-like cult. The problem for me was it was too close to the Manson story. I couldn't get past that and the whole book bothered me because of it. LESS (My review here.)
My Name Is Lucy Barton by Elizabeth Strout – I resisted this book for an entire year, but after seeing it on so many "best of" lists at the end of the year, I finally gave Lucy a chance. Am I aver glad I did! MyName is Lucy Barton was such a wonderful surprise, that I already have it's companion piece, Anything is Possible lined up for April. MORE (My review here.)
News of the World by Paulette Jiles – To be perfectly honest, I decided to read News of the World for two reasons. First, it was short, and second, I felt like I "should" read a National Book Award nominee. Whatever the reasons, News of the World turned out to be one of my favorite novels of last year and even made my "Best of 2016" list. MORE (My review here.)
Truly Madly Guilty by Liane Moriarty – I have read a few books by Moriarty, and did love her soapy whodunnit, Big Little Lies. Like many other's I'd been eagerly anticipating this new novel last summer. For me it was so, so disappointing! In this novel the soapy friendships were replaced with a meanness that just wasn't fun. LESS (My review here.)
It's interesting to note that three of the books I liked "less" were ones in which my expectations were high because of an author's earlier work. Maybe that's really a strike against new books? Of the ones I liked more, all but one were new-to-me authors, so I didn't have any preconceived notions about their work. Hmmmm.
Disclaimer: There are Amazon Associate links contained in this post.