This post may include Amazon links. As an Amazon Associate I earn from qualifying purchases.
I know it already feels like fall, but technically we're still in summer. Hard to believe when I'm back at school and reading so many great fall release books. Still, the summer was fantastic and I was lucky enough to read loads of wonderful books. Today, I thought I'd take a look back at some of my favorites!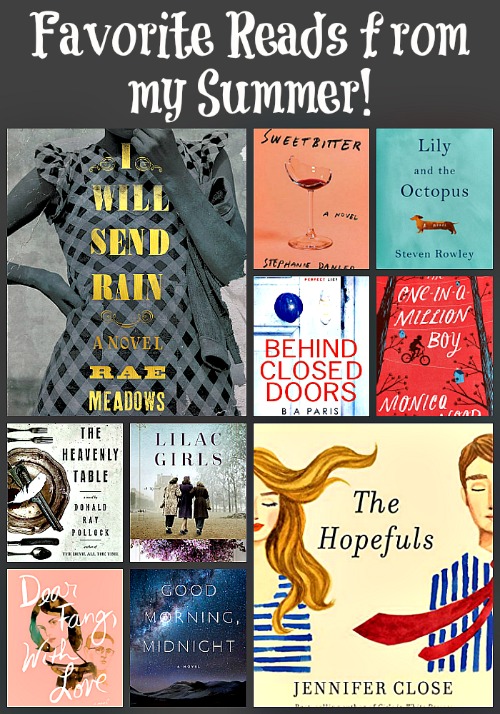 Favorite Fun Reads
Of all the books I read this summer two stand out as being just plain fun! The first was Lily and the Octopus by Steven Rowley. It's a quirky story about a man's love for his dachshund, Lily. The book had a serious side to it (as do most stories with a dog), but the telling was so well done and so joyful that I loved every minute. The Hopefuls by Jennifer Close was about a young couple with lots of ambition navigating the world of Washington DC at the start of the Obama administration. Like Lily and the Octopus, The Hopefuls took some darker turns, but again they were handled in such an entertaining way that the book was a delight from start to finish.
Favorite Historical Fiction
This was an easy choice! I absolutely loved both Lilac Girls by Martha Hall Kelly and I Will Send Rain by Rae Meadows. Lilac Girls is a World War II story that centers on three different women: a German camp physician, a Polish prisoner, and an American socialite. The story takes place before, during and after the war. It tells a part of WWII that I had never known much about. The book was amazing, as was I Will Send Rain which follows a wheat farming family during the start of the Dust Bowl years. The wind and dust serve to further stir the longings and sense of uncertainty the members of the Bell family are already feeling. This story was beautifully told in such a way that you ached for the entire Bell family.
Favorite Cominig-of-Age Books
Two coming-of-age novels really stood out for me this summer, starting with Sweetbitter by Stephanie Danler. It's a brilliant story of a small town girl who arrives in NYC and spends the next year in the restaurant world of food, wine, and drugs. Along the way she learns lessons about friendship, love, betrayal and most of all herself. Throughout the book I was constantly rooting for Tess! As a reader I also felt very involved with Vera's life in Dear Fang, With Love by Rufi Thorpe. In this novel Vera has recently been diagnosed as bipolar and is struggling to learn how to live with her condition. Vera's father takes her on a trip to Lithuania in the hopes that they can both gain some perspective on different aspects of their lives and their relationship. Their story was touching.
Favorite Suspense/Mysteries
I read more mystery/suspense this summer than I typically do and those I read were all very different from each other. One of my favorites was Good Morning, Midnight by Lily Brooks-Dalton. This suspenseful novel told a remarkable story about six astronauts returning from Jupiter and a lone astronomer at the Arctic Circle who find they may be the only people left in this solar system. The character development was what really made this story and left me wanting more! I also thoroughly enjoyed Behind Closed Doors by B.A. Paris, which I listened to on Audible. The reader, Georgia McGuire, was part of what made this story, about a woman who is shocked to discover that her new husband is nowhere near the man she believed him to be, so remarkable.
Favorite Literary Fiction
This is a hard category because it is so subjective. Who decides what is "literary fiction" and what is not. I constantly struggle with this moniker. In reality all of these novels probably could and should be considered literary fiction. For my choices here I've picked two incredible novels that really fit into no other category. In each of these the writing was flawless and the stories were developed at a perfect pace and with exactly the right amount of detail. My favorite literary fiction books of the summer were The One-in-a-Million Boy by Monica Wood and The Heavenly Table by Donald Ray Pollock. The One-in-a-Million Boy tells the story of a unique boy who leads his father and his 104-year old friend on incredible adventures from beyond the grave. In this remarkable book you truly love every single character! The Heavenly Table, set in 1917, is about three dirt poor brothers who set out on a spree of crime and violence. They quickly become wanted men with a huge bounty on their heads. At first glance this type of story would not be my favorite, but Donald Ray Pollock's writing made this book impossible to not love.