This post may include Amazon links. As an Amazon Associate I earn from qualifying purchases.
February, the shortest month of the year, certainly flew by! There is much I don't generally like about February. It's still cold and wet, everyone seems to be sick, and my heating bill….egad! However, there is much to love, too. Valentine's Day, or at least the sentiments that go with it, a week off in the middle, and best of all daylight is returning a little more each day. Spring is just around the corner! With just 28 days, I managed to squeeze in 7 books.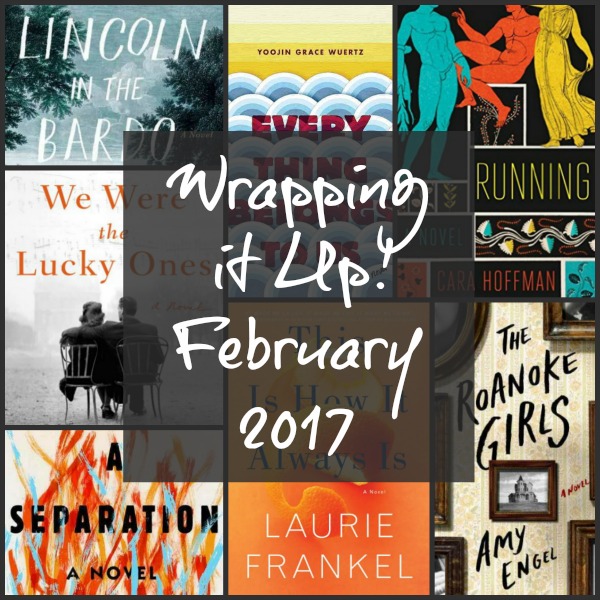 Books Read in February:
We Were the Lucky Ones by Georgia Hunter, Grade A (reviewed on 2/14/17)
A Separation by Katie Kitamura, no grade, (audio – discussed on 2/23/17) 
Lincoln in the Bardo by George Saunders, Grade B- (reviewed on 2/16/17)
Running by Cara Hoffman, Grade B+ (reviewed on 2/22/17)
Everything Belongs to Us by Yoojin Grace Wuertz, Grade B- (reviewed on 2/28/17)
The Roanoke Girls by Amy Engel (review coming soon)
This Is How It Always Is by Laurie Frankel (review coming soon)
Reviewed, but Read Earlier:
Desperation Road by Michael Farris Smith, Grade C (reviewed on 2/8/17)
Swimming Lessons by Claire Fuller, Grade B (reviewed on 2/9/17)
Our Endless Numbered Days by Claire Fuller, Grade A (reviewed on 2/9/17
Best Book of February!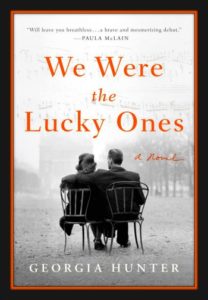 I absolutely loved Georgia Hunter's debut novel, We Were the Lucky
Ones. If you have not read it or at least added it to your "to be read"
list, you're making a big mistake! (My review here.)
Blog Favorites: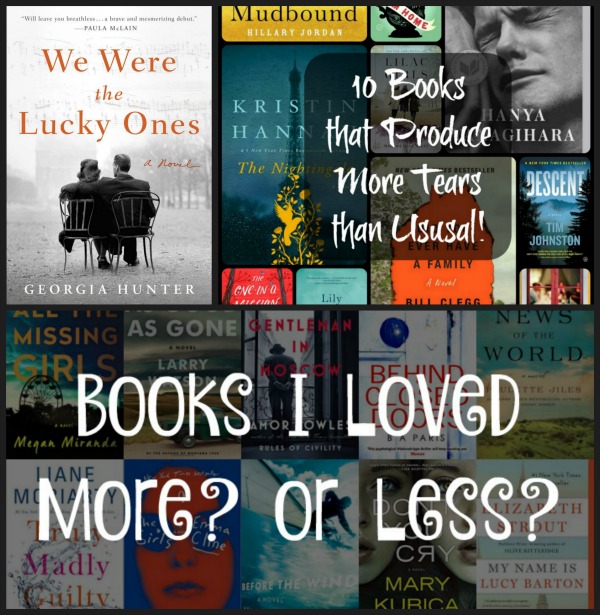 Progress Toward Goals:
With the 7 books in February, it brings my total for the year to 15. That's one fifth of my Goodreads goal of 75. Since we're only one sixth of the way through the year, I'm in good shape. (That's the math teacher in me coming out!)
I still haven't managed to figure out a way to get very far ahead on the reading or the writing, but I have begun to feel like it doesn't really matter. I'm going to mull that over a little more and then may just let it go.
I changed the way I list reviews "by title" and added "by author" and am pleased with that.
Ah, Pinterest, Pinterest, Pinterest! I've put quite a bit of time into improving my Pinterest boards, but still have more progress to make there. As you may have guessed, I'm not 100% on board with Pinterest, but am hoping to get there soon!
Disclaimer: There are Amazon Associate links contained in this post.