This post may include Amazon links. As an Amazon Associate I earn from qualifying purchases.
With the end of the first month of 2017, I've decided to do a little experimenting with a monthly wrap up. So, January will be my first. I apologize if it's a little rough and not extremely original, but I know my wrap ups will improve with time. I'm a person who definitely needs let ideas evolve as I live with them. Please feel free to offer any feedback and/or suggestions. I'd appreciate it!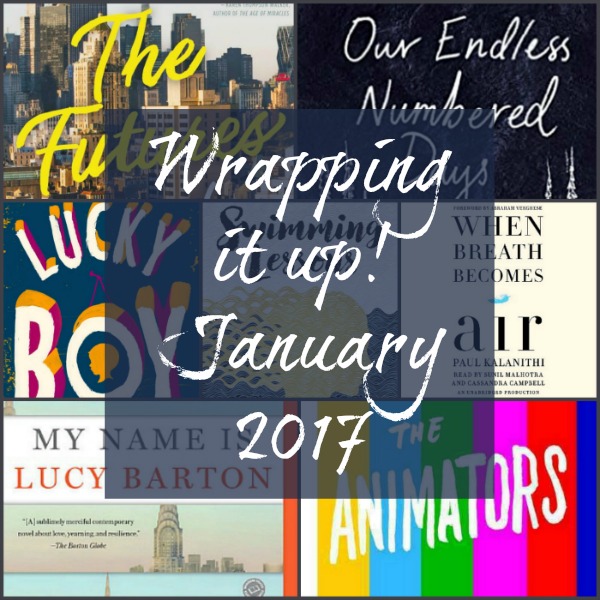 Books Read in January:
Lucky Boy by Shanthi Sekaran, Grade: A- (reviewed on 1/12)
The Futures by Anna Pitoniak, Grade: C (reviewed on 1/19)
Our Endless Numbered Days by Claire Fuller (review coming next week)
My Name is Lucy Barton by Elizabeth Strout, Grade: A (reviewed on 1/26)
The Animators by Kayla Rae Whitaker, Grade: A (reviewed on 1/31)
When Breath Becomes Air by Paul Kalanithi (audio – comments here)
Swimming Lessons by Claire Fuller (review coming next week)
Desperation Road by Michael Farris Smith (review coming soon)
Reviewed, But Read Earlier:
Idaho by Emily Ruskovich, Grade: B+ (reviewed on 1/3/17)
History of Wolves by Emily Fridlund, Grade C+ (reviewed on 1/5/17)
The Sleepwalker by Chris Bohjalian, Grade: B- (reviewed on 1/11/17)
Best Book of January!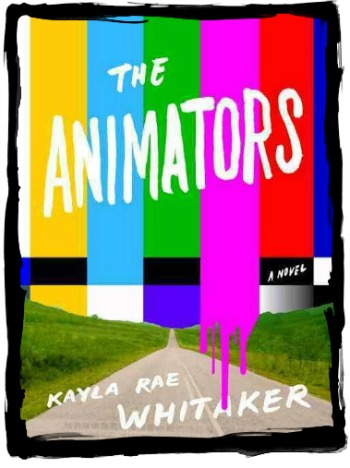 In my humble opinion, Kayla Rae Whitaker's debut is a must read!
Please check out my review to get all the wonderful details.
Blog Surprises:

The most viewed post in January was Best Novels of 2016, which was actually posted on December 27, 2016. Everyone loves those "best of" lists!
The review that was viewed most frequently was Idaho by Emily Ruskovich. This, however, is a skewed statistic since Idaho posted early in the month.
The review that got the most hits on the day it went up was The Futures by Anna Pitoniak. This one is a surprise because it had few comments and was a book I didn't particularly like.
Progress toward goals:
My

Goodreads goal

for 2017 was to read 75 books. With 8 read in January, I'm right on track toward that goal, though I know I will not always be able to squeeze in as many books.
Another of my reading goals was to

read more nonfiction

and

listen to more audiobooks

. With When Breath Becomes Air I was able to add a book in both categories.
On January 10, for Top Ten Tuesday, I published a list of

"

2016 Books I Meant to Read, But Didn't

."

 Since then,

I read two

of the books from that list, My Name is Lucy Barton and When Breath Becomes Air. I don't expect to be so successful most months at reading backlist books!
I've made significant personal progress on

organization

and

planning

further out. My

TBR

list is finally under control (in organization, not size). In February, I plan on tackling my Pinterest page which is a serious mess right now!
Disclaimer: There are Amazon Affiliate links contained in this post.