This post may include Amazon links. As an Amazon Associate I earn from qualifying purchases.
March always seems like a really long month to me. It's the tail end of winter and doesn't have a single holiday! It always helps if there is some serious sunshine, but that didn't happen this March. Instead there was lots, and lots, and lots of rain. It's not all bad news though because all that rain provides the perfect excuse for staying inside cozied up to a book. Always a good thing, and for me March reading was great! This month was definitely my best of this year  and really my best reading month in a long, long time.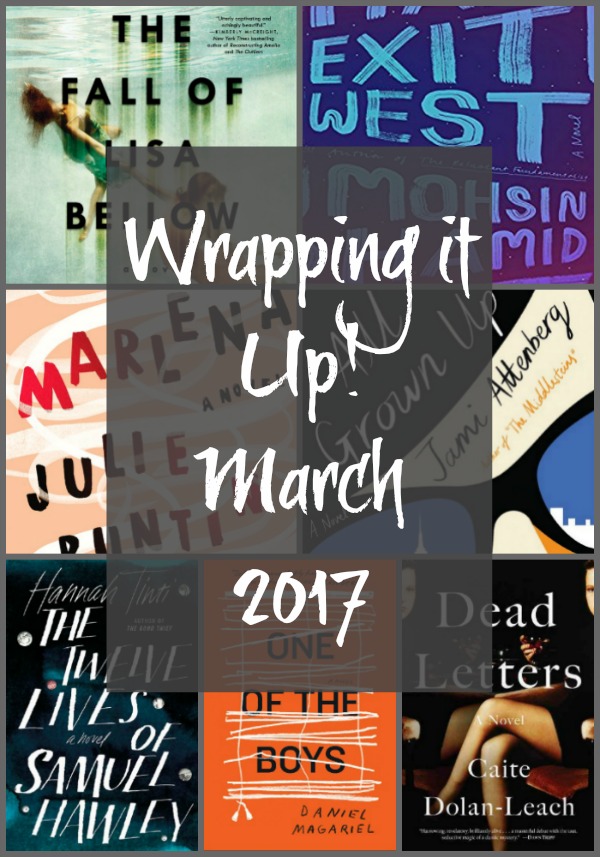 Books Read in March:
One of the Boys by Daniel Magariel, Grade A- (reviewed on 3/16/17)
The Fall of Lisa Bellow by Susan Perabo, Grade B (reviewed on 3/17/17)
All Grown Up by Jami Attenberg (audio – review coming soon)
Dead Letters by Caite Dolan-Leach, Grade B+ (reviewed on 3/23/17)
Exit West by Mohsin Hamid, Grade A (audio – reviewed on 3/30/17)
The Twelve Lives of Samuel Hawley by Hannah Tinti, Grade A (reviewed on 3/28/17)
Marlena by Julie Buntin (review coming soon)
Reviewed, But Read Earlier:
The Roanoke Girls by Amy Engel, Grade B (reviewed on 3/7/17)
The Lucky Ones by Julianne Pachico, Grade B (reviewed on 3/9/17)
This Is How It Always Is by Laurie Frankel, Grade A- (reviewed on 3/10/17)
The Bad News, Did Not F
inish:
The Gargoyle Hunters by John Freeman Gill – I grew weary of the architectural details and lost interest. I haven't seen many reviews of this one yet, but am looking forward to hearing what others thought.
The Shadow Land by Elizabeth Kostova – I was a little nervous about this one, and as it turns out should have trusted my instincts. I gave it a good go (over 100 pages), but could not connect to the book's basic premise and found the main character to be a total ninny. (As my grandma would have said!)
Best Books of March
Yes, two! I finished these books last week and truly loved each. It's impossible to decide between them because they're very different and wonderful in their own ways. Both are really about couples. In The Twelve Lives of Samuel Hawley it's a father trying to protect his daughter from his own dark past, and in Exit West, a pair of young lovers forced to flee their homeland. I highly recommend adding both to your list of books you MUST read!
Blog Favorites: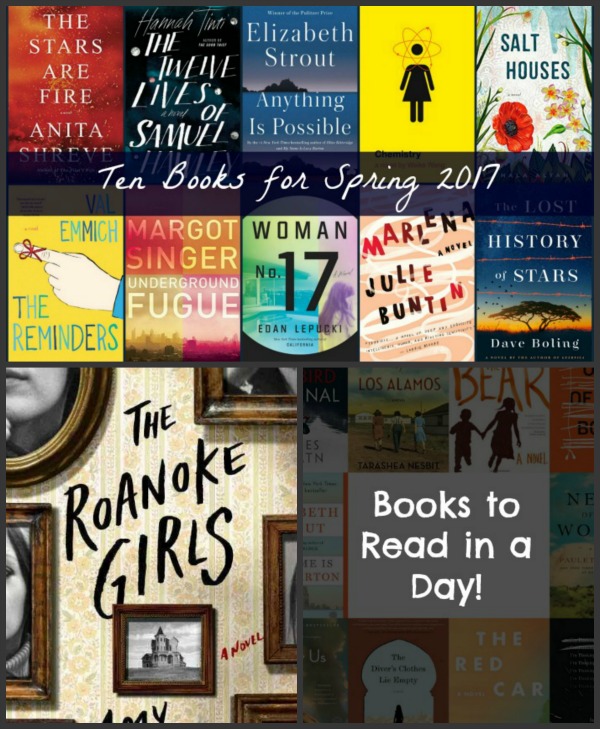 The post that was viewed most often in march was Ten Books for Spring 2017. No surprise there, we all want to know the books to be looking out for!
The book review that got the most attention as far as views go was The Roanoke Girls by Amy Engel. I liked The Roanoke Girls, but thought several others were better. It's a book that has garnered a lot of attention and is a fun, fast read (of a rather heavy topic).
The most viewed post in a single day was (appropriately) Books to Read in a Day! I think shorter books are a great thing to be able to present to people who aren't able to set aside much time for reading.
Looking at Goals:
Seven books in March brings my yearly total up to 22. My

Goodreads

goal for the year is 75, and according to it I'm 4 books ahead of schedule. So, why don't I feel like I'm ahead?
I wanted to listen to more audio books this year and in that I'm feeling very successful. So far, I've listened to five which is more than double what I did in all of last year. I've become a little hooked on listening driving to and from work. Sometimes I almost wish my commute was longer. Almost!
I also wanted to read more nonfiction this year and in that front, I'm failing miserably. My April reading list is a little light, so I'm going to try to work in a nonfiction. In fact, I may combine nonfiction with my next audio book.
In April, or early May I'm hoping to do some sort of discussion post on a book/reading related topic.
I hope March books have been good to you, too!
Disclaimer: There are Amazon Affiliate links contained in this post.