This post may include Amazon links. As an Amazon Associate I earn from qualifying purchases.
I love May! With all the trees and shrubs in bloom May has to be one of the most beautiful months of the year. Add to that an increase in sunshine and temperature, and I can finally start to see summer looming on the horizon. I feel like May was only a so-so month for me when it came to books. I had a few that were great, several I had to work at, and a couple I couldn't finish. My eye has been on June books for a while and the rest of the summer is looking good, too. Did you see Monday's "New Books in the Summer of 2017" list? If not you should check it out!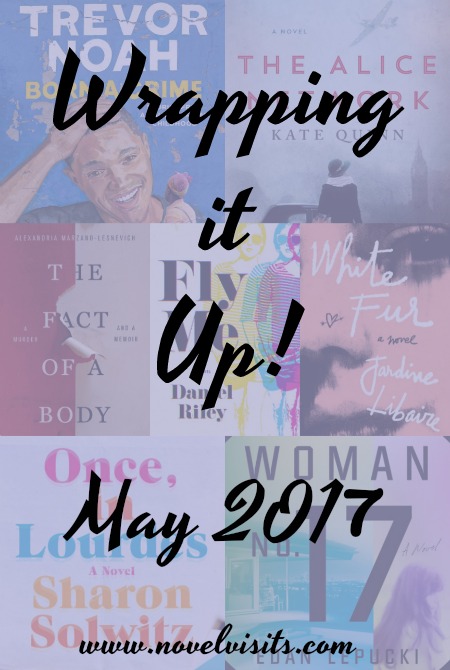 Books Read in May
Woman No. 17 by Edan Lepucki, Grade C+ (reviewed on May 11, 2017)
The Fact of a Body by Alexandria Marzano-Lesnevich, Grade B- (reviewed on May 26, 2017)
Born a Crime by Trevor Noah (audio), Grade A (reviewed on May 18, 2017)
Once, In Lourdes by Sharon Solwitz, Grade B- (reviewed on May 25, 2017)
Fly Me by Daniel Riley (review coming next week)
White Fur by Jardine Libaire, Grade A (reviewed on June 1, 2017)
The Alice Network by Kate Quinn (review coming next week)
Reviewed, But Read Earlier
Underground Fugue by Margot Singer, Grade C- (reviewed on May 4, 2017)
Based on a True Story by Delphine de Vigan, Grade A (reviewed on May 9, 2017)
The Stranger in the Woods by Michael Finkel (audio), Grade A- (reviewed on May 18, 2017)
The Bad News, Did Not Finish
Salt Houses by Hala Alyan – I found the characters flat and wasn't able to develop much empathy for them. I put it down at 20%.
The Reminders by Val Emmich – One of the narrators was a young girl and I didn't care for her voice. I gave up at about 25%.
I also tried and returned three audiobooks: Priestdaddy by Patricia Lockwood, All the Best People by Sonja Yoerg, and Man of the Year by Lou Cove. In all three I didn't care for the story or the narration.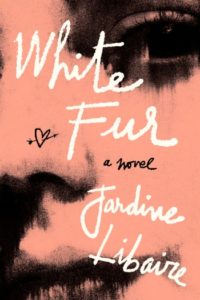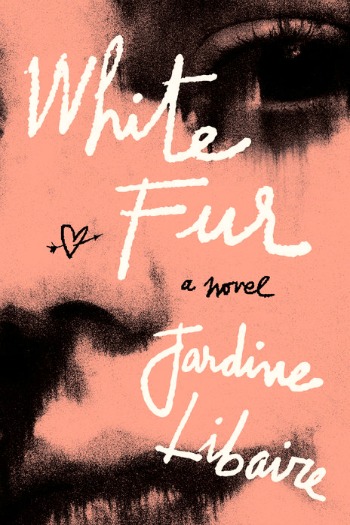 My May "Best Book of the Month" was a tough choice, but in the end the book "hangover" that Jardine Libaire's White Fur left me with, put it on top. I don't think White Fur will be a book for everyone, but those who connect with stunning writing woven into a gritty love story will be very glad they read this book.
Blog Favorites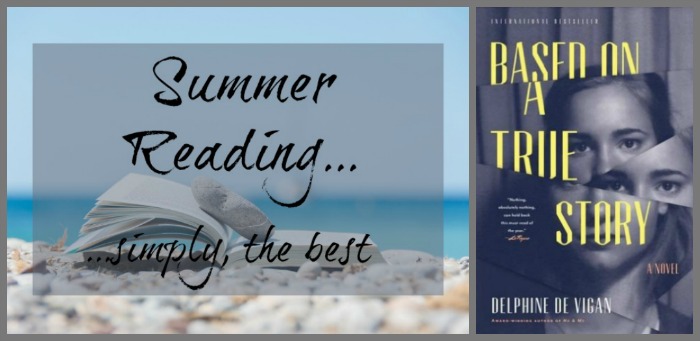 I'm happy to report that the post viewed most often in May was Summer Reading…Simply, the Best, my suggestions for summer reading. This list included 17 books in four different categories, and were all books that I'd read and reviewed. If you're looking for great books to enjoy this summer (or anytime) please check out this popular post.
When it comes to reviews, Based on a True Story was looked at more than any other. This might be in part because Sarah at Sarah's Bookshelves linked my review up with her discussion post on this excellent book that completely blurs the line between fiction and reality. If you've read Based on a True Story, you should join the discussion.
Looking At Goals
May's seven books brings my yearly total up to 38. Goodreads tells me that's still 7 ahead in my 2017 goal of 75. Since May was a bit of a slow month, I'm good with that!
Born a Crime was the only audiobook I finished, bringing my yearly total to 8. It was fantastic, but then I struggled with finding audiobooks where I liked both the story and the narration. (However, now I'm listening to one that I really like.)
Nonfiction was a winner month for me! I had two with The Fact of a Body and Born a Crime. They bring my count for the year up to four. Wow! I doubled my nonfiction reads in May.
Thirteen more days of school. I can do it!
I Hope May Was Good To You!
Disclaimer: There are Amazon Associate links contained in this post.