This post may include Amazon links. As an Amazon Associate I earn from qualifying purchases.
,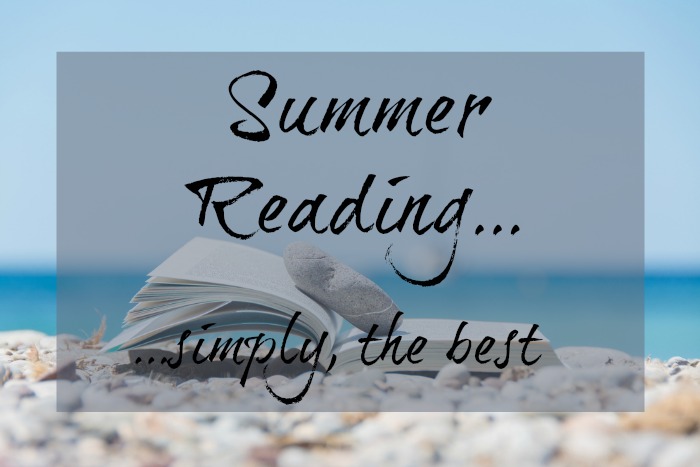 As much as I enjoy reading curled up on the couch on a rainy winter day, that pales in comparison to enjoying a great book in the sunshine! My absolute favorite spot for reading is my very own front porch on a warm summer day. With Memorial Day less than a week away, the unofficial start of summer is just around the corner. It's the perfect time to start lining up great books to slip in your beach bag, take on vacation, or to enjoy on your own front porch!
A little bit of quirk, a little bit of fun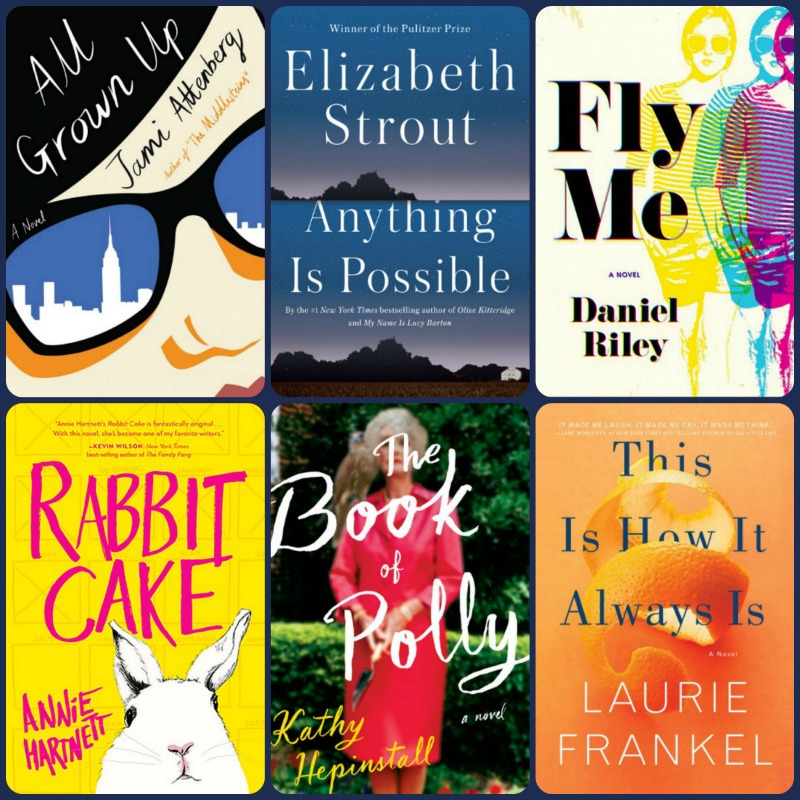 All Grown Up by Jami Attenberg (208 pages) – In this slim volume, Andrea Bern, shares the stories of her life moving almost randomly between childhood, high school, college, grad school, and finally into life as a single woman in New York. She can be smug, biting, judgmental, and completely selfish, but she she is always self-deprecating and funny. Even at it's most serious All Grown Up put a smile on my face. (My review)
Anything is Possible by Elizabeth Strout (272 pages) – On its surface, a small rural community may seem mundane, but everyone has a story: big and small, ordinary and extraordinary. Elizabeth Strout brings them all to life as only she can. This new novel really is a series of connected short stories, each centering on someone in or around Amgash, Illinois. These gossipy glimpses into the simple lives of ordinary people will leave you wanting more. (My review)
Fly Me by Daniel Riley (400 pages) – If you're a fan of Southern California, the 1970's, or flying then Fly Me is the book for you. This book (on sale June 6th), tells the story of a recent college grad as she follows her sister to Southern California and into life as a stewardess. The book has a serious side, but is also crammed with every possible cliché, making it over-the-top summer fun! (Review coming in June.)
Rabbit Cake by Annie Hartnett (338 pages) – Everything about this story just works. For a book where a death occurs in the first twenty pages, Rabbit Cake is remarkably fun. The quirks of this grieving family keep a serious story light-hearted, and the telling through the eyes of a wise, but still 12-year old narrator, was a brilliant move by Hartnett. With a dad slipping into his dead wife's robe and a sister trying to bake 1000's of rabbit cakes, Elvis has a lot of material to work with. (My review)
The Book of Polly by Kathy Hepinstall (336 pages) – The Book of Polly is much, much more than a book about a cantankerous Southern woman, but still Hepinstall's portrayal of that iconic woman is laugh-out-loud funny. The book is  every bit as much the story of Willow, Polly's daughter. Born to a 58-year old mother, Willow is often embarrassed by Polly, but her love is fierce. The Book of Polly is their story told with an abundance of humor. (My review)
This Is How It Always Is – by Laurie Frankel (336 pages) – I loved this story of a very quirky family trying to navigate unfamiliar territory with compassion and humor when their youngest son wants to wear dresses and be a princess. Frankel perfectly walks this tightrope, giving a serious topic the attention it deserves in a such a way that everyone can learn about it, while still being thoroughly entertained. (My review)
A Walk on the Dark Side

Based on a True Story by Delphine de Vigan (384 pages) – This a book that will get in your head and NOT let go! The story follows a best-selling writer (named Delphine) as she meets a woman much like herself. This woman challenges everything Delphine believes about writing and reality until the point where her own grip on what is real comes into question. With Based on a True Story de Vigan has masterfully blurred the lines between fiction and reality. (My review)
Dead Letters by Caite Dolan-Leach (353 pages) – Set on a small New York vineyard, Dead Letters delivers it all: a crazy, drunk, seriously dysfunctional family and a dark mystery surrounding a twin's death. The story follows Ava, the "good" twin, whose grief is quickly tempered with doubt when strange messages from her sister start turning up from beyond the grave. If you like a book that keeps you guessing, read Dead Letters. (My review)
If We Were Villains by M. L. Rio (368 pages) – If I was only going to recommend one book for the summer, If We Were Villains would be THE one. It's a remarkable story of seven young acting students at an elite college for the arts. Performing only Shakespeare, the seven are the closest of friends until one is found dead, and another is charged with the murder. I loved the writing, the cast of characters, and mystery. An amazing debut! (My review)
The Roanoke Girls by Amy Engel (290 pages) – For three generations if you're born a Roanoke girl, you either leave or you die. With that haunting history, Lane Roanoke does something she swore she'd never do. She returns to the family estate. Her cousin, Allegra, has gone missing and Lane feels responsible because she fled ten years ago, leaving Allegra behind. This is the story of one seriously dark family and the secret they all hold. (My review)
A little touch of literary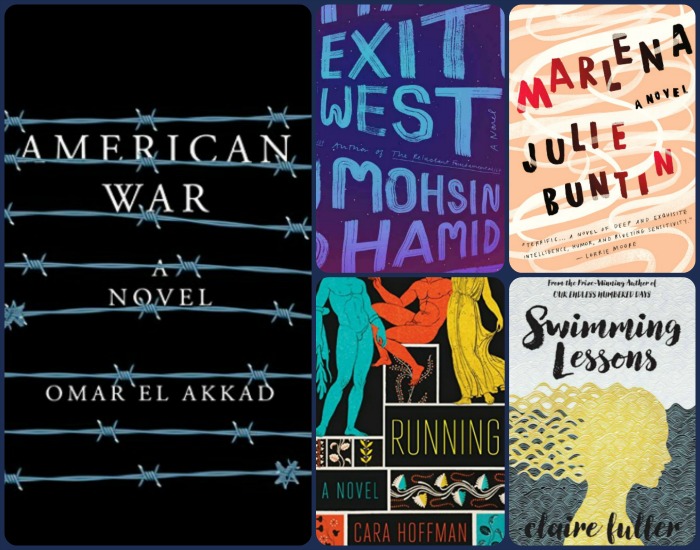 American War by Omar El Akkad (352 pages) – By the time of the second American Civil War, the Earth's landscape has changed: the oceans have risen, the temperatures are higher. It's a harsh time to be growing up, but that's the reality for Sarat Chestnut and her family. That life leaves Sarat brave, determined, and broken. American War is a spectacular tale of a future I hope never to see. (My review)
Exit West by Mohsin Hamid (240 pages) – I'm not typically a fan of magical realism, but in Exit West it just worked so well! This is the story of Nadia and Saeed, a young couple who meet, fall in love, and make the difficult decision to leave their homeland as warring factions are tearing it apart. Their unorthodox journey brings them together with refuges from all over the world, all in search of a new beginning. Exit West truly is a magical story. (My review)
Marlena by Julie Buntin (288 pages) – Marlena is much more than a coming-of-age story. It's a book that resonates with truth, telling the powerful story of the lasting imprint one teenage girl can have on another. When Cat, 15-years old and at her most vulnerable, falls victim to her parent's failed marriage she does what many 15-year olds do. She rebels, becoming the sidekick to her 17-year old neighbor, Marlena. (My review)
Running by Cara Hoffman (288 pages) – Running is another haunting coming-of-age story. In it, Bridey meets Jasper and Milo in Athens where they are all "runners" for the same seedy hotel. Their frantic, addicted lifestyle leads to them becoming linked to a terrorist attack. Out of necessity, fear, and hopelessness the three part and the narrative moves to the lifelong after effects of those weeks they were together in Athens. This book is on the dark side, but a wonderful, fast read! (My review)
Swimming Lessons by Claire Fuller (356 pages) – With Swimming Lessons you will quite literally get to spend your summer days at the beach. Set in a swimming pavilion turned home on a cliff overlooking the sea, this is the story of a mother who vanished many years ago and the daughter longing to know why. Flora has returned to her childhood home to help care for her dying father. Swimming Lessons, unfolds on two planes: the present with Flora and her father, and the past where her mother writes letters to her father grieving a marriage that was troubled from the start. (My review)
A Nod to Nonfiction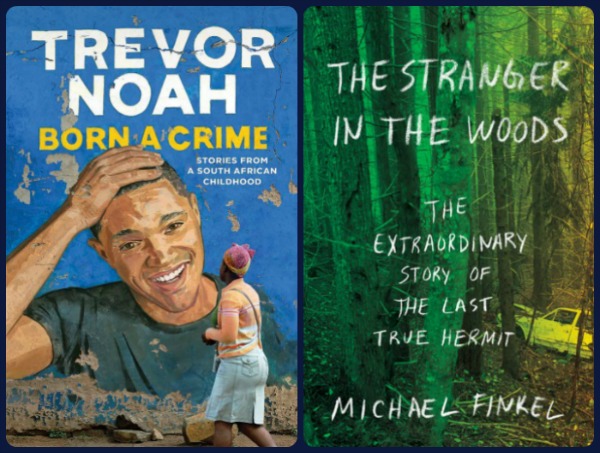 Born a Crime by Trevor Noah (304 pages) – If you've ever watched The Daily Show, you already know that Trevor Noah is a great storyteller, and he definitely delivered here. The full title of his book is Born a Crime: Stories from a South African Childhood. That's a perfect description of this book. With a nod to the humor in all situations, Noah tells what life was like growing up in South Africa. This one is excellent on audio! (My review)
The Stranger in the Woods by Michael Finkel (224 pages) – Can you imagine living completely on your own (completely, no human interaction) for nearly 27 years? Of course not! That's crazy, but it's exactly what Christopher Knight did in the woods of Maine, no less. With determination and patience, Michael Finkel was able to uncover the story of Knight and the extraordinary life he lived as a true hermit. (My review)
Interested in checking out some other summer reading lists? Head on
over to The Broke and the Bookish for a Top Ten Tuesday look at
more summer books.
Disclaimer: There are Amazon Associate links contained in this post.