This post may include Amazon links. As an Amazon Associate I earn from qualifying purchases.
Last week, in A Primer for Audiobook Enjoyment (Part 1) I covered three audiobook basic topics: It's NOT Cheating!, Why Go With Audiobooks?, and Finding Genres that Work For You. Today, I'll cover three more topics that really get down to the fundamentals of actually listening to audiobooks. Audiobooks have added so much pleasure to my reading life and I sincerely hope they do the same for you.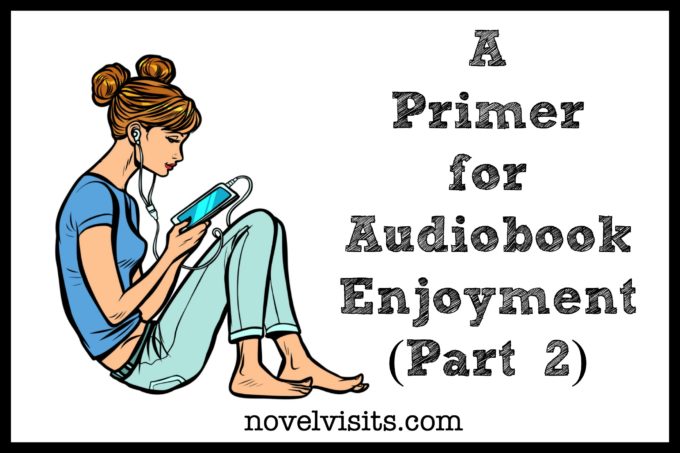 So, let's talk a little more about audiobooks!
Topic 4: Narrators Are Everything!
Next to the actual writing, NOTHING is more important than an audiobook's narration. In our day to day lives, we've all come across people whose voices just sort of grate on us and that can be true with narrators, as well. There's nothing worse than trying to listen to an audiobook when the reader's voice is annoying to you. Most are wonderful, but just like books, different voices work for different people, making listening to samples SO important. On all audiobook apps (more about these next) you have the ability to listen to a five minute sample of the book. I highly recommend you do so. This is usually enough time to know if you and a narrator are going click. It's truly a very personal process, but I'm going to share some of what I've found works for me, what doesn't, and some of my favorite narrators.
Books Narrated by a Cast/Multiple Narrators – Some stories just lend themselves to a group of voices and I've found that these are among my favorites. The different tones and moving from male to female truly keep you engaged. A few I've loved include:

Tara Sands, Erin Spencer, & Robbie Daymond, reading each of the three main characters in The Books of Essie.
A large cast, including

Benjamin Bratt

and Jennifer Beals, wonderfully narrated Daisy Jones & The Six.

Books Narrated by a Single Person – Most audiobooks are read by one person and those people are truly gifted. I am constantly amazed at how they're able to shift vocal tones for different characters, always keeping it clear who's doing the speaking. These people inject so much emotion into authors' stories that they truly bring the authors' words to life. If you're new to audiobooks, I'd highly recommend checking out books by the following narrators:

If

Julia Whelan

is narrating, I want to be listening. (We Came Here to Forget, Evvie Drake Starts Over, Educated)
Therese Plummer's smooth, light vocal tones make her just plain fun to listen to. (How to Walk Away, According to a Source)
Mark Deakins might be my favorite male narrater. (The River, The Dog Stars)
Also, Susan Bennet, Cassandra Campbell, Tavia Gilbert,

and

Adjoa Andoh

.

Books Narrated by the Author – This happens most often with memoirs and other nonfiction books, but also occasionally with a novel. Author narrated books can also be the most tricky. I've listened to many samples and rejected them because the reading just wasn't up to par with the writing. My advice is to be wary of author-narrated books, but if the sample works for you, then go for it. Often times memoirs are beautifully read by their authors. Three examples from my listening:
BottomLine? Narrators are amazing and can COMPLETELY make a book!
Topic 5: Acquiring Audiobooks
Just like books in print or ebooks you can get your audiobooks from a number of different sources. I primarily use two, so will devote the most attention to those. Anyone with more knowledge of other sources, please share in the comments section.
Libby – If you're not already using Libby, you're missing out on a lot. For those of you who don't know, Libby is an app for library ebooks and audiobooks. You link any library cards you have to it and are then able to use it just like the library. I especially like Libby for any backlist books I want to listen to because there's usually no wait and it's free. For upcoming books I think I might want to listen to, I place a hold well before the publication date to reduce my wait time. You listen to the audiobook through the Libby app, which is pretty good. (I feel like it has a couple minor flaws, but for free audiobooks, it's fine.
Audible – I am not good at waiting patiently when I want to listen to a new release book and because of that I frequently use Audible to get books on the very day they're released. Yes, it's part of the machine that is Amazon, but I love the ease, plus it has some cool features.

The app itself is really easy to use and has features such as bookmarking and making notes right on the app that make it easier for me to do audiobook reviews.
You can return audiobooks for a credit, for any reason. Decide you can't take the narration? Return it. The story just isn't working for you? Return it. I probably return 15-20% of the audiobooks I get on Audible. I'd never try to return something I'd actually listened to most of, but if a get 2 hours into a 12 hour book and it's just not working for me, back it goes.
You can send other people a book for free. This is a one time thing for the recipient, but as an Audible user, you can send books as often as you want. Whenever I'm talking to someone who wants to try audiobooks, I give them suggestions from my library and offer to send them one. I love being able to do this for others.
You can use the Audible app without having an Audible subscription, but they do offer 1, 2, and 3 book a month subscriptions. I use a two book a month plan, and sometimes buy extra credits at a reduced price. I pay $23 a month for 2 books, but I've recently discovered a way to get Audible books for only $10 each. While looking through the massive amount of gift cards on the racks at my local grocery store, I noticed that Audible was selling a gift card good for three audiobook credits for only $30. That's only $10 a book. I bought two!

Libro.fm – Another audiobook app that offers as part of its design support of local book stores. Prices are about the same. You can also return books that aren't working for you on Libros.fm, but not quite as easily as on Audible.
Scribd – With Scribd you get unlimited audiobooks for $8.99 a month! This is one I might need check out a little more closely myself. They seem to have many of the bigger new releases, but some I looked for they did not have, so that's a bit of a draw back for me.
Bottom Line? You have lots of options for listening to audiobooks, so try a couple and see what works best for you.
Topic 6: Training Your Brain to Listen!
One of the most common comments I hear from people is that their mind wanders when listening to audiobooks and I've got a few tips for that.
First and foremost, our brains often wander when we're actually reading, too. We've all had to turn back several pages in a book because we weren't paying attention. That will happen with audiobooks, too, especially when they're new to you. Use the rewind button (jumping back 30-45 seconds, typically) to go back, just like you would in print.
That button also come in handy if you want to savor a passage or make sure you understood something correctly.
When you're new to listening, try to pick times when there are fewer distractions. Listening while on a walk by yourself is a great way to devote yourself entirely to listening as you're training your brain to focus on spoken words.
If you're new to listening to audiobooks, try to keep your first few books on the lighter side and on the shorter side. I wouldn't advise listening to anything longer than 8 or 9 hours to begin with.
Sometimes you'll come across a narrator who is great, but reads at a little slower pace than you like. That's something that will cause my mind to wonder more. All listening apps have a feature where you can increase the speed. I very occasionally will listen to a book at 1.25x. One such book was Becoming by Michelle Obama. She was just a little slow for me. I've hear of people who regularly listen to books at 1.5x or even 2x speed and if it works for them that's great, but I could never do it. Yes, you'd get through the book faster, but you'd also lose the art of the narration in the process, exchanging a wonderful narrator for Minnie Mouse!
Bottom Line? Like any skill, listening takes practice.
I hope you've picked up a tip of two these last two weeks that will enhance your audiobook enjoyment.
PIN THIS POST ⇓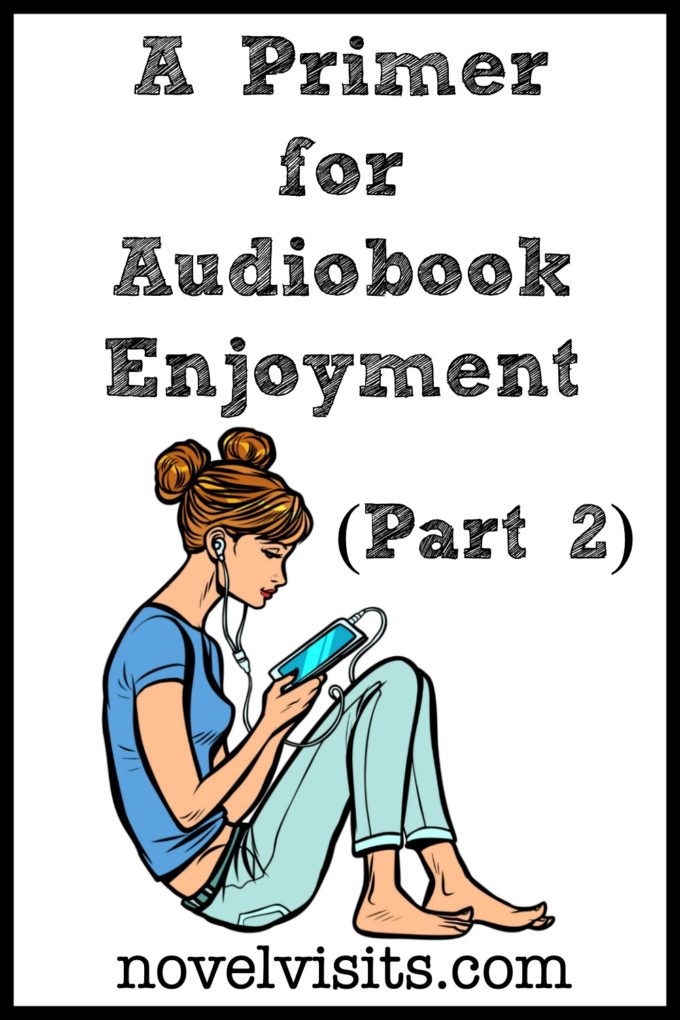 Disclosure: There are Amazon Associate links included within this post.