This post may include Amazon links. As an Amazon Associate I earn from qualifying purchases.
April always seems like a month of promise to me. Trees, shrubs, and flowers are starting to bloom and if you're lucky, the sun is shining more and more often. The days are getting longer, with spring fully upon us. The promise of summer, just around the corner, looms large. This April was an especially good month for me when it comes to books. I read nine and liked most of those!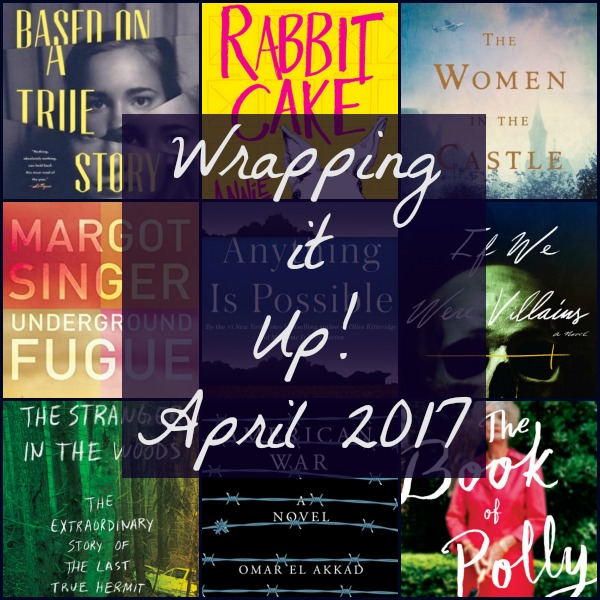 Books Read In April
If We Were Villains by M.L. Rio, Grade A (reviewed on 4/11/17)
The Book of Polly by Kathy Hepinstall, Grade B- (audio – reviewed on 4/13/17)
The Women in the Castle by Jessica Shattuck, Grade B (reviewed on 4/20/17)
American War by Omar El Akkad, Grade A- (reviewed on 4/21/17)
Anything Is Possible by Elizabeth Strout, Grade B (reviewed on 4/27/17)
Rabbit Cake by Annie Hartnett, Grade A- (reviewed on 4/28/17)
The Stranger in the Woods by Michael Finkel (review coming soon)
Underground Fugue by Margot Singer (review coming this week)
Based on a True Story by Delphine de Vigan (review coming next week)
Reviewed, But Read Earlier
Marlena by Julie Buntin, Grade A- (reviewed on 4/6/17)
All Grown Up by Jami Attenberg, Grade B+ (audio – reviewed on 4/13/17)
The Bad News, Did Not Finish
No One Can Pronounce My Name by Rakesh Satyal – I was looking forward to reading what was billed to be a humorous look at members of an Indian American community. It just wasn't grabbing me and the humor factor was not what I'd anticipated. I initially thought I might come back to it, but now think that's unlikely.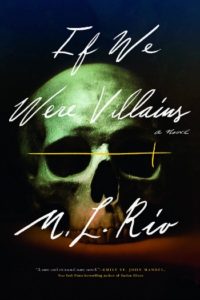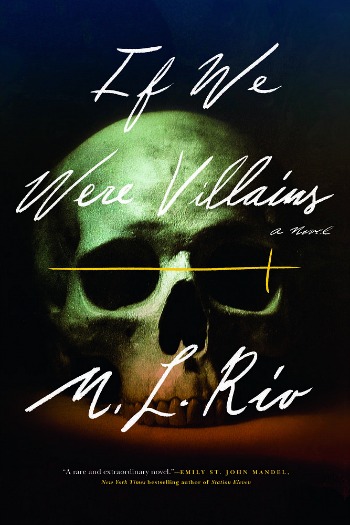 You know that feeling when you're almost breathless with anticipation and can't get through a book fast enough? That's what If We Were Villains did for me. I love a book with a big cast of characters, and when M.L. Rio set her's on the campus of an exclusive art college, then threw in a good mystery, the result was a perfectly amazing debut. If you haven't added If We Were Villains to your "to be read" list, you need to!
Blog Favorites
This is almost embarrassing! The post that was viewed the most in April was my It's Monday What are you reading? on 4/10/17. The really weird thing is that it was the most viewed by a LOT and was viewed much more than a typical It's Monday post. I went back and looked and can find no reason why this one would get any more attention than any other.
My most popular review was The Women in the Castle by Jessica Shattuck. I think a lot of people enjoy historical fiction, especially WWII stories.
The post viewed the most on its day of publication was last week's Ten Reasons for Me Not to Read a Book. This was followed very closely by the flip side, Book Temptations Too Great to Resist.
Looking At Goals
The nine April books brings my yearly total up to 31. According to Goodreads, I'm 7 books ahead on my goal of 75. (For a lot of reasons, I anticipate things slowing down a bit in May.)
With The Book of Polly and The Stranger in the Woods, my audio count is now up to seven. A vast improvement over last year's two.
The Stranger in the Woods was also my second nonfiction of the year. I loved Finkel's story of Christopher Knight's 27 years in the woods of Maine, but still struggle with my desire to read nonfiction. I'm working on it!
My current goal is to make it through the rest of this school year and then, breathe!
I Hope April has Been Good To You!
Disclaimer: There are Amazon Associate links contained in this post.